A competition to tame America's feral horses culminates on MTSU's campus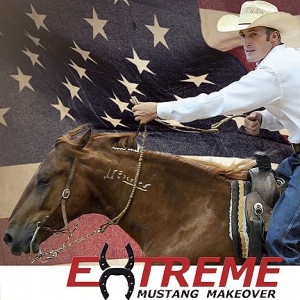 by Kayla Bates
While Americans have long-proved our fascination with the story of the underdog, we've become equally enchanted by tales of transformation, fixated on television shows like The Biggest Loser, What Not to Wear, and Extreme Makeover. Whether we're watching fitness trainers push people to improve physically, admiring the revolution of one's closet, or seeing a house torn to the ground and built from the bottom up, we simply adore seeing lives turned around.
Middle Tennessee State University recently played host to an event that both glorified the underdog and revealed a transformation like no other: "Extreme Mustang Makeover."
Thanks, in part, to Hollywood Westerns, Mustangs have earned a place in the heart of Americans as a symbol for freedom, strength, determination, and hope. These animals endure harsh winters, fending off extreme cold and threats of starvation. They are fighters – tough and hardy.
The Texas-based Mustang Heritage Foundation, in cooperation with the U.S. Bureau of Land Management, created the Extreme Mustang Makeover event to recognize and highlight the value of Mustangs through a national training competition. Over the course of 100 days, trainers – including many from the local area – worked with previously wild horses to develop them into trained mounts. The goal of the event was to showcase not only the beauty, but also the versatility and trainability of the rugged horses that roam throughout the West. On the final day of the Extreme Mustang Makeover, the participating horses were available for adoption by competitive bid.
It should come as no surprise that the Extreme Mustang Makeover took place on the campus of MTSU. The University's highly-respected Horse Science Program provides a horse science education that covers the full spectrum of available knowledge, including horse care, equitation, judging, behavior, health, stable management, event and facility management, equine assisted therapy, genetics, nutrition and reproductive physiology. Tennessee Miller Coliseum sits on 154 acres and features a 150-by-300-foot floor, a covered warm-up area, 492 10-by-10 animal stalls, almost 70 camper hookups, 400 paved parking places, plus a modern sound system. It seats 4,600 people and can be extended to a capacity of 6,500. MTSU also recently added a Master's of Science in Horse Science to its curriculum. Students may choose one of three concentrations: equine physiology, industry management, or equine education. With the addition of this program, the school has well positioned itself to remain one of the South's top undergraduate and postgraduate facilities in the horse industry.
Dr. Patrick Kayser, a professor of equine health and reproductive physiology at MTSU and coach of the university's Stock Horse Team, served as one of the three judges for the event. After watching and judging the event in earlier years, he took on a whole new appreciation for the Mustang and what people can do with them. "I was impressed with what a trainer can do in 100 days with these horses," Kayser says. "There are a lot of horses out there that are domestically-bred and have been around humans all their lives and still can't do what these are doing."
The executive director of the Mustang Heritage Foundation, Patti Colbert, has spent years promoting Mustangs and working as a riding instructor, volunteer, event planner, coordinator and fund-raiser. "The adaptability of these horses and what they can do in the right hands is unbelievable," says Colbert. "If you have the patience to work and make a connection, then it seems to be that the Mustangs give up everything. They become training partners."
While the training is impressive, it is the adoption aspect of the event that is critical. The mission of the Bureau is to ensure the health of the public lands so that the species depending on them – including the nation's wild horses – can thrive. Currently, the Bureau manages Mustangs on nearly 27 million acres of Western rangeland. When Congress passed a protection law in 1971 for the horses, they discovered the animals were disappearing rapidly. Now, some 40 years later, the animals are firmly established. However, now that they have virtually no natural predators, they are growing at a rate of nearly 20% per year, meaning herds can double in size every four years. With over 50% of the Bureau's wild horse program budget accounting for holding costs, it's clear that adoption of these animals is crucial — not only for their well-being — but for the American taxpayer, too. It currently costs the Bureau roughly $12,000 per horse over the lifetime of the animal to maintain it in Bureau pastures and corrals. As a result, U.S. taxpayers spend more than $36 million dollars annually maintaining these animals in holding facilities.
"We've got to decrease that number," says Kayser, "And the Extreme Mustang Makeover is an important event to increase the amount of adoptions for Mustangs."
The event also promoted horse trainers across America with the Trainer Incentive Program. "We compensate people who have the facilities and the capabilities of taking one to four wild horses, gentling them to where they can pick up their feet, load and unload out of a trailer, and be manageable in a halter, and then can get an adopter. Next year, it will pay $800 per adopted Mustang," says Colbert.
Trainers for the recent competition in Murfreesboro hailed from all over the state, including, Oneida, Clarksville, Cross Plains, Shelbyville, and Bristol. Twenty-five year old Adam Adcock of Springfield, Tennessee began riding when he was 19 in the equine science program at MTSU. As a trainer and competitor in numerous Extreme Mustang Makeover competitions, he says he's discovered that people think the wild horses are quite dangerous. However, he says, the competitions "really show people that Mustangs are the exact opposite. There is so much you can learn from training Mustangs that you can't learn from a domesticated horse."
The highlight of the weekend event was the final performance. "There are some stunts that they pull that I'm not going to do on my horse, let alone on a Mustang," says Kayser, mentioning a competitor who had their Mustang leap onto a moving wagon, and another who let their handler jump from a trampoline to the saddle to dunk a basketball.
He adds, "There is something about a Mustang that will make a warm spot in your heart."
---