MTSU's new Center for Innovation in Media goes mainstream
By Mike Browning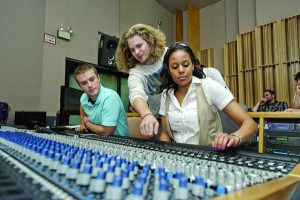 It wasn't so long ago that mainstream media—print, television, and radio—were separated. It was also true that universities reflected the divisions between journalism and radio-television schools in their academic departments.
Technology has changed all that, blurring those divisions and changing the way journalists and students across the disciplines conduct business. In this new world, content is converging into one electronic location—the internet—where news consumers demand both visual and in-depth content from one location. Case in point: ABC News and the online media company Yahoo! recently announced they are teaming up to share news content, including resources and original videos.
"Convergence" is defined as a communications industry movement wherein different forms of media, formerly in competition, cooperate and work together for mutual benefit. As a result, it is not uncommon these days to see television stations hiring newspaper reporters and newspapers hiring TV reporters and video journalists. As media converges, professionals in the field are forced to adjust to a new business model. They must be as comfortable writing a breaking news story or Sunday feature article as they are shooting video, producing a podcast, or taking to the radio airwaves. In other words, they must be comfortable creating content on multiple platforms.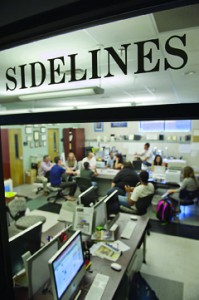 In December, MTSU's College of Mass Communication began to reflect this new world of media convergence both visually and programmatically as students and campus professionals began moving into the new $700,000 Center for Innovation in Media. On the first floor of John Bragg Mass Communication Building, the center combines the newsrooms for Sidelines, the student newspaper; WMTS-FM, the student-run radio station; MT Records, the student-run record label; MTTV, the student-operated cable television station; and WMOT-FM, the 100,000-watt public radio station at MTSU. (Sidelines had previously operated on Mass Comm's second floor, and the student-run radio station moved from McWherter Learning  Resources Center.) The new center enables students from all media disciplines to hone their skills while working under one roof in a state-of-the-art facility.
Stephan Foust, director of the new center, says the new facility is a direct response to the seismic shift in the world of mass communication.
"It wasn't so long ago that a qualified student could graduate with more or less a specialization in print, television, or radio; find a job in one of those areas; and have a reasonable expectation of a long and fruitful career. That is no longer the case," he says. "In today's highly competitive digital environment, a graduate must have a working knowledge of web and print writing, video and still photography, nonlinear editing, podcasting, graphics, and social media. Those well-trained and diversified students are the job applicants that are being hired."
Visitors who pass through the Mass Communication Building can peer through glass windows to see media students at work. Most recognizable is the convergence room, also known as the "egg room" for its shape, featuring a CNN-type newsroom displaying 25 computers for writing and producing content.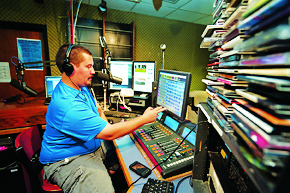 "The center is going to put our students front and center, and our faculty into the world of media convergence," says Leon Alligood, assistant professor of journalism and advisor to Sidelines. "In many ways, we're trailblazing, and that's exciting."
Alligood, a longtime, highly respected journalist for The Tennessean, says there is no blueprint to follow per se. "There no doubt will be hills, if not mountains, to climb, but I'm very optimistic we can pull it off."
MTSU's reputation as a top school for journalism is well established. The new center—a premier facility sure to attract the best and brightest students from Tennessee and the region—reasserts the University's commitment to maintaining that strong brand.
It will seek to supply the next generation of media professionals groomed to work on multiple platforms.
[About the author: Mike Browning knows of what he speaks. Browning worked as a TV reporter for 25 years and was among the first trained as a video journalist for a commercial television news station in 2005, using a small Sony digital camera and laptop to capture and edit news stories for daily broadcast on WKRN-TV in Nashville. In addition to shooting videos for MTSU News, Communications, and Marketing as well as writing stories and capturing video for MTSU Magazine and MTSUMagazine.com, Browning also produces MTSU's monthly television program, Out of the Blue.]
---