Former MTSU coach shows support for academics and athletics
by Drew Ruble and Tom Tozer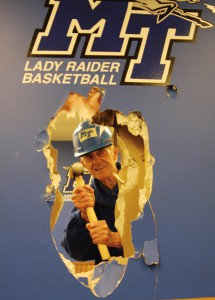 How do you build a premier college athletics program? One key is building facilities that rival the best in the nation.
The gift of new women's basketball facilities ups the ante for the Lady Raiders' program.
By this fall, an entire section of the ground floor of Murphy Center will be opened up to accommodate a new complex for the women's basketball coaches, transforming the area into an office suite that will put MTSU's program on par with any coaching program in the country.
The new offices are the result of a gift by alum Ken Shipp ('47), who played football for MTSU. Shipp is also a former assistant coach in the National Football League, who during the 1975 season, while serving as interim coach of the New York Jets, gained attention for benching quarterback Joe Namath for violating team rules.
A large portion of Shipp's $1 million gift was designated to renovate and upgrade the women's basketball coaching offices. The balance will go toward scholarships for Rutherford County students who plan to attend MTSU.
The gift is already having an impact. When new Lady Raider basketball recruits come to campus, they not only see nice facilities for the players, but also for the coaches. And unlike in the past, the offices are located right next door and place the staff in one space where coaches can game-plan and strategize. The new facility represents a big step forward for the successful Lady Raiders program.
It's the basketball equivalent of a game-winning assist.
---