With an ambitious campaign more than three-fourths complete, the University's colleges and athletics program make plans to make the most of it
by Drew Ruble
The most ambitious quest for philanthropy in MTSU history will further raise its visibility nationally and internationally and maintain its legacy as a center of higher education excellence.
More than $67 million has already been committed toward the campaign's $80 million goal. But how will the money be used?
Each of the six core academic colleges at MTSU and the Blue Raider athletics program has created a blueprint outlining priorities for campaign funds. The following is a look at just one priority from each.
Reaffirming Its Roots
College of Education
Priority: Teacher Preparation
Ask someone to name the five people who had the most influence on his or her life and chances are good that a teacher will be on the list. Perhaps no profession has a more direct impact on personal and professional development than the teaching profession. From a community perspective, the same might be said for business and economic development.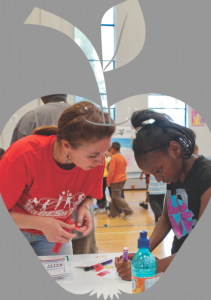 At MTSU, teaching future teachers is at the very core of the institution's history. The state of Tennessee established what is today MTSU in 1911 as a Normal School, specifically to train educators. From those humble beginnings, MTSU has grown to become the largest undergraduate institution in Tennessee. Even though the University now offers dozens of fields of study, MTSU remains a primary producer of teachers and an institution on the leading edge of teacher training.
The University recently moved its College of Education into a brand-new $30 million state-of-the-art building equipped with the newest technology and most advanced training environments. It also launched a new doctoral program in educational assessment—a first of its kind in Tennessee—aimed at improving teacher education. Perhaps most importantly, MTSU's College of Education has taken the clear lead among TBR institutions in implementing a complete overhaul of the way Tennessee universities prepare future teachers to be truly effective in the classroom.
Ready2Teach is a rigorous new teacher preparation program in Tennessee that focuses on research and best practices, strong content knowledge, and practical experiences in the field of teaching. As part of the new program, beginning in the fall of 2013, MTSU students who wish to be schoolteachers will, not unlike medical students, spend a residency year working inschools alongside highly effective teachers who have partnered with University faculty (many of whom are considered national experts) to design this course of study.
Ready2Teach merges theory and practice so that students are better prepared to student teach and are more effective when they actually begin their teaching careers. Lana Seivers, dean of the College of Education, says Centennial Campaign funds promise to strengthen this program by funding scholarships for MTSU students plus stipends, professional development, and research opportunities for K–12 teachers and MTSU faculty.
Research for Answers
College of Basic and Applied Sciences
Priority: Research Funding
The pace of scientific discovery is constantly accelerating. New products and processes that will change the world for the better are always being invented—often in academic settings.
Historically, research has not been a significant component of MTSU's mission, but that's changing rapidly. The University's new $147 million science building, currently under construction, is a game changer for MTSU research and the College of Basic and Applied Sciences (CBAS). So too, are recent additions to the administration and staff in CBAS, including new dean Bud Fischer and new department chairs Greg Van Patten (Chemistry) and Lynn Boyd (Biology). Each has a strong research background and has received the external funding to prove it. Their presence signals a clear shift in direction toward more robust research output in the college.
But new funds will be needed to accelerate activities that promote research and push the boundaries of science. MTSU already has some very promising new centers for research. The University's latest collaboration with China has great potential to yield significant dividends for Tennessee's economy—and cure some of the world's worst illnesses. In concert with the Guangxi Botanical Garden of Medicinal Plants in Nanning, China, MTSU now has exclusive access to a library of traditional Chinese medicinal (TCM) extracts, creating the opportunity to develop new Western medicines based on TCM's proven healing powers.
Paying Dividends
Jennings A. Jones College of Business
Priority: Endowed Faculty Positions
One high-quality leader or faculty member can make a difference to hundreds, if not thousands, of students. Getting financial assistance to hire and retain top-tier academic leaders and faculty members is a critical component of MTSU's formula for excellence and a top priority of the Jennings A. Jones College of Business.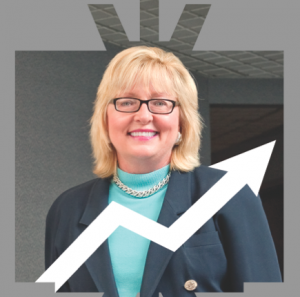 To ensure that students have the opportunity to interact with and be guided by the nation's leading educators and practitioners, the University wishes to establish a cadre of endowed chairs and professorships to attract prestigious teachers and research scholars. MTSU hopes to gain national attention through groundbreaking scholarship and research. The presence of these scholars will be a conspicuous example of MTSU's commitment to academic excellence and to a curriculum that actively addresses and promotes an understanding of the economic, social, and educational issues of our country.
Attracting such talent will be no easy task. Competition for high-quality faculty and academic leaders is intense. In business disciplines, particularly accounting and finance, the annual demand for new Ph.D.s exceeds the supply.
One sterling example of the effect an endowed chair can have at MTSU is the Pam Wright Chair of Entrepreneurship, made possible by a $1.25 million commitment from alumna Pamela Wright ('73), founder and CEO of Nashville-based Wright Travel, Tennessee's largest travel agency. Establishing an endowed chair in entrepreneurship enabled the University to bring a nationally recognized expert to campus. He is not only in the classroom with students but also out in the Nashville area business community providing a valuable link to MTSU.
Wright, who also co-chairs the Centennial Campaign, says she endowed the chair in an effort to help America compete with the developing world. "The experience they bring—the real workplace knowledge that person brings, as well as the potential for research and for community outreach in terms of enhancing the reputation of the University—it can have a transformational impact," says Wright.
The University also seeks to expand annual funds available to reward faculty for exceptional performance in their service to students, the University, and the community, providing tangible proof of the importance MTSU places on all facets of faculty responsibility.
Not So Run of the Mill
College of Behavioral and Health Sciences
Priority: Underwater Treadmill Program
Students, faculty, and graduates of the College of Behavioral and Health Sciences (CBHS) are, essentially, community servants. That's because CBHS—the University's newest college—produces nurses, social workers, criminal justice and corrections workers, psychological counselors, and human service and health-related professionals. By preparing skilled professionals, CBHS produces a healthy return on investments made by individuals, corporations, and agencies.
The college is focused on research and evidence-based models to address community problems. One nationally recognized example is research being conducted at the MTSU Exercise Science laboratory by Sandy Stevens, a postdoctoral researcher who is helping people with paralysis walk again. Under her care, those with spinal cord injuries can train on an underwater treadmill and are able to stand and support themselves.
Stevens's participants have shown a 57 percent increase in leg strength, 39 percent improvement in balance, 34 percent improvement in preferred walking speed, 61 percent improvement in rapid-walking speed, 82 percent improvement in six-minute walking distance, and a 121 percent increase in the number of steps they took in their own environments. Almost all participants report greater independence, better general health, and improved mental well-being. "If one thing has consistently changed throughout the course of treatment it is that hope has been restored," Stevens says. "When the participants see their legs moving, they believe that anything is possible."
Terry Whiteside, dean of the college, believes that with proper support MTSU's reputation as a leader in underwater treadmill research could lead to an aquatic research facility, which could expand spinal cord therapy research and allow the University to become a leading voice for using aquatic exercise to reduce the national cost of conditions such as diabetes and obesity.
Converging Worlds
College of Mass Communication
Priority: Center for Innovation in Media
It wasn't so long ago that mainstream media—print, television, and radio—were separated. It was also true that universities reflected the divisions between journalism and radio-television schools in their academic departments. But technology has changed all that, blurring those divisions and changing the way journalists and students across the disciplines conduct business. In this new world, content is converging into one electronic location— the Internet—where news consumers demand both visual and in-depth content from one location.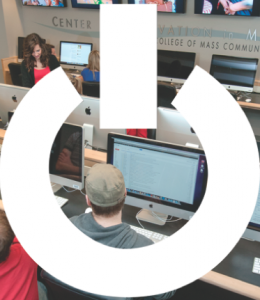 As media converges, professionals in the field are forced to adjust to a new business model. They must be as comfortable writing a breaking news story or Sunday feature article as they are shooting video, producing a podcast, or going on the radio. In other words, they must be comfortable creating content on multiple platforms. MTSU's College of Mass Communication reflects this new world with its brand-new Center for Innovation in Media, where students and professionals from all media disciplines hone their skills while working under one roof with state-of-the-art equipment.
On the first floor of the John Bragg Mass Communication Building, the center combines the newsrooms for Sidelines, the student newspaper; WMTS-FM, the student-run radio station; MATCH Records, the student-run record label; MTTV, the student-operated cable television station; and WMOT-FM, the college's 100,000- watt public radio station. The center reaffirms the University's commitment to maintaining its reputation for having a top national school of journalism. In 2012, the Associated Press Managing Editors (APME) awarded the new center an honorable mention in the category "Innovator of the Year for College Students" for its merging of student media and fostering of collaboration across communication platforms.
Stephan Foust, director of the center, says continued investment will be essential to ongoing operations and the best preparation of students. "With the ability to update hardware and software when needed, our students will remain knowledgeable, skilled, and in demand by mass communication industries," Foust says.
Podium Power
College of Liberal Arts
Priority: Speaker Series
Student Mary Choate recalls the effect that Sandra Day O'Connor, retired associate justice of the U.S. Supreme Court had on her. The first female to serve on the nation's highest court came to MTSU and gave a presentation as part of the College of Liberal Arts annual Speaker Series.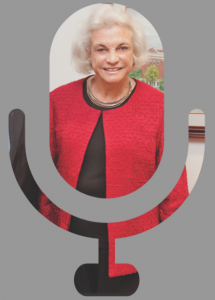 "Seeing the first woman Supreme Court justice renewed my passion for the law," Choate says. "My main goal is to become a lawyer, and hopefully one day I will be in her shoes."
It is exactly this type of inspiration that Dean Mark Byrnes sees as the reason to make the speaker series a high priority at MTSU. Byrnes believes in the power of the spoken word and is passionate about building an endowment to enable the College of Liberal Arts to bring more national and world figures to speak at the University.
"We have been very fortunate in recent years to have found funding to host speakers such as O'Connor, author David McCullough, and musician Béla Fleck, to name a few," Byrnes says. "These are people who have helped shape their respective fields and our world. And we want to be able to continue this tradition for our students and the larger community."
According to Byrnes, a lecture series of this nature "really embodies the value of a liberal arts education—helping people become more reflective about their beliefs and choices, more creative in their problem solving, more perceptive of the world around them, and better able to inform themselves about the issues that arise in their lives."
State funding for such endeavors is increasingly hard to come by, so in order to meet Byrnes's goal, MTSU will need to find donors willing to help support an endowment.
Getting in the Game
MT Athletics
Priority: Year-Round Training Facilities
Blue Raider athletics provides a strong link between the University, its alumni, and the community at large and increases alumni and public support for the University. But to maintain its status as an athletic powerhouse and ensure continued success in the future—especially now that MTSU has elevated its profile by joining Conference USA—student-athletes and coaches must have high-quality facilities that allow year-round training and participation regardless of weather.
The centerpiece of the athletic master plan is a comprehensive indoor practice and track competition building that will support football, soccer, baseball, and softball and provide a competition area for indoor track and field. Success in funding the project could have a domino effect, leading to improvements such as spectator suites in Murphy Center, MTSU's now 40-year-old multipurpose arena. Providing new opportunities for coaches to better interact with staff and players in a more supportive environment is another significant need. Thus, the University is seeking to build a new athletics administrative and educational center, which would house key offices and provide academic and resource space for student-athletes.
"The most gifted student-athletes are sought by universities around the world," says athletics director Chris Massaro. "If MTSU is to successfully attract the next generation of Blue Raider and Lady Raider players, it must have financial support to offer competitive student-aid packages to attract and support exceptional scholar-athletes, and, like other leading intercollegiate athletics programs, provide its student-athletes with great facilities."
A Final Note: Scholarships
For MTSU to continue as the institution of choice for Tennessee's best and brightest, it must offer competitive financial aid packages to attract and support exceptional student-scholars and make college affordable for all deserving students.
Scholarship support is the top overall priority in the Centennial Campaign. Central to this effort is the establishment of the MTSU Centennial Scholars, a distinguished scholarship program that will help the University recruit the most outstanding students in the region. In addition, increased support for merit- and need-based awards will help the University meet the financial needs of all entering students and expand educational opportunities available to citizens.
Finally, as the role of research and graduate education has become a vibrant element of our enterprise, an increased emphasis has been placed on supporting graduate students. Securing endowed and recurring stipends increases graduate opportunities for students and assures the University's continued contributions to the sciences, education, and the economic development of the region.
Conclusion
Realizing this vision will require support of the entire MTSU family. With this campaign, MTSU is poised to accomplish over the next decade as much or more for the good of the state of Tennessee as it has done in its first 100 years. The goals of this campaign clearly reflect MTSU's priorities and vision for the future. As a valued MTSU stakeholder, thank you for considering the accomplishments of the past and the promise of the future at MTSU. True Blue!
For more information, or to get involved in the Centennial Campaign, call the Office of Development at (615) 898-2502 or email development@mtsu.edu.
---