A Look at What MTSU Alumni Are Up To
Lynda Williams
In September 2015, Lynda Williams ('85, '93) worked protective detail for the president of Sri Lanka, and this photo of her striding purposefully beside him made front-page news in the island nation. The next day, when the Sri Lankan policemen traveling with their president kept smiling at her, she thought, It must be my red lipstick—until the sole English-speaking policeman explained, "Ma'am, you're a celebrity in our country … you're a tough lady." Williams chuckles at the characterization. "I'm all girlie-girlie. I can't run a 75-pound armored shield through a door. But I can go in with a shotgun. You have to recognize your strengths." Maybe that policeman recognized a strength she didn't. It takes a different kind of tough for a woman—a minority and single parent, at that—to work her way to the top of the federal government's most elite law enforcement agency. Today Williams is the third highest-ranking African-American woman in the Secret Service—deputy assistant director of the Secret Service's Office of Human Resources— and only the third in its 150-year history to reach retirement eligibility with a full complement of 25 years. Career highlights include working protective detail for the Clinton White House, becoming the first African-American female manager of the Washington field office, travelling the country as the Secret Service's national recruiter, and serving as U.S. attaché to Pretoria, South Africa, where she worked protection for the World Cup and enjoyed rest and relaxation in London, Madrid, and Barcelona ("the best assignment of my life," she said).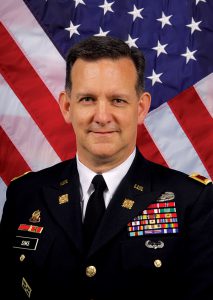 Jeffrey T. Sims

Col. Jeffrey T. Sims ('87), commissioned through the MTSU Army ROTC Program in 1986, recently completed a successful brigade command of the 207th Regional Support Group (RSG)—more than 1,700 soldiers—based at Fort Jackson, South Carolina. During his command tenure, Sims led his headquarters in a deployment to Afghanistan in support of Operation Enduring Freedom, serving as the U.S. Forces Garrison Commander for Kandahar Airfield and as the U.S. representative to the NATO Support Agency. The 207th RSG was responsible for lodging, feeding, equipping, training, facilities, and utilities on this 30,000-person installation, managing contracts valued in excess of $1 billion while reducing the contractor population by over 45% through terminating duplicate and non-mission essential contracts. The brigade also planned and executed demolition activities that removed 42% of all facilities on the airfield in support of the effort to discontinue operations at Kandahar. The 207th RSG received a Meritorious Unit Citation while Sims received his second Bronze Star Medal, the Afghanistan Campaign Medal, and the NATO Medal. Under his continued leadership, the 207th RSG rose to become the No. 1 brigade within the 143rd Expeditionary Sustainment Command, which is the largest one-star General Officer Command in the Army Reserves, earning Sims the Legion of Merit Medal. In his final assignment, Sims is serving as an Adjutant/G-1 Administration Officer in Orlando, Florida, before retiring from the military in the summer of 2016 after more than 31 years of military service.
Cindy Watts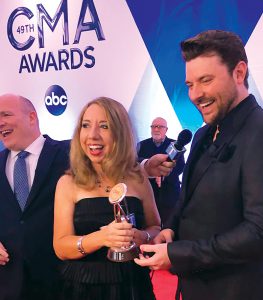 The Country Music Association (CMA) presented the 2015 CMA Media Achievement Award to Tennessean reporter Cindy Watts ('01) during a Nov. 4 backstage ceremony. RCA Nashville artist and former MTSU student Chris Young presented the award to Watts on the red carpet prior to the start of the televised 49th Annual CMA Awards. Watts has been covering music in the Nashville area for 15 years, having started her career at The Daily News Journal in Murfreesboro.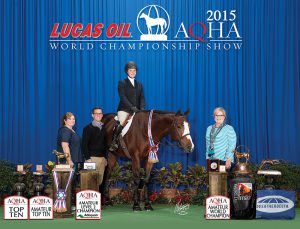 Sarah Elder Chabot
Sarah Elder Chabot ('03), of Maryville, captured the world championship title in amateur equitation over fences at the 2015 Lucas Oil American Quarter Horse Association World Championship Show in Oklahoma City in November 2015. The Lucas Oil AQHA World Show is the pinnacle event for American Quarter Horse owners and exhibitors around the world. More than 4,760 entries from the United States, Argentina, Austria, Brazil, Canada, Colombia, Dominican Republic, Germany, and Switzerland competed for 100 world championships at last year's event. Chabot showed her American Quarter Horse, A Well Dressed Man, a 2008 bay gelding. Chabot works as director of marketing at Blackberry Farm, a luxury hotel situated on a 9,200-acre estate in the Great Smoky Mountains.
Cassandra Petrey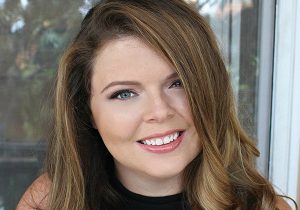 Forbes's 30 Under 30 Music Class of 2016, which featured entertainment heavyweights like Fetty Wap, The Wknd, Demi Levato, and Selena Gomez, also included Recording Industry graduate Cassandra Petrey ('07), a 29-year old entrepreneur. Petrey is co-founder of Crowd Surf, a digital marketing agency that uses social media to forge deeper artist-audience relationships through release-week campaigns, exclusive content, and direct access. At the age of 12, Petrey launched a fanzine about the Backstreet Boys that grew to 10,000 subscribers. At 17, after landing a job as a college representative for Warner Music Group in Nashville, Petrey led the record label to become among the first to wade into the social media sphere by setting up a MySpace page for a Warner project. She went on to run social networking campaigns for label artists Faith Hill and Blake Shelton. Even before graduating from MTSU, keenly aware that the "community manager" role still didn't exist for artists, but fully aware that social media platforms were more important than commonly believed, Petrey co-founded Crowd Surf in 2007 (at age 21). Today, her company boasts a 35-person team with four offices and a roster of accounts with a combined 800 million followers, managing social profiles for Miley Cyrus, Fifth Harmony, Britney Spears, the Black Eyed Peas, and Steven Tyler, among other notable artists.
Jason Gulley
For professional arm wrestler Jason Gulley ('12), there's no greater feeling than pinning another man's arm in a match. "For everyone to gather around and watch you beat somebody— it's exhilarating," Gulley said. "You feel like the most dominate man in the world at that moment." The sport of arm wrestling is currently in the midst of a renaissance of sorts, emerging from its subculture status into a mainstream fascination, in large part due to its growing popularity as a televised event. ESPN now regularly broadcasts competitions of the World Arm Wrestling League, or WAL, which spotlights competitors like Gulley—a former Marine and aircraft inspector turned full-time graduate student and entrepreneur—who have risen to the top of the sport. Gulley's primary focus with the sport, though, is not his own ascension up state and national rankings. The executive director of the Tennessee Arm Wrestling Association, which has grown from about 10 members to between 100 and 200 members under his watch, Gulley is passionate about spreading the sport. A former collegiate defensive lineman for the MTSU Blue Raiders football team, and a two-time combat veteran in Iraq honorably discharged as an E5 Sergeant, Gulley has also created a product—the Gulley Grip—that improves strength in the forearm, wrists and hands (he counts the University of Georgia football team among his clients).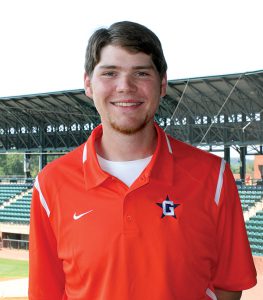 Nick Carey
It's not very often that a 22-year-old is named general manager of a professional baseball team. But that's exactly what happened this past January 2016 when the Princeton Rays—the Appalachian League affiliate of the Tampa Bay Rays—named Nick Carey ('15) to their GM position. Carey joined the Rays after serving last season in many roles on the front office staff of the Greeneville Astros, also a member of the Appalachian League. While at MTSU, Carey worked with the University's baseball program in numerous operational capacities.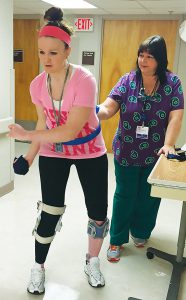 Rachel Ruppe
An Academy Award-winning actress' aura was in evidence at Murphy Center during MTSU's fall 2015 commencement ceremonies last December. As Rachel Ruppe ('15) walked across the stage to receive her bachelor's degree in English, the excited crowd cheered her accomplishment much as the late Patricia Neal's peers cheered in 1963 for her Best Actress Oscar win. "It's hard to put into words," Ruppe said. "I've been waiting for so long." Ruppe, who had a full academic scholarship and a 4.0 GPA, was less than a semester away from graduation on Nov. 5, 2011, when on a weekend trip home to see her family her car ran off the road in rural Morgan County and smashed into a tree. She was airlifted to a Knoxville hospital, where she was diagnosed with traumatic brain injury. Medical professionals issued a grim prognosis—that she would probably never get out of bed. Defying the experts, as a patient at the Patricia Neal Rehabilitation Center at Fort Sanders Regional Medical Center, Ruppe learned how to walk and talk all over again. The room that she was in was the same room that Patricia Neal herself occupied when she was there, and which employees call "The Miracle Room." The Neal center is named for the Knoxville native, who starred in motion pictures including Hud, for which she received the 1963 Oscar for Best Actress. Neal suffered three massive strokes while she was pregnant with her fifth child in 1965. Her husband, author Roald Dahl, insisted that she undergo rigorous rehabilitation, resulting in a successful delivery of a healthy daughter and a triumphant return to acting. The center that bears her name serves stroke, spinal cord, and brain injury patients like Ruppe. The first member of her family to earn a college diploma, Ruppe reached her goal by taking online classes from her home in Oakdale. Her advisor, English professor Jimmie Cain, said Ruppe was an inspiration to him. "Rachel has never wavered in her intention to complete her degree in English and to graduate from MTSU, maintaining a positive outlook and a cheerful disposition even in the most difficult of times," Cain said.
Mike Sparks
State Rep. Mike Sparks ('15) received his bachelor's degree in Liberal Studies during the afternoon commencement ceremony last December at MTSU's Murphy Center. Sparks held an associate's degree in Mass Communication from Motlow State Community College, but life interrupted his plans for a four-year degree. Working nights at Nissan and trying to maintain a family life didn't leave much room for studying. "I'd always wanted to go back," said the Smyrna Republican. "Being elected afforded me the opportunity to go to school." MTSU's Adult Degree Completion Program meets the needs of adult learners like Sparks by offering the entire curriculum online. Sparks obtained his degree through a mix of on-campus and online courses. Sparks admits the work was challenging, but says his wife of 27 years, Felicia, was very supportive. Sparks has represented District 49 in the Tennessee House of Representatives since January 2011. He previously served as a Rutherford County commissioner.
Baby Raiders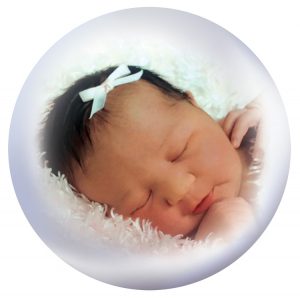 Shelby Gwyneth Cartwright, born Dec. 8, 2014, to Charlie and Michele Cole Cartwright ('06) of Smyrna.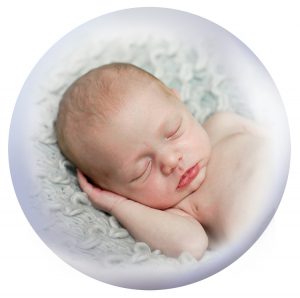 Tyson Henry Chadwell, born June 1, 2015, to David ('00) and Scarlett Henry Chadwell ('99) of Lebanon.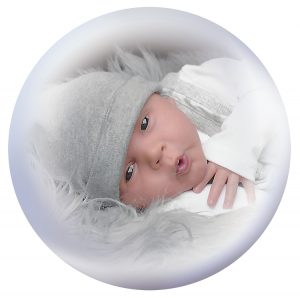 Clyde Matney, born Jan. 25, 2016, to Cassandra and Cory Matney ('03), of Nashville.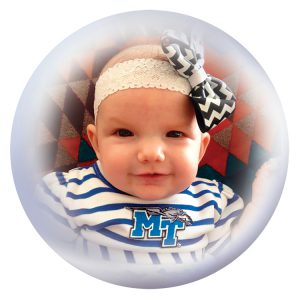 Jennings Gray Hice, born Nov. 30, 2015, to Jessica Boehm Hice and Jordan Hice ('09), of Manchester.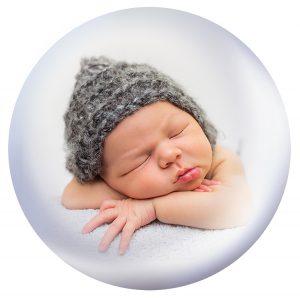 Bronx Lovie Mason, born Oct. 22, 2015, to Marc and Asia Vanatta Mason ('01), of Alexandria, Virginia.
1960s
Tim Champlin ('60), Fort Oglethorpe, Georgia, published his latest book, The Wild West of Louis L'Amour, an examination of America's most popular and prolific author of Western fiction. In all, Champlin is the author of 38 books.
1970s
Dawson Parker ('70), London, England, recently retired as director of Harrods, London, England, after a more than 40-year career in retail supply chain and operations, including international logistics, delivery, transportation, e-commerce fulfilment, warehousing, replenishment and store operations with luxury retailers in the U.K. and U.S.
Larry Williams, ('71, '76, '95), The Villages, Florida, was recently appointed as the senior advisor to the aviation authority of Thailand, assisting in upgrading oversight mechanisms and processes in order to strengthen regulatory capacity and meet International Civil Aviation Organization standards. Williams boasts more than a half century of experience in aviation, including many years as an adjunct instructor in MTSU's Aerospace Department.
1980s
Debra Hollingsworth Hopkins ('80), Murfreesboro, serves as ELL project coordinator at The Council of Great Schools in Washington, D.C., where she coordinates a number of grant-funded projects related to instructional materials and professional development to support English learners in the nation's 70 largest urban school districts.
Rusty Barnett ('82), Houston, recently entered the consulting field after more than three decades in the oil and gas industry. A professional member of the American Society of Safety Engineers, Barnett conducts most of his efforts through the Gulf Coast Chapter and Energy Corridor Sector groups. Barnett recently retired from BP as the health and safety manager for all drilling, interventions, and well activities in the lower 48 States.
Norman Burns, II, ('85, '95), Fishers, Indiana, was named the new president and CEO of Conner Prairie, an interactive history park, in Fishers. Burns has more than 28 years of experience in various leadership roles at historical institutions, including most recently as executive director of Maymont, a Victorian estate and public park in Richmond, Virginia. Spanning 850 acres in central Indiana and welcoming more than 360,000 visitors of all ages annually, Conner Prairie is Indiana's first Smithsonian Institute affiliate.
Richard Huffines ('86), Signal Mountain, is currently the executive director for the Tennessee River Gorge Trust in Chattanooga after retiring from the U.S. Fish and Wildlife Service following 26 years of service throughout the Southeast region.
Amy T. Cook ('87), Boone, North Carolina, is administrative assistant to the director of donor services at international relief organization Samaritan's Purse, the organization that collects shoeboxes full of gifts for children all over the world at Christmastime.
Alan Thomas ('87, '98), Murfreesboro, was appointed interim vice president of the Division of Business and Finance at MTSU.
1990s
Karl Harmon ('92, '94), Howell, Michigan, is an assistant principal maintenance inspector at the Federal Aviation Administration, assigned to a 14 CFR 121 supplemental carrier.
Scott Paschal ('93) and his wife, Rebecca Shahan Paschal ('94), Brush Creek, opened Cellar 53 Winery in the hills of Smith County. Their farm produces estate wines from eight acres of wine, grape, and blackberry vineyards.
Larry "Jason" Dobbs, ('94), Murfreesboro, was named the head football coach for Moore County High School.
Clay Malone ('99), Murfreesboro, was promoted to assistant fire marshal in the Murfreesboro Fire and Rescue Department. He has served on MFRD's Policy and Rules Committee and is also a member of the department's Special Events Team.
Jill Napier ('99), Gallatin, joined Legacy Law Group P.C. as operations case manager, client services director, in March 2016 where she works to build strong rapport with clients including managing relationships, contract adherence, expectation setting, and status communications. Napier oversees the management of the Brentwood office.
2000s
Terry Hughes III, ('00), Brentwood, joined Patterson Real Estate Advisory Group as director in the company's Nashville office.
Erin Alvarado ('04, '10), Murfreesboro, earned The President's Award at the Tennessee Association of School Librarians for meritorious support of Tennessee school librarians' mission to strengthen school library media services, create and sustain life-long readers, and improve information literacy in our state.
Kristi Crafton Crass ('04), Murfreesboro, was honored by the Employer Support of Guard and Reserve, an organization within the Department of Defense, for her support of her service-member employees as a nurse manager at Saint Thomas Rutherford Hospital.
Jammie Treidel ('04), Talbot, recently celebrated her 10th-year anniversary of working as a state park ranger for Panther Creek State Park in Morristown.
Lashan Matthews Dixon ('07, '10, '11, '14), Murfreesboro, was named United Way Volunteer of the Month for February 2016.
Leslie Merritt ('07, '09), Murfreesboro, was appointed director of Fraternity and Sorority Life at MTSU.
Jeremy Bills ('08), Savannah, began practicing at Stanlick Chiropractic after receiving his Doctor of Chiropractic degree from Life University.
Abbi Burgess ('08), Arlington, Virginia, is legislative assistant and correspondence manager for U.S. Congressman Rick Crawford of Arkansas.
Loren Sanderson ('08), Nashville, joined the Murfreesboro law firm of Kious, Rodgers, Barger, Holder, and Kious, PLLC, as an associate attorney. Sanderson received her law degree from DePaul University College of Law in Chicago in 2012. Sanderson is also a longtime member of the Tennessee Walking Horse Breeders and Exhibitors Association and since 2013 has served as secretary on its board of directors.
Fahad Haddad ('09), Clarkston, Georgia, is an animator for Nitrogen Studio, which specializes in CGI theatrical feature films, DVD movies, TV series, online content, and interactive mobile apps.
Justin Stefanski ('09, '14), Murfreesboro, currently works for the University of Tennessee and Tennessee State University Extension as a horticulture extension agent in Wilson County.
Michael Kraft ('10), South Harington, Connecticut, recently completed a method book for bass guitar and composition titled Harmonics for the Bass Guitarist & Contemporary Composer, which aims to demystify the often misunderstood and overlooked extended technique for electric bass.
2010s
Corderyl Martin ('10), Columbia, was named Whithorne Middle School Teacher of the Year.
John Carter Routh ('10), Nashville, founded Dickerson Skyline, a one-day mini festival of music in Nashville. Routh also plays and books shows for Charlie Bob's.
Eric Fleet ('12, '13), Fairview, was appointed an official member of the Tennessee Council for the Deaf, Deaf-Blind, and Hard of Hearing by Gov. Bill Haslam. The Council has responsibility for ensuring that state and local public programs and services are accessible to deaf, hard of hearing, late deafened, and deaf-blind citizens. As an MTSU student, Fleet founded the MTSU Deaf Raiders and in 2015 authored the first annually printed newsletter, MTSU Silent Blue Observer.
Megan Moore ('12), Clarksville, who works at the Jean Crowe Advocacy Center, a domestic violence service near Nashville, has been accepted into the master's degree program in Gender, Development, and Globalization at the prestigious London School of Economics. Moore begins the one-year program in September 2016.
Howard "Max" Barrett ('13), Nashville, is a project estimator for J.E/ Dunn Construction. In his tenure there, Barrett has submitted over $850 million in estimates to Dunn clients—including some marquee Nashville projects such as the One City Medical Office Building, Thompson Nashville Hotel in the Gulch, and the 222 2nd Avenue Office Building.
Mahmud A. Brifkani ('13), Antioch, works as an associate editor and legislative analyst with M. Lee Smith Publishers, a division of BLR. When the state legislature is in session, he covers various committees and floor sessions, summarizes legislation, and creates weekly calendars. He also serves as associate editor of the Tennessee Government Officials Directory. Mahmud was recently accepted to Vanderbilt Law School and plans on attending in fall 2016.
Drew Anderson ('14), Murfreesboro, joined the City of Murfreesboro as the first travel program coordinator at the St. Clair Senior Center.
Hailie Cochran ('14), Spring Hill, joined private fitness studio UFIT in Murfreesboro as a personal trainer.
Bryan Gilley ('14), Portland, works with the City of White House as museum curator and Chamber of Commerce coordinator.
Denise Tabscott ('14), Culleoka, a middle school librarian in Metro Nashville Public Schools, was a recipient of a 2016 MANGO Languages/NMRT Professional Development Grant, a professional development opportunity afforded through the American Library Association. Among other roles, Tabscott is a member of the Tennessee Library Association's state conference committee.
Elaine Eisinger ('15), Nashville, is working at the state attorney general's office in the Criminal Justice Division as assistant to the senior deputy attorney general.
Siobhan Morales ('15), Antioch, joined private fitness studio UFIT in Murfreesboro as a personal trainer.
In Memoriam
Virginia Fielder Hobbs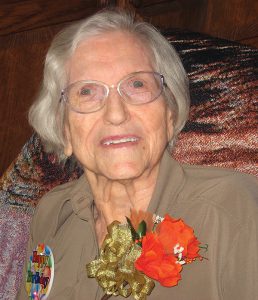 Virginia Fielder Hobbs ('37), died March 18, 2016 at the age of 105. Hobbs, of Waynesboro, passed away at her home on South Main Street where she was born Nov. 20, 1910. Hobbs graduated from Wayne County High School in 1929, from MTSU in 1937, and from George Peabody College in 1950. Called "Tootsie" by many, her long career began in 1931 as a classroom teacher in Wayne County. In 1943 she went to Nashville, where she served in the classroom until 1950. That same year she received her master's degree in Music Education and was immediately appointed a county supervisor of music. She continued her supervisory position when the consolidated county-city Metro system was formed. During her 25 years as a supervisor, Hobbs was active in local and state music organizations, and her attendance at national conventions took her to cities throughout the United States. As a result, she impacted literally thousands of Middle Tennessee elementary school children that she taught to sing, play the flute, or simply to enjoy music. At the time of her retirement in 1975—following 44 years in education —Tootsie was a member of the state Board of Education representing Elementary Music for Middle Tennessee. Her niece, Dr. Virginia "Jenny" Dodge Fielder, a charter member of MTSU's College of Media and Entertainment Board of Visitors and a former vice president for research for Knight Ridder Inc., which was once the nation's second largest newspaper publisher, established The Fielder Family Endowed Scholarship in December 1998 to recognize the work of her late father, James Harris Fielder (B.S.'34), who was also an educator, as well as her mother, Eva ('42), and, of course, her aunt Tootsie. As a result of the gift, one $4,500 scholarship is awarded annually to a Wayne County resident attending MTSU with an interest in journalism, mass communication, elementary and/or special education, nursing, music or recording industry. The recipients are known as the Fielder Scholars. According to Dr. Fielder, her Aunt Tootsie was a remarkable story from the very beginning. Born premature by a couple of months, she weighed only 2½ pounds and could be held in one hand. Her nickname derived from her father who once said "look at my little tootsie" while holding his daughter. Her family is said to have put Tootsie in a buggy with hot bricks and placed her under the flue in their house to keep her warm.
1940s
Elizabeth Russell Gibbs ('41), Asheville, North Carolina, Jan. 15, 2016
Ruby Baker Gibson ('41), Nashville, Feb. 12, 2016
Joe Harney Sr. ('49), Athens, Georgia, Feb. 1, 2016
William Knight Sr. ('46), Murfreesboro, Dec. 28, 2015
William Read ('49, '55), Murfreesboro, Jan. 22, 2016
William Woodruff ('48), Springfield, Virginia, Jan. 1, 2016
1950s
James Bagwell ('55), Hendersonville, Oct. 15, 2015
Homer J. Beliles ('51), Nashville, Oct. 24, 2015
Clifford Brothers Jr. ('53,'64), Bell Buckle, March 27, 2016
Doris Marable Burns ('53), Memphis, March 19, 2016
Avola Whitesell Callaway ('52),Rayle, Georgia, Oct. 25, 2015
Milner Carden ('57), Tullahoma, Dec. 10, 2015
Wilbern Clark ('50), Flintville, March 20, 2016
Anne Sharp Cole ('53, '70, '75),Brentwood, Dec. 5, 2015
Clarence Demonbreun ('58), Nashville, Oct. 2, 2015
James "Turk" Harrison ('51), Aiken, South Carolina, Jan. 22, 2016
Estell Tate Hooten ('59), McMinnville, Dec. 8, 2015
John Krickel ('54), Portal, Georgia, Oct. 22, 2015
Janice Massey ('58), Richardson, Texas, Feb. 10, 2016
Sarah Connelly May ('54, '68), Smyrna, Nov. 29, 2015
Richard McCord ('53), Murfreesboro, Nov. 20, 2015
Joe Merrell ('58), Elkton, Jan. 8, 2015
Melvin Owen ('57), Wichita, Kansas, Nov. 19, 2015
Thomas Tucker ('59), Columbia, Dec. 2, 2015
1960s
Norma Bell ('63), Grayson, Georgia, Jan. 14, 2016
Mary Davis Bishop ('66), Selma, Alabama, Jan. 11, 2016
Paul Calloway ('68), Nashville, Feb. 6, 2016
Margaret Stephens Crockett ('64), Nashville, Oct. 11, 2015
Robert Crowder ('65, '71), Murfreesboro, Oct. 3, 2015
Leslie Earheart ('67), Cedar Hill, May 23, 2015
James Freeman ('69, '73), Murfreesboro, March 6, 2016
William Hobbs ('64), Estill Springs, Feb. 3, 2016
Jack Kincer ('66), Signal Mountain, March 17, 2016
Linda Johnson Kinder ('65), Lake Placid, Florida, Dec. 7, 2015
James Lewis ('69), Rockwall, Texas, Nov. 3, 2015
Rufus Lyle, II, ('61), Clarksville, Oct. 19, 2015
Francis Broyles Murray ('65), Mount Morris, Illinois, Dec. 10, 2015
Frank Norcom Jr. ('65), Murfreesboro, Jan. 5, 2016
James Perry Jr. ('65, '68), Cookeville, Jan. 10, 2016
James Reeves Jr. ('62), Manchester, Dec. 4, 2015
Fred Smith, III, ('66), Greensboro, North Carolina, Jan. 13, 2016
Leonard Tidwell, ('67, '68), Spring Hill, Jan. 12, 2016
Thomas Ward ('60), Redington, Florida, Feb. 28, 2016
Betty J. Webster ('61, '79), Murfreesboro, May 9, 2015
Peggy J. Whicker ('64, '74), Murfreesboro, Jan. 31, 2016
Betty Sadler Wittrig ('69), Winfield, Iowa, Oct. 31, 2015
William Woolfolk Jr. ('66), Horn Lake, Mississippi, Oct. 5, 2015
1970s
Robert Arnold ('71, '73), Murfreesboro, Feb. 24, 2016
Alice Duckworth Bailey ('73, '76, '80), Tullahoma, Feb. 23, 2016
Charles Banks Jr. ('76), Tuscumbia, Alabama, Jan. 6, 2016
James Beaty ('70), Charleston, Nov. 15, 2015
Bridget Merriman Berman ('73), Nashville, Sept. 26, 2015
Thomas Coats Jr. ('77), Pelham, March 20, 2016
Sandra Batey Cole ('77), North Myrtle Beach, South Carolina, Jan. 1, 2016
Michael Cowan Sr. (71), Hixson, March 26, 2016
Richard Davis Sr. ('74), Milford, Delaware,  Nov. 29, 2015
Robert "Bruce" Durbin ('70), Mount Dora, Florida, Jan. 19, 2016
Cheryl Flanigan ('76, '79, '95), Murfreesboro, April 14, 2016
Douglas Fender ('72), Jonesboro, Arkansas, Feb. 2, 2016
Vera Whiteside Grimes ('73, '83), Mount Pleasant, Feb. 28, 2016
David Henkel ('72), Nashville, Nov. 17, 2015
James Keith ('72), Tullahoma, Jan. 27, 2016
Wayne Kindness ('77), Murfreesboro, March 26, 2016
Molly Roznoski Kirgis ('78), Belding, Michigan, Feb. 24, 2016
Nick Kohanowski ('74), Moorhead, Minnesota, Feb. 25, 2016
Warren Miller III, ('77), Clifton, March 15, 2016
Morris Mitchell ('70, '76), Pulaski, Jan. 19, 2016
Earline Green Ross ('74), Jasper, Dec. 4, 2015
William Satterfield ('74), Sarasota, Florida, March 21, 2016
Philip Trauernicht ('79), Nashville, Nov. 14, 2015
Iris Parsons Young ('70), Murfreesboro, Jan. 9, 2016
1980s
John Weaver ('89), of Murfreesboro, one of the founders of the LGBTQ group on campus (now MT Lambda) and a pioneer in the state of Tennessee for LGBTQ student rights, passed away March 18, 2016. After the MTSU group was launched on campus in the mid-1980s, students from UT-Knoxville, Austin Peay, and several other Tennessee universities met with Weaver to learn more about forming their own groups.
Mikey Gray Barnes ('82), Livingston, Jan. 1, 2016
James Dotson ('89), Nashville, Dec. 10, 2015
Stephen Elsner ('85), Fairview, Dec. 20, 2015
William Ferrell Jr. ('83), Brentwood, Feb. 10, 2016
Tamela Koudleka McCann ('86, '89), Nashville, Jan. 19, 2016
Stanley McKinney ('80), Decatur, Georgia, April 3, 2015
Virginia Racker ('85), Nashville, Jan. 9, 2015
Roy Robinson ('84), Chattanooga, Feb. 24, 2016
Dale Womack ('81, '84), Franklin, Dec. 17, 2015
1990s
Michael Aldrich ('96), Huntsville, Alabama, Nov. 3, 2015
Gregory Allen ('95), Murfreesboro, May 20, 2014
Linda Uselton Brown ('92, '94), Murfreesboro, Feb. 4, 2016
Susan Claiborne ('92), Cornersville, Jan. 3, 2016
Timothy Goodwin ('94), Columbia, Jan. 13, 2016
Vann Gregory ('90), Murfreesboro, Jan. 6, 2016
Dwight Irons ('91), Charlotte, North Carolina, Nov. 25, 2015
Linda Folk Janeway ('94), Sewanee, March 20, 2016
Johannes Johannsson ('92), Decherd, Dec. 1, 2015
Wade Johnson III ('91), Macon, Georgia, Jan. 30, 2016
Marva C. Smith ('91), Manchester, Dec. 13, 2015
Cynthia Woodard ('94), Petersburg, Dec. 3, 2015
2000s
April Yant Cameron ('04), Bradyville, Dec. 26, 2015
David Costelac ('00), Lebanon, Dec. 27, 2015
Robert French ('01), Christiansburg, Virginia, March 11, 2016
Blake Hester ('07), Manchester, March 1, 2016
Timothy Hurst ('04), Clarksville, March 17, 2016
Zan McCormick ('07), Murfreesboro, Jan. 5, 2016
2010s
Gordon Medlock ('13), Columbia, Oct. 11, 2015
---