Beyond Blue – MTSU recognizes successful alumni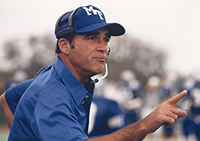 James "Boots" Donnelly ('64) was among 24 inductees into the College Football Hall of Fame last year. The first ever Blue Raider to receive the honor, Donnelly joined only 934 players and 205 coaches (out of the nearly 4.92 million who have played or coached college football over the past 144 years) ever to be inducted into the hall. As a player, Donnelly led MTSU to a conference championship and a Grantland Rice Bowl win in 1964. As a coach, Donnelly led MTSU to nine top-20 regular-season finishes, seven NCAA I-AA playoff appearances, and a 31-game home winning streak from 1987 to 1993. He later served as MTSU's athletics director, playing an integral role in moving the program to the FBS level.
 Woody Bomar ('67) is president of Green Hills Music Group, a Music Row publishing enterprise, whose songs have been recorded by George Strait, Hunter Hayes, Luke Bryan, and Jake Owen, among others. A Vietnam veteran, Bomar
began his music career as a songwriter, penning hits in the 1980s for the likes of Conway Twitty, Loretta Lynn, Hank Williams Jr., and Lee Greenwood. He later
served as general manager at Combine Music, where he promoted the music of staff writers including Kris Kristofferson, Larry Gatlin, and Dolly Parton and placed
notable hits including the Judds' first single. He left Combine in 1987 to start Little Big Town Music, which produced fifteen number-one country singles over the next decade. In 1998, Bomar sold Little Big Town Music to Sony/ATV and was simultaneously named the company's senior vice president and general manager. Over the course of his eight-year tenure at the helm of Sony/ATV, the company released 46 number-one singles. Bomar also signed artist/writers including Dierks Bentley, Rascal Flatts, Josh Turner, and Blake Shelton. In 2006, Bomar parted ways with Sony/ATV to return to independent publishing with the creation of Green Hills Music Group.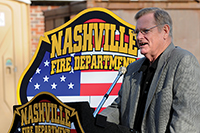 Longtime Nashville city employee Billy Lynch ('68, '78) retired last year after 45 years working for Metro in various roles, including as fire chief, chief deputy sheriff, and public works director, where he oversaw the massive cleanup of the city in less than 30 days in the aftermath of the flood of 2010.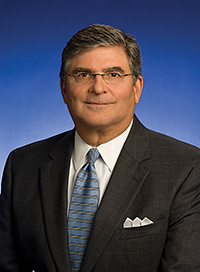 Burns Phillips (right)('70, '73) was named commissioner of the Tennessee Department of Labor and Workforce Development last year. His previous career included serving as managing director of customer-focused government initiatives administration-wide in the Tennessee Department of Finance and Administration. Phillips also founded a surgical instrument company in 1991 that conducted business in the U.S. and 30 other countries.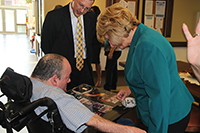 Debra Payne (left) ('76)  was named commissioner of the Tennessee Department of Intellectual and Developmental Disabilities (DIDD) last year. Payne previously served as deputy commissioner of DIDD, a department Tennessee Gov. Bill Haslam described in a press release announcing Payne's promotion as one that handles "some of the state's most difficult work concerning our most vulnerable citizens."
Blind since birth, John Harris ('79, '89) served as MTSU's first Disabled Student Services director. Harris retired last year after more than 27 years with the University, leaving a lasting impression for his efforts in administering the Americans with Disabilities Act and for being a strong advocate for students with disabilities.of the Tennessee Department of Intellectual and Developmental Disabilities (DIDD) last year. Payne previously served as deputy commissioner of DIDD, a department Tennessee Gov. Bill Haslam described in a press release announcing Payne's promotion as one that handles "some of the state's most difficult work concerning our most vulnerable citizens."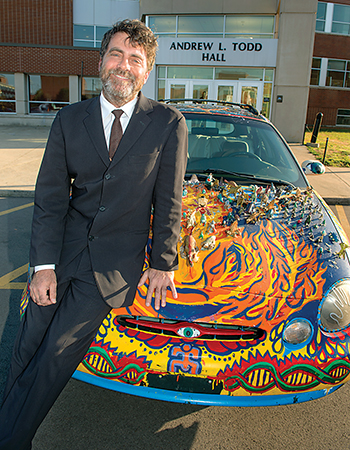 After graduating from MTSU, Wayne White ('79) went to New York City and worked as an illustrator for several publications, including the New York Times and the Village Voice. In 1986, White became a designer and puppeteer for Pee-wee's Playhouse, and earned three Emmy Awards. White eventually moved to California, where he worked in music videos, winning Billboard and MTV Music Video Awards as an art director for his work on the Smashing Pumpkins' "Tonight, Tonight" and Peter Gabriel's "Big Time." More recently, White has earned acclaim for a documentary about his life and work, Beauty Is Embarrassing, and for word paintings, which use thrift-shop "sofa painting" landscapes as backdrops for detailed, deadpan words and phrases like "You're Just Agreeing with Me So I'll Shut Up," and "Hoozy Thinky Iz?" Among his current projects is a permanent sculpture on the Bonnaroo concert grounds—a 30-foot tree made of steel and wood that turns into a psychedelic light show at night.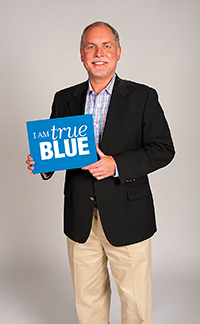 One of the most recent investments made by venture capitalist Byron Smith ('84), a founder of Mountain Group Capital, is Aspire Health, a palliative-care physician network launched by former Senate majority leader Bill Frist, which aims to improve care and lower costs for patients with chronic illnesses. Other companies Smith has invested in include Streamweaver, a synchronized social video app chosen by Apple as a featured app in the iTunes store, and whose investors include one of the earliest-ever investors in Facebook; Panopto, which provides lecture-capture software used by 500 universities and over four million students around the world; Myomo, a company founded at MIT that is a computerized/motorized exoskeleton for use by people with paralysis of the arm; and SwingPal, a company for golfers that also provides the SwingFix service for the Golf Channel and powers much of the Golf Channel Academy app.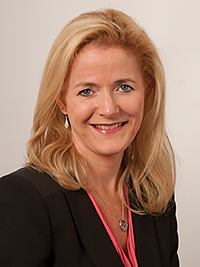 Life sciences journal PharmaVOICE recognized Ernst & Young LLP Principal and Advisory Life Sciences Lead Kim Ramkov ('90) as one of the "100 Most Inspiring People in the Life Sciences Industry" for 2013. As part of her selection, PharmaVOICE highlighted Ramko's dedication to helping women in the industry advance into positions of leadership. Ramko has over 23 years of experience managing business strategy, process improvement, and large-scale information technology projects.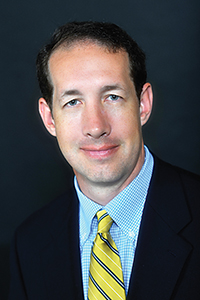 Christopher Parks ('91) is founder and chief development officer for Brentwood-based health care technology company change:healthcare Inc. The entrepreneur established the company in 2007 to help employers, employees, and consumers save money on their health care expenses by improving information flow and cost transparency. Parks is also the founder of checkd.in (a targeted audience engagement firm used by the likes of country music act Lady Antebellum), @carlsays.com, and other companies.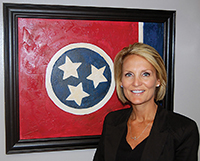 Missy Marshall ('92) was named executive director of Keep Tennessee Beautiful, the state resource center for litter prevention, community greening, and recycling and waste reduction education, which is funded by the Beverage Association, Malt Beverage Association, and the Tennessee Department of Transportation. Marshall previously served as director of communications and external affairs for the Tennessee Department of Intellectual and Development Disabilities (DIDD).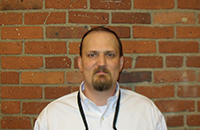 Jeffrey Parker ('97) is an MTSU-trained physicist who spends his days making possible something that has eluded humankind for millennia—a close, comfortable shave. Parker is a senior scientist at Procter & Gamble's South Boston Innovation Center, where he researches how razor blades work and how to make them better. "None of it, someone would say, is cutting-edge technology, not what someone would think science is working on," Parker says. "But it's the nature of the world. It's surprising, the amount of technology in any product." Parker's work has been instrumental in advancing P&G's Fusion ProGlide products, which use five blades—each thinner than a grain of sand—to ensure a smooth shave. Becoming one of P&G's top shaving scientists, though, hasn't led Parker to shave his beard.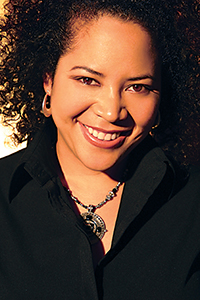 Rachel Fontenot ('98) is director of marketing at Sony Music Nashville, which includes three country label operations—Arista Nashville, Columbia Nashville, and RCA Nashville—and Provident Music Group, one of the world's leading Christian music companies. Fontenot started working at Sony as an intern and has been with the company for 12 years.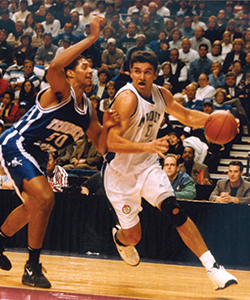 Aylton Tesch ('98), a professional sports agent and vice president at Los Angeles–based Relativity Sports, represented four of the 19 international players selected in the National Basketball Association (NBA) draft last year. Tesch played for the Blue Raider basketball squad from 1995 to 1998 before enjoying a 10-year professional basketball career playing overseas. Tesch also won a Gold Medal at the 1999 Pan American Games as a member of the Brazilian national team.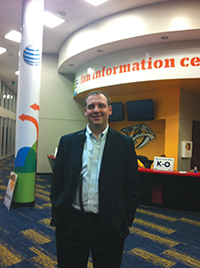 David Chadwell (left)('00) is vice president of event operations for the Nashville Predators and Bridgestone Arena with responsibility for all guest experiences at the venue. Chadwell also oversees the box office, concessions, security, ushers, and the AT&T Fan Information desk. Before Bridgestone Arena, Chadwell worked with Starwood Amphitheatre and Creative Artist Agency and spent time on tour with legendary guitarist B. B. King.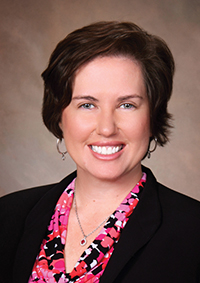 Retta Gardner (right)('00), formerly executive vice president at Murfreesboro-based Guaranty Trust, succeeded company founder and CEO Wendell Mandrell as president and CEO of the 27-year-old mortgage company last year. Gardner joined Guaranty in 1996. Named executive vice president in 2010, she has been responsible for the company's day-to-day operations, including overseeing new projects and personnel at offices in Murfreesboro, Hendersonville, Mt. Juliet, and Knoxville.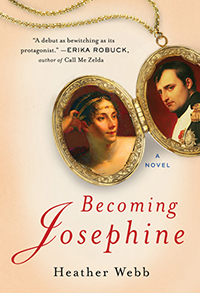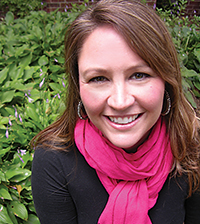 Heather Webb ('00) taught high school French for nearly a decade before turning to full-time novel writing and freelance editing. Her debut novel, Becoming Josephine, released in December 2013 by Plume Book, an imprint of Penguin, tells the story of Rose Tascher, who sails from her Martinique plantation to Paris to trade her Creole black magic culture for love and adventure, including a relationship with the most powerful man of his century—Napoleon Bonaparte.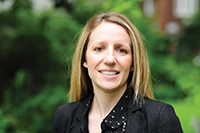 Sara Rainwater ('01) is development director for the TaxPayers' Alliance, Britain's independent grassroots campaign for lower taxes. Rainwater became involved in politics and campaigning at age 12 by helping her uncle (Tennessee state senator Bill Ketron) in his first local election campaign. Rainwater moved to London in 2002 and started a postgraduate degree in European studies at the London School of Economics while also working as a research assistant for a member of Parliament. She joined the TaxPayers' Alliance in 2008 and today oversees the organization's fundraising program and special projects, including organizing high-profile events with international dignitaries.
Julianna Bass ('02) captured top honors with her T-shirt design in last year's Diet Coke Young Designer Challenge. Her design is now emblazoned on T-shirts being sold at all Target stores nationwide—a huge step in any designer's career sure do wonders for the promotion of her own fashion line, which she launched in 2008. Celebrities including Paula Abdul and Eva Longoria have worn Bass's fashions, and she has received professional accolades from publications including Vogue and Women's Wear Daily, among others.
1950s
Herbert Winstead ('53), Walling, retired with the rank of full colonel from the Tennessee State Guard after 48 years of service in the Army, Navy, and State Guard. He received the prestigious Alvin C. York Award for outstanding service to his country and the state of Tennessee. Dr. Winstead has owned and operated Walling Dental Center since 1978.
1960s
Marvin Burton ('61), Rockvale, received the Lions International Letter of Appreciation from the Murfreesboro Lions Club.
Bob Haley ('68), Nashville, was inducted into the Wilson County Agricultural Hall of Fame in April 2013.
Mike Jones ('68, '81), Auburntown, is the new principal at Cannon County High School.
1970s
Betty Anderson ('71), Nashville, is the new executive director of Stand for Children Tennessee.
Larry Williams ('71, '76, '95), Murfreesboro, published his second book, The Unruly Skies: One Man's Journey inside the Federal Aviation Administration, describing his 34 years as an FAA safety inspector.
Wilmon Ashley Smith Jr. ('72), Cleveland, director of teacher education and field experiences at Lee University, was designated president-elect of the Association for Middle Level Education.
George Hughes ('73), Union, Ky., Gateway Community and Technical College president and CEO, was awarded the prestigious Founders Award by the Covington Business Council for his visionary leadership to establish an urban/metro campus in the northern Kentucky city.
Evelyn "Creighton" Anderson ('75), Harrison, has collaborated with Thornton Parsons on a political work titled Jack A$$ Politics and Culture.
Barbara Gourley Davenport ('76), Smyrna, was recently promoted to Extension Agent II, working with the 4-H Youth Development Program in Rutherford County. She was recognized as Communicator of the Year by her professional organization, TAE4-HW, awarded the NAE4-HA Southern Region Award, and presented with Outstanding Achievement certificates at the National Extension 4-H Agents Conference last fall.
David Parker ('76), Bradyville, host of the annual Parker Brother's Labor Day Polled Hereford sale, received the Tennessee Cattlemen's Association Cow/Calf Producer of the Year award.
Thomas Vance ('76), McMinnville, retired as CEO and vice chair of First National Bank of McMinnville.
Mark Barker ('77), Readyville, received the Tennessee Cattlemen's Association Stocker Grower Producer of the Year award.
Barbara Nichols Parker ('77, '80, '94), Woodbury, Cannon County director of schools, was named 2013 Upper Cumberland Director of the Year.
John Pitts ('78), Corinth, Miss., sports editor at the Northeast Mississippi Daily Journal in Tupelo, was awarded the 2012 Better Newspaper Contest award for Best Sports Column from the Mississippi Press Association.
Sharon Payne Hamrick ('79), Signal Mountain, was appointed director of litigation support services for Decosimo Advisory Services Practice.
Sheila Johnson ('79, '87 '91), Joelton, retired from teaching after 30 years.
1980s
James Spurlock ('81), Murfreesboro, received the Heart of Hospice Award from Alive Hospice.
Gregory D. Smith ('85) is a Pleasant View Municipal Court Judge. He recently wrote the Tennessee Municipal Judges Benchbook, printed and published by the Tennessee Administrative Office of Courts.
Marshall Davidson III ('86), Goodlettsville, staff attorney for the Tennessee Supreme Court, was honored with the 2013 Distinguished Faculty Award from the Nashville School of Law.
Gary Smith ('87), Mt. Juliet, was promoted to assistant manager of the Hwy. 70 branch of Wilson Bank & Trust.
Kenneth Strickland ('89), Chevy Chase, Md., was named to NBC's 2013 TheGrio List, recognizing African Americans making a difference in the lives of Americans from a variety of work fields.
1990s
Kerry Armstrong ('90), San Diego, Calif., was named Trial Lawyer of the Year by the San Diego Criminal Defense Bar Association.
Timothy Fink ('90), Kingston Springs, was appointed to the advisory board of the I'll Fly Away Foundation.
Sherri Holmes ('90), Portland, was named 2012–13 Teacher of the Year at Portland West Middle School.
Jim Summers ('90), Patuxent River, Md., recently retired from the U.S. Air Force after 21 years of service, most recently as a civil service employee (contract specialist) with the Naval Facilities Engineering Command at the Naval Air Station.
Mark K. Green ('91), Brentwood, was promoted to chief counsel, regulatory boards with the Tennessee Department of Commerce and Insurance.
Martin Harris ('92), Chattanooga, was named director of nursing at Chattanooga State Community College.
Mary Esther Reed ('92, '94, '96), Smyrna, was sworn in as the new mayor of Smyrna.
Sherry King ('93, '96, '00), Murfreesboro, was appointed principal at Homer Pittard Campus School.
Matthew Wade ('93, '07), Bell Buckle, was named director of farm laboratories at MTSU.
Carlton Clay ('94), Benton, Ark., is area supervisor for American Greetings in Little Rock, Ark.
Heather Gum ('94), Readyville, is a program assistant for the Rutherford County Extension Office, where she has been awarded the NAE4-HA Southern Region Award and recognized with Outstanding Achievement certificates at the National Extension 4-H Agents Conference.
Jason Loggins ('94), Mt. Juliet, was named a vice president at Wilson Bank & Trust.
Muffin Dixon ('95), Memphis, was named director of development operations for the Pi Kappa Alpha Foundation.
Becky Duncan ('95), Mt. Juliet, a full-time aviation mechanic instructor at Baker's School of Aeronautics in Nashville, received the Association of Women in Aviation Maintenance Teacher of the Year award in March 2013.
Christopher Haley ('95), New York, N.Y., was appointed director of institutional advancement for the Professional Children's School in New York City.
Heath Nokes ('95), McMinnville, transferred after 17 years working with youth in Moore and Cannon counties to a position as Extension Agent III in adult agriculture in Warren County.
Scott W. B. Kaiser ('96), Franklin, was recently elected to the board of the nonprofit A Vintage Affair, which raises funds benefiting needy women and children in Williamson County.
Connie Frey Spurlock ('96, '98), Staunton, Ill., was named Southern Illinois University–Edwardsville's first Sustainability Faculty Fellow. She was also recently promoted to associate professor.
Lisa McWherter ('97), Anderson, S.C., was named vice president for development at Southern Wesleyan University.
Melissa Riley ('97), Brentwood, coauthored Waves of Change, a book chronicling how Tennessee's thousand-year flood changed the lives of a survivor, a rescuer, and a family grief counselor.
Robert Holman ('98), Lynchburg, was named publisher of the Moore County News in November 2012.
2000s
Jessica Willett Parrish ('02), Las Vegas, Nev., is the new pastoral assistant at St. Anthony of Padua Church.
Matt Palmer ('03), Bowie, Md., was a featured performer in the Norsk Gitarfestival in August 2013, in Hamar, Norway (Scandinavia's most prestigious guitar series). Palmer teaches at Washington College in Chestertown, Md.
Meredith Kerr ('04, '12), Murfreesboro, was named development director for the MTSU College of Liberal Arts.
Amanda Maynord ('04), Nashville, is a senior account supervisor for public relations firm Lovell Communications.
Teresa Whitton ('04), Ringgold, Ga., earned her CFP designation—the highest professional designation in the financial planning field—from the Certified Financial Planner Board of Standards.
Tyler Andal ('07), White House, won the National Old-Time Banjo Championship at Uncle Dave Macon Days in Murfreesboro.
Benjamin Barnes ('09), Opp, Ala., was promoted to head women's golf coach at Troy University.
Amanda DeRosia ('09), Murfreesboro, was promoted to senior accountant in the tax services department of Lattimore Black Morgan & Cain PC.
Kyle Engels ('09), Mt. Juliet, was promoted to senior accountant of tax services for Lattimore Black Morgan & Cain PC.
Bryan McCoy ('09), Fargo, N.D., is transportation coordinator for the North Dakota Community Action Partnership, promoting and coordinating public transportation systems across the state.
Curtis Hall ('04, '13), Nashville, was promoted by performing rights organization SESAC to be responsible for recruiting, training, and managing the company's licensing representatives.
Amanda McRight Relyea ('08), Nolensville, was promoted to director of professional development of the International City/County Management Association.
Summer Harlow ('09), Nashville, was named director of West Coast promotion for Mercury Records Nashville.
2010s
Anthony L. King ('10), New Orleans, La., is dean of students and families at Sylvanie Williams College Prep Elementary School.
Michelle Ebel ('11), Murfreesboro, was promoted to senior accountant of audit services for Lattimore Black Morgan & Cain PC.
Jason Gass ('11), Portland, Maine, joined Stantec's Scarborough office as an aviation planner.
Mara Snowman ('11), Cleveland, is a euphonium player with the U.S. Army Japan Band and has been named the U.S. Army Japan Soldier of the Year.
Abbey Espey ('12), Smyrna, was named head coach of the Smyrna High School Lady Bulldogs volleyball team.
Elliott Malone ('12), Mosheim, completed U.S. Navy basic training at Recruit Training Command, Great Lakes, Ill.
Alexis Metko ('12) was promoted to national sales assistant for Cumulus Nashville.
Jack H. Williamson ('12), Hixson, graduated from Navy Officer Candidate School and received a commission as an ensign assigned to the Officer Training Command in Newport, R.I.
Joy Bauman ('13), Pegram, was appointed principal at Kingston Springs Elementary School.
BABY RAIDERS
Aubrey Margaret Adams, August 21, 2013, to Jason and Angela ('08) Adams of Smyrna
Casper William Bibeau, September 21, 2013, to Chuck ('98) and Jennifer Bibeau of Franklin
Bennett Michael Booten, January 28, 2013, to Brandon ('02) and April Richardson Booten ('04) of Murfreesboro
Fletcher Reid Brandon, June 8, 2013, to Matthew ('07) and Lauren Brandon ('07) of Murfreesboro
Jordin Mackenzie Carlton, October 17, 2012, to Jay ('01) and Anna Carlton of Murfreesboro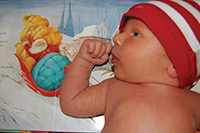 Darien Cartwright, (left) November 14, 2012, to Charlie and Nancy Michele Cole Cartwright ('06) of Smyrna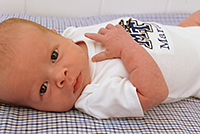 Martin Thomas Clarke, (right) September 24, 2013, to Charlie ('01) and Megan Clarke ('01) of Murfreesboro
Caroline Elizabeth Dianna, May 21, 2013, to Chris and Jody McHugh Dianna ('99) of Murfreesboro
Carter Jedidiah Parrish, March 14, 2013, to Gary and Jessica Willett Parrish ('02) of Las Vegas, Nev.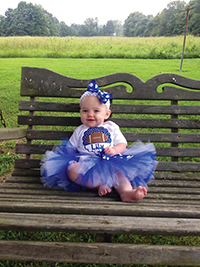 Lily Kate Wilburn, (right) March 22, 2013, to Joey ('08) and Tracie Wilburn ('08) of Murfreesboro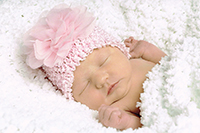 Clayton Joseph Riddle, August 28, 2013, to Brad ('99) and Katy Francisco Riddle ('99,'05) of Manchester
 Vivian Eleanor Winkler, (left) October 3, 2013, to Rhett ('03), and Macy Winkler ('11) of Murfreesboro
In Memoriam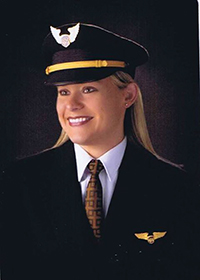 Shanda Carney Fanning ('99) was one of two pilots who died August 14, 2013, when a United Parcel Service airplane crashed in Birmingham, Ala. Described as a country girl at heart who loved to ride horses and who had wanted to fly airplanes from a very young age, Fanning was 37 at the time of her death. She is survived by her husband, Bret Fanning, who works in distribution at Jack Daniel's Distillery in Lynchburg. In the aftermath of her death, Fanning's best friend, fellow MTSU alum Whitney Dix, also a pilot and a dispatch manager with Southwest Airlines in Texas, is spearheading a drive to establish the Shanda Carney Fanning Aviation Memorial Scholarship at MTSU. Nearly $50,000 has been raised to endow the scholarship, which will be awarded annually to aviation students studying in MTSU's nationally known aerospace program. The goal is to begin awarding it for the 2014–15 academic year. The long-term goal is to increase the award to the University's Centennial Scholarship level, which requires a $100,000 endowment. Anyone interested in giving to the scholarship fund can do so online at www.mtsu.edu/fanningscholarship.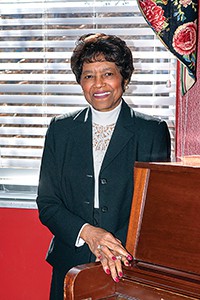 Mary Caruthers Scales ('67), whom the Daily News Journal recently described as a trailblazer for local black and female leaders, died on October 6, 2013, following an extended battle with cancer. She was 85. The first black female on the Murfreesboro City Council, Scales was also a member of the Murfreesboro City School Board. Additionally, she holds the distinction of being the first black faculty member at MTSU to be hired in an academic unit on campus, where she taught in the department of education. Scales owned Scales & Sons Funeral Home from 2000 to 2012.
1930s
Inez Jennings Harrison ('38, '68), Lebanon, June 20, 2013
Ruby McElroy ('30), Nashville, May 19, 2013
1940s
William Davidson ('41), Shelbyville, September 12, 2013
Anna McCormick Kamack ('48), Alpharetta, Ga., June 6, 2013
Alderson Miller ('40), State College, Penn., May 14, 2013
Christine Farmer Moberly ('41), Knoxville, September 27, 2013
Mable Bowling Petty ('43), Pensacola, Fla., September 27, 2013
Carol Crouse Powell ('49), North Potomac, Md., June 10, 2013
Claudine Sproull ('47), McMinnville, April 18, 2013
Kathryn Kerby Tolle ('46), Keller, Texas, January 22, 2013
Edwin Whitlock ('48), McMinnville, March 19, 2013
1950s
Bryan Carson ('59), Shelbyville, August 30, 2013
David Cullum ('55), Nashville, May 2, 2013
Bettye Knight Gentry ('56), Goodlettsville, June 16, 2013
Jerry Gilreath ('56), Bethesda, Md., September 10, 2013
Hollis Hopkins ('59), Huntsville, Ala., July 20, 2013
Donald Jones ('59, '66), Woodbury, August 20, 2013
Bob Keeton ('54), Las Vegas, Nev., September 9, 2013
Joe McElroy ('53), Murfreesboro, September 24, 2013
June Carter Miller ('51), Murfreesboro, January 21, 2013
Leroy Provost ('52), Holyoke, Mass., July 9, 2013
Millie Overall Rawlins ('58), Jacksonville, Fla., July 14, 2013
Clifton Ray ('54, '55), Jacksonville, Fla., July 5, 2013
Lester Sands ('59, '62), Mount Pleasant, July 4, 2013
Cromer Smotherman ('50), Lawrenceburg, May 3, 2013
Joe C. Tenpenny Jr. ('56), Murfreesboro, July 1, 2013
Marvin Thomas ('59), Hixson, July 29, 2013
Clyde Underwood ('51), New Port Richey, Fla., May 14, 2013
Ruth Bryant Weaver ('51), Lewisburg, July 29, 2012
1960s
James T. Brown ('62), Shelbyville, June 4, 2013
Dorothy McQuiddy Cathey ('64), Madison, June 11, 2013
Robbie Cole ('60), Gulfport, Miss., May 2, 2013
Jack Condra ('60), White, Ga., July 2, 2013
Jerry Fisher ('67, '70), Bon Aqua, September 24, 2013
Michael Gavin ('68, '95), Murfreesboro, January 9, 2013
Bobby Holmes ('67), Chattanooga, June 22, 2013
Robert Rader ('66), Savannah, Ga., August 8, 2013
William Richardson ('63, '74), Murfreesboro, September 9, 2013
Mildred Martin Sargent ('65, '67), Fort Myers Beach, Fla., April 20, 2013
Mary Caruthers Scales ('67), October 6, 2013
Dwight Smith ('61), Old Hickory, September 21, 2013
Hughie Slater ('69), Higdon, Ala., April 17, 2013
Elliott Stockard ('69), Columbia, June 1, 2013
1970s
Gary Arnold ('78), Franklin, July 1, 2013
Lillian Faulkner Baggett ('77), Dacula, Ga., June 28, 2013
Alan Chester ('75), Dickson, July 22, 2013
Lynda Combs ('75), Loogootee, Ind., August 17, 2013
Linda Ellis Day ('72), Fort Oglethorpe, Ga., September 24, 2013
Frederick Erickson ('78), Franklin, July 6, 2013
Timothy Gooden ('70), Hixson, July 15, 2013
Carey Henley ('72), Chattanooga, April 15, 2013
Marilyn Hundley ('79), Lexington, Ky., August 5, 2013
Marian Kavka ('73), Lisbon, Iowa, September 11, 2013
James Kelley ('70), Columbia, July 9, 2013
Kenneth Lavender ('72), Fitzgerald, Ga., June 23, 2013
Burley Lockridge ('71), Brentwood, June 5, 2013.
Walter Low ('75, '76), Ann Arbor, Mich., March 3, 2013
Loyd "Tommy" Nokes Jr. ('78), Murfreesboro, June 15, 2013
Jon Scarlett ('72, '94), Smyrna, July 2, 2013
Sam Salerno ('78), Stockbridge, Ga., September 19, 2013
Johnie Tharp Jr. ('74), Richmond, Va., March 11, 2013
Johnny Thompson Sr. ('75), Lebanon, May 25, 2013
Robert Tingle ('72), Signal Mountain, August 3, 2013
Joy Bromley Walker ('70), Chesterfield, Va., May 5, 2013
Lillian White ('79), Nashville, August 2, 2013
1980s
Walter Brown ('85), Cookeville, December 15, 2012
Joe Bryant ('81), Murfreesboro, June 12, 2013
Janice Golden ('84), Lynchburg, September 23, 2012
Betty Hare ('85), Old Hickory, June 19, 2013
Robert "Duane" Hensley ('81), Manchester, November 26, 2012
Lizabeth Jacobs ('83), Murfreesboro, September 24, 2013
John Johnson ('86), Poulsbo, Wash., June 21, 2013
Christopher Keen ('80), York, Penn., May 2, 2013
Mark Landers ('80), Winchester, September 15, 2013
Daphne Lazenby ('86), Thompson Station, August 20, 2013
Richard Linville ('87), Gainesville, Ga., September 16, 2013
Edith Powers Louisell ('86), Chattanooga, July 23, 2013
Joseph Maples ('81), Pigeon Forge, August 31, 2013
Donna McPeak ('89), Pulaski, July 2, 2013
Karen Powers ('80), McEwen, January 31, 2013
Diana Reed ('80), Brentwood, October 3, 2012
Claudia Robinson ('83), Princeton, N.J., June 30, 2013
Walter Sloan ('82), Kennesaw, Ga., March 7, 2013
Larry Trapp ('81), Seguin, Texas, May 22, 2013
Peggy Waters Vann ('87), Centerville, July 7, 2013
Sandra Barnes Walker ('82, '86), Murfreesboro, September 22, 2013
Marshal "Owen" Warren ('83), Nashville, December 6, 2012
Lawrence Wooden ('86, '94), Murfreesboro, October 17, 2012
1990s
Debbie Breeden ('95), Manchester, January 17, 2013
Kevin Haughney ('98), Chapel Hill, N.C., January 31, 2013
Kevin Howard ('91), White House, May 4, 2012
Betty Johnson ('92), Murfreesboro, September 21, 2013
Jennifer Messick ('98), Murfreesboro, May 26, 2013
Patsy Stuard ('93), Clarksville, April 27, 2013
Phillip Winkler ('91), Dyersburg, April 25, 2013
Jay Young ('94), Orlando, Fla., February 16, 2013
2000s
Ashley Adcock ('07), Hixson, June 15, 2013
Kyle Allen ('08), Columbia, February 17, 2013
Brice Barnes ('09), Owensboro, Ky., October 1, 2012
William Bates ('09), Tullahoma, September 7, 2013
William Boone III ('03), Westerville, Ohio, September 23, 2012
Wendi Wilson Bravo ('02), Columbia, July 10, 2013
Patti Bryant ('02), Maryville, September 23, 2012
Rhonda Burkett ('01), Murfreesboro, October 3, 2012
Whitney Fisher ('06), Hendersonville, August 23, 2013
Derek Harper ('08), Carthage, October 19, 2012
Andre Logue ('05), Lebanon, August 10, 2013
Brandi Carter Magin ('04, '07), Mercersburg, Penn., September 18, 2012
Brooks May ('01), Lewisburg, February 7, 2013
David Moore ('05), Rockvale, Mary 25, 2013
Suzanne Moran ('04, '10), Nashville, August 27, 2013
William Rosenbalm ('01), Los Angeles, Calif., June 11, 2013
Dawn Tittle ('03), Union City, August 27, 2013
2010s
Tanya Luffman ('11), Salisbury, Mass., April 16, 2013
---