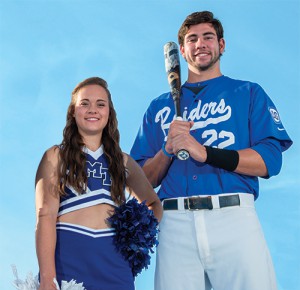 Honors student-athletes excel on the field and in
the classroom
by Carol Stuart
For many student-athletes, the competitive drive, discipline, and intensity that make them successful in their sports can also make them successful in the classroom. MTSU baseball player Kaleb King and cheerleader Kailey McDonald are evidence of that.
King and McDonald have challenged their minds as well as their bodies by becoming Honors College students.
"We've had some top students who have gone through here and competed at a very high level, but it is unusual for them to be in the full-blown Honors College," says MTSU Director of Athletics Chris Massaro. "We encourage that; we think it's the ideal. You strive for academic excellence, and you push for it as hard as you push for athletic excellence."
King, a sophomore from St. Louis, and McDonald, a junior from Murfreesboro, also are among 20 students annually awarded the prestigious Buchanan Fellowship through the Honors College. Named for Nobel Prize–winning alumnus Dr. James M. Buchanan, the full-ride scholarship is the highest award given to an entering freshman at MTSU.
According to Massaro, it perhaps shouldn't come as a surprise to find that some student-athletes can achieve as much in the classroom as they do on the field of play, especially considering that they are "used to a reaching a very high standard of excellence in everything that they do." The key, he says, is learning how to balance their time. Those who master that, he says, are deserving of high praise.
"[In athletics], it is hours upon hours of training," he says. "To balance that with the rigors of the Honors College program . . . well, it takes a special person to be able to accomplish all that."
Here is a closer look at two such people, Honors student-athletes King and McDonald.
Kaleb King, Baseball
King, who scored an impressive 32 on the ACT, is among only five out-of-state Buchanan Fellows in his class.
He attended St. Louis University High School to challenge himself academically as well as athletically. He knew that baseball usually has a dozen college scholarships to award among teams of 35.
"I knew that would help me make college a lot more affordable and make me a lot more recruitable," King says.
His dad, who as a young ballplayer himself was considered a major league prospect, played a year at Missouri–St. Louis under current MTSU baseball coach Jim McGuire. McGuire mentioned the Buchanan opportunity during recruiting, and school officials showed King how being in the Honors College and playing baseball could be a winning combination on a résumé.
"Ultimately, it will open up a lot of doors," King says.
He says pushing himself both athletically and academically is a way to thank his parents for giving him opportunities and to prepare for the future. King's mom is an elementary school teacher; his father studied business and sells security systems.
"My dad just kind of told me that he was in the same situation I was and to remember that someday baseball
was going to come to an end," the outfielder says.
Baseball players have some of the busiest athletic road schedules, especially in springtime. Practice is 2 p.m.–4:30 or 5 p.m. on nongame days, followed by weight training. Although Monday is the NCAA-required off day, most players work out individually. The squad usually travels every other weekend, missing Thursday and Friday classes.
"It's an every day thing," King says. "It's like another class or two a day, to be able to play a sport. But it's definitely worth it."
King, who is thinking of majoring in Business Administration or Marketing, carries a 3.8–3.9 GPA, has made the Dean's List two semesters, and has received a Conference USA Academic Medal. Collectively, the baseball team had one of its highest GPAs in spring—in part with the help of King's high marks.
King also excelled on the field his freshman season, starting 10 games at designated hitter or outfield and pinch-hitting. He also recently played in a Midwest summer league and had a July 4 walk-off hit at his home stadium, where A League of Their Own
was filmed.
His rigorous high school studies, including two hours of homework a night, prepared him for demanding Honors College studies.
"When the professor assigns something, I'm able to get it done
and then be able to go to practice and get to bed at a decent hour," King says.
A lot of his MTSU teammates work to come out on top in schoolwork, too, because of the same competitive drive, he adds.
"There's no camera on you while you're studying for a test, but in your mind you're thinking 'I want to be the best. I want to be the one the teacher calls out," King says.
Kailey McDonald, Cheerleading 
McDonald, a junior on the cheerleading squad, took a 10-day study-abroad trip to Israel before the fall semester for three hours interdisciplinary credit in the Honors College.
"That's an opportunity that I've had at MTSU and with the Honors College that not everybody gets," she says.
McDonald had a 4.0 academic record as a Siegel High valedictorian, and the Buchanan scholarship sealed the
choice of her hometown university.
"The Honors College is basically funding my education,"
she says.
She still has a perfect GPA after four semesters at MTSU, despite balancing studying, working at a gymnastics gym, and cheering for Blue Raider football, basketball, and volleyball.
McDonald bursts the pop-culture stereotypes of both bubble-headed cheerleaders and Computer Science majors. She
wants to follow her father's example and secure a career in computer programming.
"People usually don't know in class that I'm a cheerleader," McDonald says. "Last year, I had to miss a couple of classes for an away game, so when I told my professor, one of my friends was behind me. He's like, 'Wait you're a cheerleader?' It was super funny."
McDonald grew up participating in competitive sports, winning individual and team Level 8 state championships in gymnastics before moving to competitive and school cheerleading.
As a spirit squad member, her schedule is demanding. Practices are usually three nights a week in the fall and start at 6:30 a.m. in basketball season. Cheerleaders chosen to travel for road games leave Thursday or Friday for the whole weekend. The cheer squad divides into three rotating groups for men's and women's basketball home games and tournaments. Home football games require cheerleaders to arrive four hours before kickoff
for Raider Walk and tailgating.
"Pretty much all day Saturday is football games," McDonald says.
"Being in competitive gymnastics, I used to practice 24 hours a week, so I've had to prioritize and manage my time ever since I can remember. That really helps me in college," McDonald says. "Sometimes I have to say no and make sacrifices to my friends or not do other things that I want to do."
That said, there are times when McDonald gets a little relief from her hectic schedule. Her team understands that from time to time McDonald may miss a community appearance or activity due to her difficult academic schedule. It is not unusual for her to be left off the squad selected to travel on longer road trips that require missing several days of classes. But she has traveled to Memphis, North Carolina, and Southern Miss football games and to the NCAA Women's Tournament in Louisville.
According to McDonald, Honors College classes have been her favorites during her first two years.
"The professors are always really open, and the classes are usually more discussion-based instead of just lectures," she says. "That's been really cool getting to see other Honors students' perspective on things."
Athletes & Honors
McDonald and King aren't the only MTSU Honors College-qualified athletes:
Aaron Aucker, baseball
Reid Clements, baseball
Brad Jarreau, baseball
Ronnie Jebavy, baseball
Mackenzie Sells, women's basketball
Team Efforts
It's not only MTSU athletes who are also Honors students who are excelling on both the fields of play and in the classroom. Check out some of these academic statistics worth crowing about!
Lady Raiders soccer (3.604) and softball (3.299) programs earned Conference USA 2013-14 Sport Academic Awards for the league's highest team GPA in their sport. The women's tennis team (3.299) received an academic award from the Intercollegiate Tennis Association. For the fourth consecutive year, ITA also recognized the men's squad for academic excellence in 2014.
All 17 of Middle Tennessee's athletic teams earned adequate multi-year Academic Progress Rates from the NCAA for the academic years 2009-13. APR is a term-by-term measure of eligibility and retention for Division I student-athletes developed as an early indicator of eventual graduation rates. The current threshold for adequate progress is 925, below which the NCAA can hit a program with sanctions.
Middle Tennessee's football team (972) was second only behind Vanderbilt in the state in the APR released by the NCAA.
Men's golf and women's golf, with perfect 1,000s, won Public Recognition Awards for APRs in the top 10 percent in their sport nationally. Standout golfer Brett Patterson was named the Conference USA Men's Golf Scholar Athlete of the Year, boasting a perfect 4.0 GPA with a major in business administration.
Middle Tennessee's NCAA Graduation Success Rate set a new school record at 87 percent and is five points higher than the NCAA average, Middle Tennessee's men's and women's basketball teams both recorded a 100 percent GSR score, while the Blue Raider football team turned in an impressive 87 percent score.
---