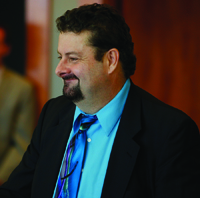 Try topping a small-town daily newspaper earning a Pulitzer Prize for public service.
MTSU alumnus J. Todd Foster ('82), came close.  Following the Bristol Herald Courier's Pulitzer in 2010, managing editor Foster applied for and successfully obtained the executive editor position with the Times Free Press in Chattanooga, where he also honed his reporting skills form 1985 to 1989.
Last April, the Herald Courier earned journalism's top award for an eight-day series called Underfood, Out of Reach for exposing a system that allowed energy corporations to drain natural gas belonging to thousands of landowners without compensating them.  With Foster's guidance, investigative reporter Daniel Gilbert's research and reporting revealed that millions of dollars of royalties had not been paid into escrow, "spurring remedial action by state lawmakers," as the Pulitzer committee put it in the award citation.
With the Times Free Press, Foster is the primary editor of a newspaper with a circulation of 72,000 daily and 100,000 on Sundays serving 20 counties in the three states.  In the middle of an illustrious, award-winning career, Foster's resume includes being inducted into MTSU's College of Mass Communication Wall of Fame in 2003.
---