MTSU advertising students provide a Nashville beverage company with a shot of creativity
by Kourtney L. Hanna
One local energy drink company is giving MTSU students a buzz, or rather; the students are giving it one. One of Dr. Tricia Farwell's recent "Advertising Campaigns" class was given the task of creating ad campaigns for Nashville-based Lotus Energy Drink in order to reach its targeted demographic of, well, college students.
Lotus was formed by three Nashville siblings, Li Jackson and her brothers Jay and Thomas Umboh. Their idea was bold: enter the premium energy drink space – a place dominated by Red Bull and Monster. A 2010 article written by the Nashville Scene about the company stated that the siblings spent 14 months sampling formulations, finally settling on a flavor profile based around fruits acai and mangosteen – along with a touch of lotus flower extract.
Farwell split her class in to two agencies to work on the Lotus campaign. One was led by "account executive" Chris Shepard. Shepard acted as a liaison between his creative agency and Lotus to pull together all of their efforts for a campaign presentation, which each agency gave at the end of the semester.
"That's the kind of position I want to play in the future, so I volunteered," Shepard says. "My whole goal was to kind of keep everything on schedule."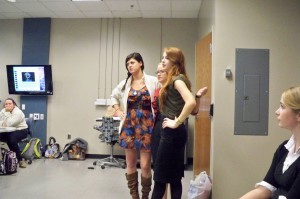 Elaina McFarlin, a student member of the "other" agency, focused on creating print ads and organizing the budget given to them by Lotus. Like Shepard, McFarlin kept her group focused on the project and on treating it for what it was — a real world business venture.
"I always made sure we were on track because we had a real client," McFarlin said. "That's the way the real world is. You have deadlines and you have to make them. And you want to do your best. I think I definitely brought that to my team and tried to keep everything structured."
Both teams suggested that Lotus focus heavily on bringing in student consumers through social media sites, such as Facebook and Twitter. Shepard's agency proposed livening up Lotus' existing Twitter account by holding hashtag competitions to get Lotus "out there" in Web conversation. Shepard recounts his excitement over his group's results.
"One of the coolest things, I think, about the project was, a few days after our presentations, we gave them a copy of our campaigns book, and a few days later they were already implementing some of the ideas that we had suggested at our presentation. So you know, seeing it happen the way we talked about it was just really cool," he says.
"You can see that all the information you retained over the years, everything that you've learned in advertising… see it all come together for that class, [and] it was pretty incredible," recalls McFarlin. "You're like "oh I didn't realize, I'm actually pretty good at this.'"
It is only fitting that Lotus called on MTSU Mass Communication seniors to promote their beverage, as one of three siblings who started Lotus (Jay, '96, Aerospace) is a Blue Raider graduate. A young company starting to reach their dreams of success, Lotus is also giving MTSU students the experience they need to one day chase their own.
[Editor's Note: The Lotus collaboration isn't the only class project recently forged between a MTSU student group and a major brand. As described in an article published in the recording industry magazine Pro Sound Network, another MTSU class created a video for car brand Chrysler featuring the compact car Fiat. The results of this campaign created by a class comprised of RIM and Electronic Media Communications students have led to more opportunities with Chrysler, including working with their SRT line of automobiles. From professional connections to an outstanding media package that included a music video, Professor Dick Williams successfully opened the door for MTSU to construct a class with the goal of getting Chrysler fresh advertising material and giving students real world experience.]
---