The Center for Popular Music houses a world-renowned archive—and direct portal to the popular consciousness of past generations.
By Drew Ruble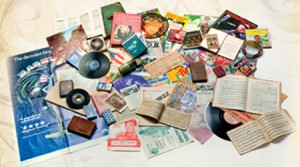 It's the largest and oldest research center for popular music in the world. A part of the College of Mass Communication, it's a real jewel in MTSU's crown. Having recently celebrated its 25th year of existence, it's fair to say the Center for Popular Music at MTSU is better known around the world than in its own backyard.
Established in 1985 as one of 16 centers of excellence statewide, the center today boasts a collection of more than 300,000 cataloged items. That includes 75,000 pieces of sheet music, 2,200 rare periodicals, and about 175,000 recordings.
Those recordings come in many forms, from Edison cylinders (they still work like a charm) to modern-day mp3s. A laboratory filled with Victrolas, functioning 8-track players, turntables, and the like enable center archivists to digitize and preserve the popular music of any recorded age.
From a text-only perspective, the center possesses the largest collection of "broadsides" outside of the Library of Congress. Smallish, art-filled lyric sheets, these penny items were the 19th century equivalent of a 99-cent mp3 download and were key to the dissemination of popular music in prerecording America. Many publishers bound these texts into little, cheap books called "songsters." (Think of a songster as a centuries-old ancestor of the iPod.) Next to the Bible, the songster was the form of literature carried most often by soldiers in the Civil War.
As large as it is, the center's collection is still growing. Recent acquisitions will make it a hotspot for the collection and study of sheet music written for silent films. Titles include "terror music" or "party music"—captioned to capture the essence of a scene.
Other centers like MTSU's exist—but none are so prominent. Through the years, more than 40,000 scholars from all over the world have logged research hours at the center. From a scholarly perspective, the center's profile is waxing as historians increasingly realize how poorly popular music history has been chronicled and preserved through the years. After all, what better than the music of the day—something that matters to people, that defines who they are and positions them in society and culture—to tap into the consciousness of the past?
Preserving sound and archiving music in a digital age punctuated by the proliferation of music distributed through independent channels makes the work of the center a tall task indeed. Might preservationists reverse course and begin to convert mp3s to vinyl and cylinders to ensure their shelf life? Though it might seem humorous to imagine Lady Gaga or U2 recorded on a cylinder, it's really no laughing matter. Center officials themselves don't rule out the possibility that older technology may play a role in preserving modern music.  MTSU
[Editor's Note: Officials with the MTSU Center for Popular Music traveled in South Africa this summer, exploring the global reach of American popular music and working to forge a collaboration with the Centre for Jazz and Popular Music in South Africa.]
---