MTSU's "Davy Crockett of science" travels from ocean to ocean on only sun and water
by Mike Browning
Though the sun is 93 million miles away, its light—solar energy—travels to earth in a mere eight minutes. Most of the earth's surface is another continuously renewed cycle of energy—H2O.
Sun and water. Both are essential to life. And both are relatively free and abundant.
Dr. Cliff Ricketts, a longtime School of Agribusiness and Agriscience faculty member and an alternative fuels researcher, has a dream that one day people will drive their vehicles using only the natural energies of sun and water. He's worked for 25 years to figure out how to make that dream a reality.
"My whole passion is sun and water," says Ricketts, a farmer who fashions himself a modern-day Davy Crockett of science, or "frontiersman with energy."
In March 2013, Ricketts and a team of current and former students made news nationwide when they successfully drove a modified Toyota Prius from the Atlantic at Tybee Island, Georgia, to a Pacific beach near Los Angeles—a five-day, 2,600-mile driving expedition—powered exclusively by hydrogen made from sun and water.
Members of MTSU's News and Media Relations team, traveling with Ricketts, worked tirelessly to generate media attention for the professor and for MTSU. Months before the trip even began, the team studied Ricketts's route from Georgia to California, targeting larger cities and their media outlets with story pitches. Interviews were then arranged with journalists nationwide as the trip unfolded. Among the media outlets that covered the trip were USA Today /Gannett, The Tennessean , the Associated Press, Discovery Channel Canada, and RFD-TV. The result was a level of exposure for Ricketts's research—and for MTSU—that the University couldn't have achieved through traditional marketing methods.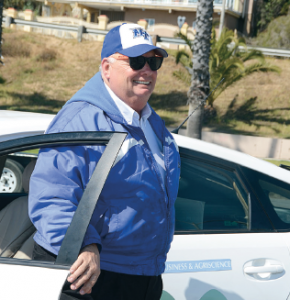 It was a cumbersome but necessary task if Ricketts was to make his point—that natural and renewable resources provide a viable energy option. And make his point he did. Over and over along the 2,600-mile journey, Ricketts stopped for media interviews, telling reporter after reporter about his work at MTSU—about his expedition and about the technology—utilizing hydrogen separated from water through solar energy. Told at a time when gas prices nationally ranged between $3.20 and $5.19, Ricketts's story was equal parts the culmination of his life's research and a chance to talk about alternative fuels. Ricketts wants Americans to understand that there is a clear alternative to high-dollar gas and dependency on foreign oil. "I think it has a lot of implications," Ricketts says. "Time will tell."
One Small Step
The 64-year-old Ricketts traveled the length of Tennessee using only hydrogen in 2010. Then, in 2012, he and his team made it from the Georgia coast to Conway, Ark., a 700-mile trip, on hydrogen alone. Only the lack of a hydrogen fueling system infrastructure kept him from going coast-to-coast that year.
In the Prius used this spring, two hydrogen storage tanks built and attached underneath the car (alongside tanks added to the backseat and also hauled by a separate trailer) equipped Ricketts and team with the fuel necessary to complete the coast-to-coast trip. Ricketts compared his trip with no fueling stations to the plight of two brothers who revolutionized human travel more than a century ago.
"There were no airports when the Wright brothers flew the first airplane," Ricketts says. "And, of course, there weren't any hydrogen fueling stations along the way, so we brought our fueling station with us."
"I believe the government somehow will have to get involved," Ricketts adds. "We're kind of in a chicken-or-egg situation right now. We don't have hydrogen fueling stations because we don't have [hydrogen] cars, and we don't have cars because we don't have hydrogen fueling stations."
Home at Last
The end of the expedition at Long Beach, Calif., was captured on film by MTSU's media team and produced as a documentary. The professor's joy in successfully completing the trip makes for can't-miss television. The documentary can be viewed at www.MTSUNews.com, or by searching the MTSU YouTube channel.
"I feel like I've climbed Mt. Everest," Ricketts says in the film. "Putting a man on the moon has more 'wow' factor . . . but as far as helping people for hundreds or maybe thousands of years to come, I think this is planting seeds that will help [hu]mankind."
---