One prominent woman in aviation supports MTSU's aerospace program even though she is not a graduate
By Kourtney Hanna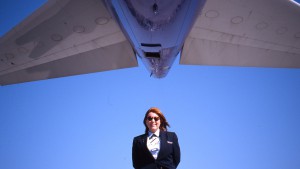 Although she isn't a graduate, and neither was her late husband, the impact Penny Crotty has had on MTSU's aerospace program is significant.
Crotty has been a pilot for FedEx for 29 years. Her first husband, Jim Price, who was also a FedEx pilot, was killed in 1996 in one of the World War II planes the couple refurbished together. After Price's death, Crotty began to search for a school with an aviation program in order to set up a memorial scholarship in Price's name.
"Jim never graduated college, and I was determined to choose something 'homegrown' rather than another aviation school out of state," Crotty states.
At the time, MTSU's aviation program was breaking ground on a new aerospace building. Crotty toured the building site, an old grass strip where a farmer flew his plane, and decided MTSU was the right home for her gift. That decision has provided scholarships to MTSU aviation students ever since. The Jim Price Memorial Scholarship is available for aviation majors and is handed out annually to up to three qualifying students each year.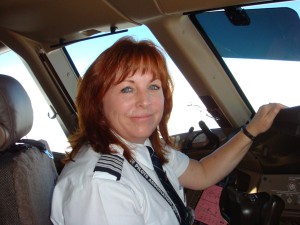 "It helps Jim's memory live on," Crotty says. "I hope it brings wonderful things, and as wonderful a career to people who seek it out as I've had."
A U.S. federal designee for FedEx's 777 airplane program, Crotty trains in all aspects of the 777 airplane, an airplane the size of a football field which she says "handles like a sports car."
"I'm lucky enough to have the job of my dreams, enjoy what I'm doing, and have great people to work with," she says.
Crotty is also an instructor for the simulator in Memphis and lives in Collierville, Tennessee, with her daughter and second husband, also a pilot.
Through the Jim Price Memorial scholarship, Crotty hopes to pass on her love for aviation at MTSU.
"Young kids out there need the help," she explains. "They need a leg up in the business. Aviation is the sort of thing you have to be passionate about. It's so hard to get from A to B and to get the job of your dreams, and to get the experience and the time. So I'm always looking to promote the scholarship."
---