Two MTSU foodies put their degrees to work chasing down dreams
by Candace Moonshower
Seasoning to Taste
April McKinney finds multiple ways to combine her passion for cooking with her Mass Communication degree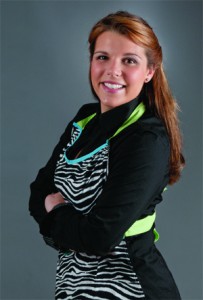 April McKinney began making homemade videos in sixth grade, so when it was time to choose a college and a major, the Mass Communication program at MTSU was a natural choice for the Murfreesboro native.  McKinney was soon involved with MTSU television station (MTTV).  "I saw what it would be like to work in broadcasting in real-life, real-time experience," McKinney says.  "I enjoyed it, but it taught me that I did not want to report news.  I wanted to be more creative," McKinney says.
McKinney worked as an intern with WTVF's daily Talk of the Town program.  She noted that every day there was a recipe and a recipe demo, and this piqued her interest.  While she had no culinary education, McKinney always had enjoyed cooking.  She had lived at home during her last two years of college and cooked for her entire family.  In return, her parents encouraged her culinary efforts.  "They bought all the food," she says. "The good stuff."
After graduating in December 2009 with her B.S. in Mass Communication -and a backup license in real estate- McKinney threw herself full force into real estate.  But something was missing.  "I thought, 'I love cooking, and I love broadcast journalism,'" she says.  "I talked to my fiance, and he said, 'Let's keep our eyes open.'"
A few days later, McKinney received an email from one of the Kraft mailing lists to which she subscribes.  "Do you want to be the next great cooking star?" the email asked.  McKinney went to the website and discovered a contest to use cream cheese in a recipe.  She submitted a video. Two weeks later, she got a call that she was a finalist: one of the top 16 out of approximately 8,000 entries.
Two days after her honeymoon, McKinney traveled to Savannah, Ga., to the home of cooking star Paula Deen for a cook-off with four winners, one in each category.  McKinney's blue Peach Pizza didn't win, much to her relief.  "It was weird, but not winning gave me the breathing room to regroup and develop myself as a cook."
At the encouragement of a fellow contestant, McKinney started a blog (www.cookinupdreams.com).  Soon, she was creating her own recipes and appearing on local newscasts.  In 2010, she entered a Thanksgiving recipe contest sponsored by NBC's Today Show.  Her recipe, Hot, Sticky, and Sweet Potatoes, won McKinney an "incredible, surreal one-night experience" in New York, where she demonstrated her recipe on camera with Today Show cohost Meredith Viera.  More recently, McKinneey won $1,000 for her Gorgonzola B-A-T sandwich Thins.
McKinney has not restricted her efforts to one-shot recipe competitions and television appearances.  In the last year, she has started two entrepreneurial endeavors.  With Doorstep Dinners, McKinney cooks and delivers healthy meals to people at home.  McKinney also decided it was time to rejuvenate that relic of the 1950s, the apron, and make it a fun and flattering option for today's modern cooks.  As a result, Sweet Pea Aprons was born.
McKinney credits her MTSU education for much of her success.  "My experience there brought me here.  Without it, I would not have been so comfortable on camera."
As for her future, McKinney says she would like to host to own cooking show, though she adds that she is open to all opportunities that may come her way.  After all, when it comes to her personal recipe for success, McKinney knows the specific ingredients are not as important as how she mixes them together.
---
Baker's Mark
For Jay Qualls, a twisting career path becomes a cakewalk.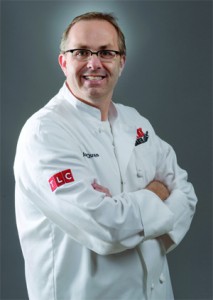 Like so many Gen-Xers, Jay Qualls' route to success has been a circuitous one.  Qualls, who grew up in Fairview, Tenn., began his college yearas at MTSU and continued to work at his education on and off while he started a family and worked at Vanderbilt University Medical Center in business administration for 15 years.  In 2003, Qualls received his B.S. in business from MTSU and underwent bariatric weight-loss surgery.  These events led to a career change -a position at Centennial Medical Center's Bariatric Surgery Center of Excellence- followed by a transfer to Baptist Hospital, and then, when Baptist and St. Thomas merged, the loss of his position.
Out of work at age 36, Qualls realized that he wanted to take control of his own destiny.  His partner, Dr. William Langston, a psychology professor at MTSU, asked Qualls a pivotal question: "What would you do if you could do anything in the world?"
"Make cakes," Qualls answered without hesitation.  That simple answer led to the opening of a combination deli/bakery in Murfreesboro in 2005, but it soon became evident to Qualls that he was trying to do things for all people.  "I was working 24/7," he says.  "We made cakes, we catered, we served lunch, we met with brides-but I realized during that first chaotic year that my passion was wedding cakes."
In 2006, the business was redefined as Maples Wedding Cakes.
Since focusing his talents on wedding cakes, Qualls has been featured in the recent 15th anniversary edition of Martha Stewart Weddings. He has traveled to Montreal to conduct a class; he's working on a coffee-table book with all-original wedding cake designs, recipes, and how-to instructions; and he has formed Jay Qualls Inc., a business model for developing and teaching classes in wedding cake design for decorating.
Television came calling in 2010.  The Learning Channel show Cake Boss: The Next Great Baker reached out to Qualls and asked if he would be interested in a baking competition show.  "At first, I refused," he says, "but they called back and said I'd be great for the show.  They asked me to send an audition video, which I did in June in 2010."
Qualls flew to New York in August, auditioned on camera and made the top 10 of those that auditioned.  "I think I was cast as the 'wedding cake guy,'" he says.
The show films for five and a half weeks, and Qualls had only 48 hours' notice that he had to drop everything and get on a flight to New York.  "We filmed every day -it was always something!  Baker's challenges, interviews, long challenges, and elimination challenges."  On the wedding cake challenge episode, which aired Jan. 10, 2011, Qualls was a team leader and, indeed, won the challenge.  He advanced through six rounds of eliminations before being sent home in a controversial decision.  Nevertheless, he is enthusiastic about the experience.  "I went there and did what I set out to do.  It was challenging but fun."
Ultimately, Qualls wants to travel and teach, consulting with small business owners about the wedding cake business.  "The art of the wedding cake is special.  It's a shared experience," he says.  "It has to be taught one-on-one."
Maples Wedding Cakes will open an office on 21st Avenue in Nashville in early 2011 in order to expand its business.  "I'm living my dream," Qualls says.  "And I've used my degree from MTSU every day.  A business professor of mine once said, 'Always remember: do what you know and know what you do.'"
The rest, it seems, is cake.
---