MTSU students help Capitol Records entertain thousands of music lovers
by Gina K. Logue and Drew Ruble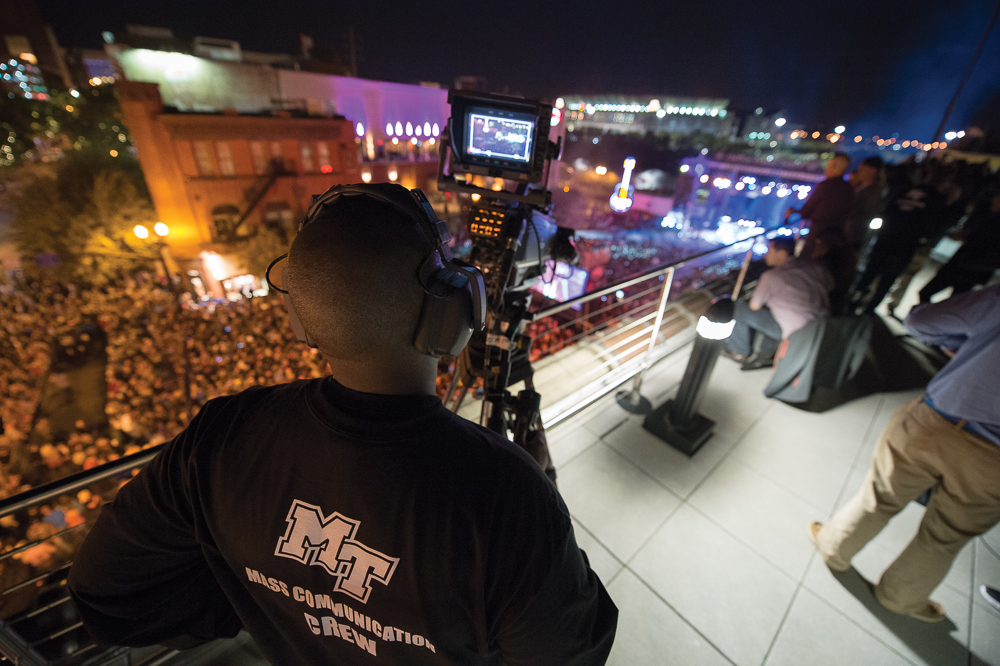 As an estimated 14,000 fans on Nashville's Lower Broadway enjoyed the music of Capitol Records artists Luke Bryan, Jon Pardi, and Kelleigh Bannen last October, 53 MTSU students were modulating audio, operating HD cameras, conducting interviews, and recording the show for  the label. Students later postproduced music videos for three songs, produced a promotional video for the Department of Electronic Media Communication (EMC), and produced a "sizzle reel," which Capitol is using in social media and other marketing efforts.
"Usually, colleges don't get to do projects of this magnitude," says MTSU's Bob Gordon, an assistant professor in electronic media communication, who oversaw the student-led effort at the event.
Department chair Billy Pittard, winner of five Emmys, a Golden Lamp Award, and hundreds of other industry honors, says MTSU's program, paired with its proximity to Nashville's entertainment business, has a perfect formula for delivering extraordinary college learning experiences like these.
"What we did at the Capitol Records street party is, as far as I know, completely unique," Pittard says. "Imagine: our students are going to graduate with portfolio materials that are professional quality."
Students from MTSU's College of Mass Communication got an experience that October day and night that few media professionals will ever realize. Zack Eagles, a senior TV production student from Alvaton, Ky., directed the production from MTSU's 40-foot, $1.7 million HD mobile production laboratory parked a block away from the stage on 3rd Avenue.
"The Truck," routinely used by students to cover sports, concerts, and events for local broadcast, cable stations, and national cable networks, has been used more than 40 times exclusively by students since its arrival on campus about a year ago. From its onboard audio recording capability to its cameras and state-of-the-art switchers, the equipment on the truck is the same used by professionals at Titans and Predator games or local TV news channels. Long before they graduate, MTSU students get exposure to the very equipment they'll use as paid professionals.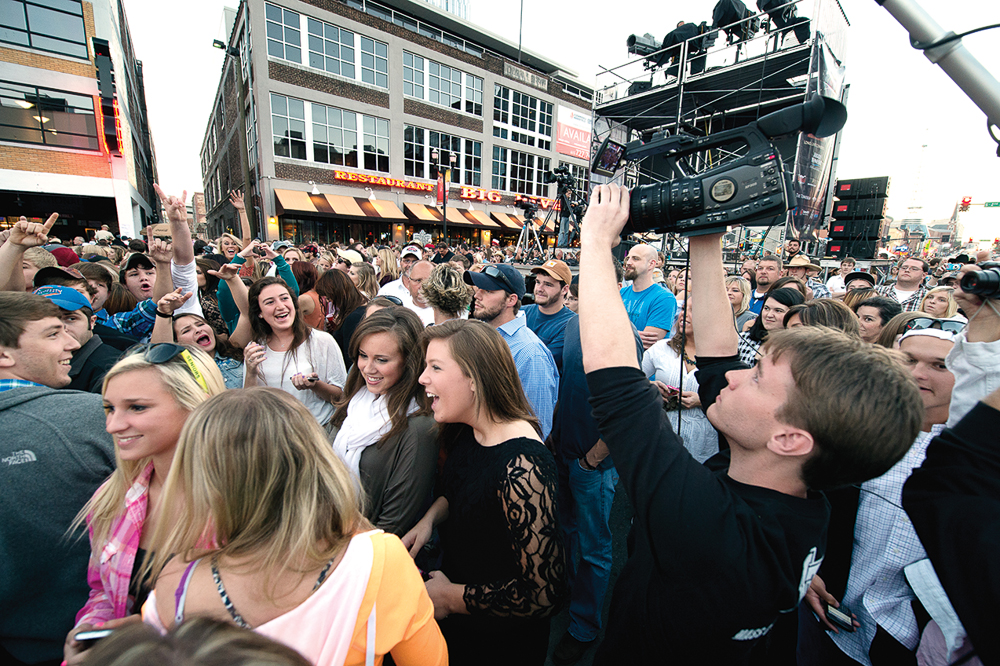 Colby Graham, a senior TV production student from Auburndale, Fla., was producer at the party. His job was to make sure all crew members were on the same page and executed their separate responsibilities well.
"We learn how to do it the way the big boys do it," he says. "We try to mimic that as much as we can, and that's a lot easier to mimic with a $1.7 million truck. It's a great opportunity for us to gain real-world experience, so when we walk away, we can pretty much walk right into a job right out of college."
Before the Capitol street party, Graham had experience with short films, music videos, concerts, and volleyball games, but he admits that didn't necessarily drive away the jitters.
"I always get butterflies," Graham says. "Even if it's just a class news show, I want everything I do to be good. There were so many eyes on this, but I felt prepared."
Those butterflies are key to the experiential learning MTSU is providing through savvy partnerships with Capitol Records, says Dr. Dennis Oneal, who primarily teaches electronic media management.
"In all my years in teaching, I have never been able to duplicate in a classroom the feeling you get in the pit of your stomach when the recording is live and being broadcast to a network like ESPN," Oneal says. "It's a feeling students need to get used to as a step to becoming a professional. This is all about learning environment."
Gordon agrees. "The collegiate world, usually, is not real, not really," he says. "You are in a classroom for 15 weeks, an hour and a half each class. But to do a project like this where you are here 18 hours straight and there is no rehearsal, there is only one pass—well, it makes everybody more intense than normal. These students are managing to enjoy both the thrill of that and the fear of that, both of which are good for professional development."
Pittard calls real-world experience like the Capitol event the key to postgraduation success in the field.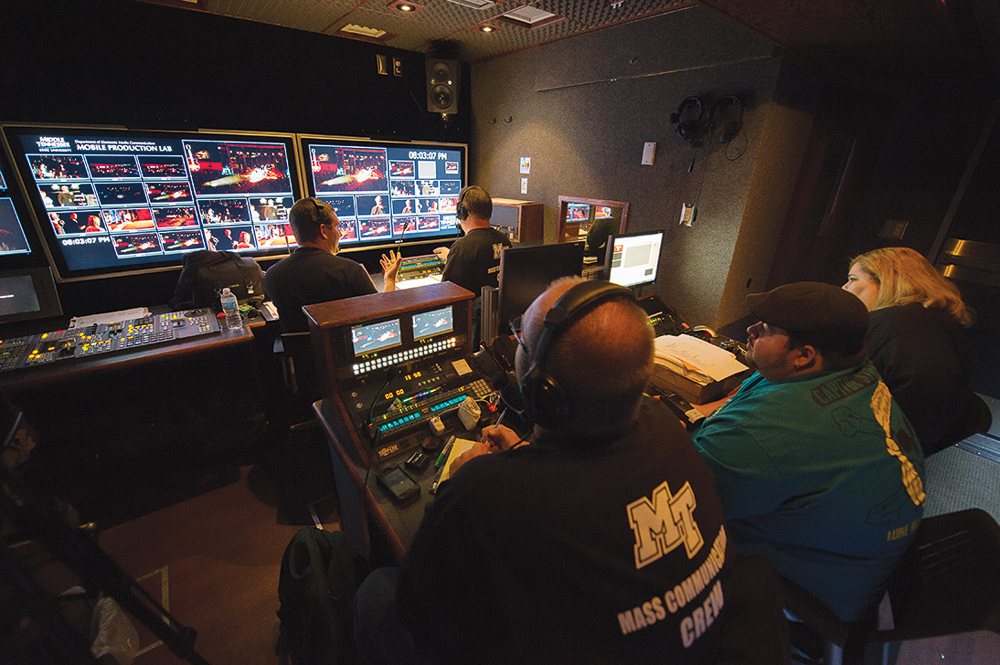 "In this industry, it is all about showing you know how to do the work. And there is no substitute for doing the work," Pittard says. "This is essentially no different from what will happen at the professional level. These students are already very seasoned."
It's no surprise the faculty would crow about the program they administer and the quality of students MTSU produces. Mike Dungan, president and CEO of Universal Music Nashville, which at the time of the event was in the process of merging with Capitol Records, provides a validating industry view.
"The most frustrating thing is when people are only book smart," Dungan says. "They know the theories but don't know how to do it. That's why this is great. It's terrific that the students can come in and produce this and put this on their written or spoken résumés. Right away, we know what they've done."
These experienced students will one day be seeking jobs in the growing field of live TV production, which has a significant presence across Tennessee.
Three cable networks— CMT, GAC, and RFDTV—operate in Nashville, as do significant television and movie production outfits. Knoxville has Scripps Network products including HGTV, DIY, and the Food Channel.
"Plus, in addition to Music City and the recording world, the tour industry is based out of Nashville," Gordon says. "There are probably more TV jobs in tour support than TV right now. Because every act that goes out on the road these days takes with it LED screens and animation and cameras.
So many students may not go the traditional TV route after they graduate but rather go out on the road with acts like Rascal Flatts. It is still doing TV, just slightly different. And here at MTSU, they have much more opportunity to learn real-world skills than most places."
Dungan, one of the most powerful persons working on Music Row, praised MTSU for its commitment to getting students ready to work in the real world.
"It's a big investment for the University to be here," he says. "It shows how important this program is for MTSU. It's world class."
---