Alicja Kutyla Lanfear takes a winding path to success in the forensics field
by Allison Gorman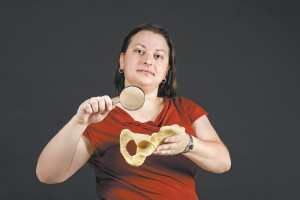 After earning a bachelor's degree in biology, Alicja Kutyla Lanfear set her sights on a new goal: a Ph.D. in the competitive field of forensic anthropology. In 2006, she landed at the office of Dr. Hugh Berryman, MTSU's world-recognized forensic anthropologist. Impressed by Lanfear's drive, Berryman accepted her as a master's student, setting her on an intensive, two-year path to the top of her chosen field.
That path took her to morgues and crime scenes across middle Tennessee, forensic collections at the Smithsonian, and the American Academy of Forensic Science meeting in Washington, D.C., where she and Berryman won the prestigious Ellis R. Kerley Award for their collaborative research on the detection of gunshot residue on bone and the potential for bullet direction and range estimation. In 2008, Lanfear enrolled in UT–Knoxville's highly selective doctoral program in anthropology, Berryman's old stomping grounds.
With her Ph.D. now in hand, Lanfear is still going places. Last summer, she traveled back to our nation's capital, where the National Holocaust Museum granted her access to rare anthropological data from Nazi-occupied Poland. (Lanfear holds Polish citizenship.) Meanwhile, she began a new job teaching anatomy and conducting research at Lincoln Memorial University in Harrogate, Tenn. Lanfear and Berryman continue their collaborative research.
With her hard work and Berryman's good guidance, it turns out Lanfear can go anywhere she wants.
---