MTSU's Project Help makes a difference one child at a time
By Drew Ruble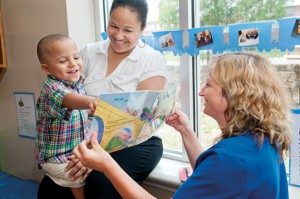 Born one pound and three ounces at 24 weeks, Kaleph Heard's leg could fit through his dad's wedding band at birth. Now two years old, Kaleph has made remarkable progress. His mother, Rosanna, an MTSU graduate ('97) and a teacher at Thurman Francis Arts Academy in Smyrna, credits MTSU's Project Help (soon to be renamed the Ann Campbell Early Learning Center) with her son's significant strides.
"Without them, he wouldn't be as far along as he is now," Heard says.
Project Help, part of the College of Education, is an early intervention program offering services free of charge to families with very young children with developmental delays or disabilities who are six to 36 months of age in Rutherford County. The program's play-based teaching is provided in an environment with other children who are developing typically. In operation 26 years, the program also offers training for approximately 300 pre-service education majors each year—and includes Motlow State and MTSU nursing students.
Heard attributes Project Help's success to that mix of teachers. "To look at Kaleph now and see what he can do, you would never know that he had these hardships," she says. "It's just wonderful having highly trained staff and college students alike work with him. They've got a system down, and it works."
The program survives largely on donations. One generous source of support is the Adams Family Foundation of Murfreesboro.
Robert Adams ('73), chair and CEO at National HealthCare Corporation, says his father, Dr. Carl Adams, a local physician, long ago became enthusiastic about what Project Help was doing and made it one of the family's special projects.
"As people who knew him will tell you, he was very particular about what he would and wouldn't support," Adams says. "He just felt like all these families deserved the same opportunity as everybody else, so he put his focus on it." MTSU
---