A novel scholarship program helps fund future STEM teachers
By Drew Ruble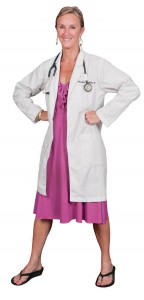 Eboni Eaton, a junior from Covington, Tenn., came from a family of teachers. She decided early in her college career not to follow in their footsteps. "I didn't want to be like everybody else," she says. "Science is my thing. It's something I'm really good at. So I was pre-medicine. I wanted to be a pediatrician because I love being around kids."
A flyer detailing MTSU's new MTEACH program — one of only 21 nationally — altered Eaton's chosen professional path. The cooperative program between the Colleges of Education and Basic and Applied Sciences simply asks math and science majors to try out a one-credit teaching course free of charge to experience what it's like to be a classroom teacher.
Eaton decided to give it a try. She liked it so much that she recently switched her minor to secondary education.
Eaton is not alone in making that decision. According to MTSU MTEACH director Leigh Gostowski, the program has been "radically successful" at MTSU. To date, MTEACH has increased the number of MTSU students committed to becoming math or science teachers by 222 percent.
That conversion fills a desperate need for teachers in those subjects across Tennessee — a key to the state's economic prosperity. But with program implementation funds quickly diminishing, donations are needed to keep the program running. According to Gostowski, a $2,000 donation means 20 MTSU students can take an MTEACH course risk-free.
Dr. Elizabeth LaRoche, a Murfreesboro obstetrician/gynecologist and cosmetic surgeon, is among the donors who have contributed to the MTEACH program at around that level.
"When I see this program in action, it makes me want to give more," LaRoche says. "When I give, I know exactly where it is going. And really, it is a small amount considering the impact it can have on getting these kids into the realm of education." MTSU
---