On October 15, 2014, in the newly named Liz and Creighton Rhea Atrium, a large crowd celebrated the dedication of MTSU's new Science Building— the 257,000-gross-square-foot structure on the south side of campus that's considered vital to the University's future scientific endeavors. About 300 people joined Gov. Bill Haslam and President Sidney A. McPhee to formally open the building.
Haslam led the collection of guest speakers, which included Chancellor John Morgan, Tennessee Board of Regents, state senator Bill Ketron, and respective faculty and student representatives Tammy Melton and Kenneth Ball.
"By 2025, at least 55 percent of Tennesseans will need a certificate or degree beyond high school to find a job," Haslam said. "Attracting and growing jobs in Tennessee is directly tied to education, and if we are not prepared to fill those jobs of the future, they will go somewhere else."
"Graduates with STEM degrees are important to our state's ability to thrive, and the additional space to train these students provided by this building will help us compete in today's global economy," he added.
Haslam challenged MTSU to produce highly educated, STEM-trained graduates to continue to attract high-tech jobs for the Midstate workforce.
While thanking many in the public and private sectors, McPhee reminded the audience that the building had long been a hope and a dream, surviving an economic recession and remaining the state's number-one capital project in higher education for nearly five years.
He praised the governor and legislative leaders, local lawmakers, and elected officials "who advocated our need in every corner of the Capitol until they were heard."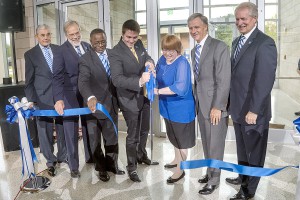 Speaking on behalf of the local legislative delegation as its senior member, Ketron (R-Murfreesboro) recalled the political wrangling needed to move the project forward. "We weren't going to let any other [building] project get on top of the pipeline," he said.
Faculty member Tammy Melton, who came to MTSU in 1999, praised and thanked faculty members who preceded her and those who joined her in the effort to secure the Science Building.
"The building is a magnet," Melton said. "In the recruitment of new students and new faculty, we no longer need to apologize for existing poor facilities and offer promises of future construction. In 2014, the 21st century has come to MTSU chemistry and biology. The future is here. Now."
Kenneth Ball, a senior general science major from Savannah, Tennessee, thanked everyone who had a hand in the project.
"When I stepped in the door, I was blown away," said Ball, who attended classes in the old buildings starting in 2011. "It's all directed at us—the students. I don't think they could've made it any better."

---