Honors students undertake timely research on the disappearance of honeybees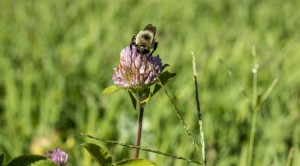 According to a recent National Geographic article, honeybees pollinate a third of the American diet "from nuts to produce—not to mention coffee and cotton." Sadly, though, the humble honeybee is dying off in staggering numbers. More than half of managed U.S. honeybee colonies have disappeared in the past ten years, the article states—victims of pesticides, fungicides, and viruses, among other factors.
A White House report published this past June produced similar findings, stating that honeybees enable the production of at least 90 commercially grown crops in North America, and that globally, 87 of the leading 115 food crops are dependent on animal pollinators. Overall, honeybees contribute more than $15 billion to the economy through their crucial role as pollinators, the White House announcement concluded, also stressing that pollination is integral to U.S. food security. President Barack Obama's response to these findings was to create a task force to address the issue of rapidly diminishing honeybees and other pollinators.
It might be said that Honors student Anna Neal was a step ahead of the White House. Neal and her family have raised bees for several years, but in recent times their beehives have collapsed due to pesticide spraying on properties adjacent to her farm. It led Neal to wonder what other factors could contribute to colony collapse and also to ponder the implications of reduced bee populations in middle Tennessee. Neal began her thesis research this spring analyzing possible cross-transmissions of disease between honeybees and bumblebees.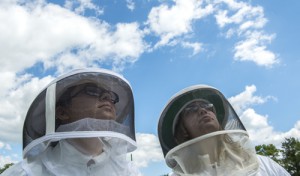 While bumblebees have not received the same international attention as their smaller cousins, they also pollinate lots of plants. Since bumblebees and honeybees often forage for nectar in the same places, competitive interactions during pollination may increase the likelihood that colony collapse disorder (CCD) agents could spread among species. Noting that very few studies had been conducted on these cross-transmissions of disease in Tennessee, Neal identified it as a worthwhile area in which she could complete her Honors thesis.
Neal conducted an extensive literature review to determine possible causes of the collapse of honeybee hives and found that many factors can contribute to CCD, ranging from microbial pathogens to parasites to invasive pests and to an increasing reliance on insecticides and pesticides by farmers. Importantly, she also found evidence that suggested these agents could spread to native bumblebees as well.
The possibility that honeybees could be spreading pathogens and parasites also piqued Neal's interest. Partnered with Dr. R. Drew Sieg of the Honors College and two other MTSU biology undergraduates (Chelsey Pennycuff and Gabrielle Armour), she and the team received an Undergraduate Research Experience and Creative Activity (URECA) grant to conduct research to explore whether parasites could take advantage of the competitive foraging behavior of honeybees and bumblebees to infect new hosts and to assess the threat that colony collapse agents pose for bees in middle Tennessee.
URECA funding allowed the research team to become more invested in the project than if they had been merely volunteering or conducting research as part of a lab course. On a typical day, the team deployed insect traps near honeybee hives at several local farms. They also noted environmental characteristics of each site, such as the species of plants the bees were likely to visit and the density of flowers nearby.
The traps were collected after three days and brought back to the Honors College, where the bees and any parasites were identified and quantified. Researchers also removed the digestive tract from each bee and screened them for internal microparasites. The team visited farms weekly over the course of the summer, allowing them to track changes in parasite loads at different stages in the bees' life cycle.
Neal says the research project "actually turned out to be quite the adventure." Though she admits the writing and background research required to create a project was a bit tedious, the excitement she felt when she set the first trap more than made up for the paperwork.
"Each new bumblebee species found, each time Nosema spores appeared in a slide, and each examined mite was like stumbling upon stashed treasure or receiving an unexpected gift," she says.
Her favorite moment so far? Hands down, Neal says, it was seeing her completed poster for the URECA Summer Celebration.
"Not only does this poster represent seven months of labor but also reveals my favorite finding: middle Tennessee has nine species of bumblebees, not just the previously documented four. One species in particular, Bombus auricomus, was caught most often though experts declared it rare after 1997."
Even with such successes already under her belt, Neal's adventure continues. She'll be defending her research as an Honors thesis this October.
Sieg says that not just Neal and her family but also other local beekeepers are eager to learn what threats exist for their hives so they can employ new strategies to prevent colony collapse disorder.
"The farmers that we've interacted with are genuinely excited to see young people interested in the process of beekeeping and are keen to simultaneously teach the students about their trade," he says. "The easy access to local wildflower honey isn't a bad perk, either."
Beyond White House studies, student research, and agricultural analyses, the disappearance of bees has become an impetus for deeper discourse. In a recent New York Times opinion piece, Mark Winston, a biologist and author of the forthcoming book Bee Time: Lessons From the Hive, wrote:
"We can best meet our own needs if we maintain a balance with nature—a balance that is as important to our health and prosperity as it is to the bees . . . Honeybee collapse has much to teach us about how humans can avoid a similar fate, brought on by the increasingly severe environmental perturbations that challenge modern society."
A Bee for Effort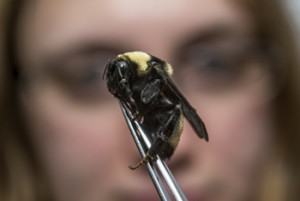 Anna Neal's research project was also a learning experience for Dr. R. Drew Sieg, who began teaching at MTSU last fall and is the first dedicated faculty member in the University Honors College. Sieg's area of expertise lies more in chemical interactions among marine organisms. However, he is eager to provide new research opportunities for undergraduates and show them the interdisciplinary nature of science, and Neal's honeybee project more than fit the bill.
"The project allows students to receive hands-on experience in field ecology, microbiology, taxonomy, and statistics, while simultaneously improving their critical thinking skills," Sieg says. "The open-ended nature of the project also illustrates to them that research rarely has a predefined outcome."
Sieg sees the honeybee project as an example of how Honors students can consider their career plans while getting involved in science that can be found in their own backyards. "Anna, Chelsey Pennycuff, and Gabrielle Armour have all expressed a desire to pursue graduate degrees, and an immersive experience like this can really help them assess whether graduate school is the right direction for them," he says.
It's A Small World After All
The increase in antibiotic-resistant pathogens is causing researchers to look for natural sources to isolate new medicines and drugs. This fall, students in Dr. R. Drew Sieg's majors and nonmajors Honors biology courses will join the search through the Small World Initiative, a research experience designed in conjunction with Yale University. Collaborators from over 60 universities are crowdsourcing the search for new antibiotics and making it a unifying theme for introductory biology lab experiments. In Dr. Sieg's class, students will isolate bacteria from local soils, identify them through gene amplification and sequencing, and screen the bacteria and their chemical extracts for inhibitory activity against bacterial strains closely related to common pathogens. Students may or may not isolate the next wonder drug, but either way they will get first-hand experience in the pursuit of scientific discovery.
---