Dr. Carroll Van West does his part to ensure that a sesquicentennial leaves its mark on state tourism
by Bill Lewis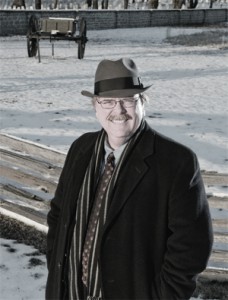 This year marks the sesquicentennial of the beginning of the Civil War.  And though no one wants to celebrate the carnage of the the War Between the States, Dr. Carroll Van West believes the sesquicentennial is a prime opportunity to commemorate and to reflect upon the meaning of the conflict.  After all, it ripped apart the nation -Tennessee especially- and planted the seeds for a new birth of freedom.
The Civil War has lessons to teach us today, West says, and he should know.  West is the director of MTSU's Center for Historic Preservation and the director of the Tennessee Civil War National Heritage Area, and he co-chairs the Tennessee  Civil War Sesquicentennial Commission.  The latter body was created to lead the state's efforts in commemorating the 150th anniversary of the start of the Civil War.
"Out of the Civil War's four years of death and destruction rose a nation reborn, where the words that began our country -that all men are created equal- finally began to mean what they said," West says.  "Without this Civil War, we would not have been a beacon for the world, protecting freedom and democracy in two great world wars, nor the unified people who send their sons and daughters to faraway lands to protect freedom in a modern world where darkness still lurks."
The Heritage Area and the Sesquicentennial Commission are partners, along with the Tennessee Department of Tourist Development, in assisting statewide partnerships have been especially important in a time of lean state budgets.  The Civil War Sesquicentennial is a historic tourism opportunity for the state.  Tennessee has contributed less to its effort than other Southern states have to theirs.  In the past two years, the Tennessee General Assembly allotted $314,000; the figure for Virginia is more than $4 million.
Despite lagging budgets, West says Tennessee is more ready than other states, including Virginia, to capitalize on the expected spike in heritage tourism.
West says the significance of these events could only be conveyed by "telling the whole story accurately," he says.  "That is what the Heritage Area and the Sesquicentennial Commission have been striving to do."
It's a big order -the Heritage Area West directs is the nation's only heritage area to encompass an entire state.  That means every one of Tennessee's 95 counties was touched by the war.  State officials hope that, 150 years later, every county is touched again- this time, by dollars generated by heritage tourism.
---