MTSU's is not the only centennial being celebrated in 2011
by Bill Lewis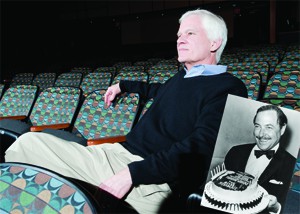 In March, MTSU professor of English Robert Bray, Ph.D., was in New Orleans, serving on two panels discussing the legacy of Tennessee Williams.  The event combined serious scholarship and celebration of the playwrights's 100th birthday.
"I plan to join others in toasting him with several glasses of champagne that evening," said Dr. Bray, during an interview earlier this year.
Bray has been traveling to New Orleans, where Williams first signed his name as "Tennessee" at a local guesthouse, each March for 17 years to participate in the Tennessee Williams Scholars Conference, of which he is the founding director.  Bray also serves on the programming committee and appears on panels for the annual Tennessee Williams/New Orleans Literary Festival.  He has written two books and dozens of articles about Williams, and since 1998 has served as the founding editor of the Tennessee Williams Annual Review.
This year's events blended scholarship and entertainment.  During the Stanley and Stella Shouting Contest, visitors reenacted the unforgettable scene from the 1951 film version of A Streetcar Named Desire when Marlon Brando bawled out his anguished "Stell-ahhh" at his wife upstairs in their apartment.
That combination is an appropriate way to celebrate the centenary of one of the most influential and popular literary figures of the 20th century -and now the 21st.  Williams 100th birthday will be celebrated with events across the country, proof that his reputation continues to grow.
An academic partnership between MTSU and the Historic New Orleans Collection, which maintains the Todd collection of the Williams' work, enables Dr. Bray to edit the Tennessee Williams Annual Review and to participate in the scholars conference and the literary festival each year.
According to Bray, William's drama has a universal quality that transcends Southern literature or even American literature.
"Several years ago, I taught his work at a university in Rio de Janeiro while I was there on a Fulbright scholarship, and the students loved it.  His drama often deals with affairs on the heart and family dysfunction, and who can't relate to those themes?" he says.
One of the Bray's greatest pleasures is discovering and publishing previously unpublished plays and stories, such as the one-act version of Streetcar called Interior: Panic he located in the archives of the University of Texas.  Visiting the Harvard theatre archives, he found and published the last short story Williams wrote, The Negative, which was published in the TW Annual Review.
The public, it seems, can't get enough of Tennessee Williams.
In the past year, Dr. Bray has been quoted in Smithsonian magazine, U.S. News and World Report, the New York Times, and other newspapers.  He made a DVD with Criterion Films on Williams's movie adaptions and has done a podcast from the Young Vic Theatre in London on questions surrounding The Glass Menagerie.  "It's a busy time to be a Williams specialist," Dr. Bray says.
---