Every year, MTSU yields another strong crop of graduates.  We couldn't possibly tell the story of every single achiever, but we can tell a few.  Here is a brief look at five members of the Class of 2011 who have made the most of their experience at MTSU.
by Laura Wilbanks ('11)
The Write Stuff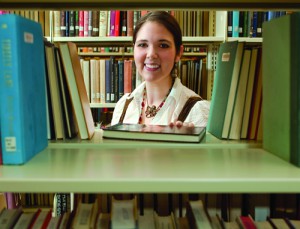 Not many graduating seniors can say they are published novelists, but English major Taffeta O'Neal has already written and released two books of fiction.
Her first novel, Stoodie, written during her high school career and published in 2007 under the pen name Taffeta Chime, allowed her to realize a new dream.  Her newest work, The Last, which she wrote as her Honors Thesis Creative Project, was published in March.
O'Neal is an inaugural member of the MTSU Honors College Buchanan Fellowship program.  She says she can't imagine what her MTSU experience would have been like without that "gigantic blessing," which provides a full tuition waiver for four years and is the top scholarship at MTSU.  She also receives the HOPE Lottery Scholarship, which she uses to pay rent, and she has accumulated several other smaller scholarships during her time at MTSU.
O'Neal plans to attend graduate school to pursue a Master of Fine Arts (M.F.A.) degree in creative writing.  She recently finished applying to eight different schools and is awaiting acceptance.  (Among those schools is the University of Iowa, long considered the premier M.F.A. creative writing program in the nation.)
She jokingly admits when she tells people about her future plans, she often gets a "get-ready-to-live-in-a-cardboard-box stare" in return.  But O'Neal is hopeful, and with two published novels under her belt, she feels confident about what the future holds for her.
She leaves incoming freshman at MTSU with this advice: "Dream big, and quit pretending that your life is scripted!"
To O'Neal's way of thinking, you write your own story.
Financially Sound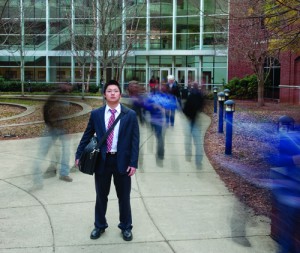 Graduating debt-free sounds like the kind of advice middle Tennessee-based personal finance guru Dave Ramsey might dispense on his national radio program.  In reality, though, accomplishing such a feat is an improbable dream for most college students.  But don't tell that to Finance major Billy Champa.  For him, it's about to become a reality.  Adopted as an infant from South Korea, Champa moved from New Jersey to middle Tennessee as a teenager when his adoptive parents separated.  In order to ease the burden on his single mother, he pursued financial assistance to further his education.  He credits the Tennessee HOPE Lottery Scholarship for saving him from relying on student loans to fund his education.  In addition, Champa earned several other scholarships during his time at MTSU, including the Aaron's Inc. Scholarship and the 2009-2010 Professor Emeritus Scholarship.
"There's a lot of money out there.  People just don't realize," Champa says, referring to the scholarships he has earned.
Those scholarship dollars kept Champa on track to attain a degree in business.  Now, as he approaches graduation in May, he looks back at his years at MTSU and believes it is a place unlike any other.  A minority student, Champa praises MTSU as "one of the most accepting schools, especially if you're a minority" because of its size and diverse student population.
Champa currently interns at Neace Lukens, an insurance company, at its Franklin location.  After graduation in May, he plans to pursue employment in the insurance field using the knowledge he gained from both his internship and classes at MTSU.
Champa observes that many times college students "allow their possessions to own them, instead of the other way around," which he describes as a trend he refuses to follow.  Perhaps channeling his inner Dave Ramsey, he challenges incoming freshman to "live within their means."
If they listen, they might, like Champa, start their professional careers debt-free.
Traveler's Rest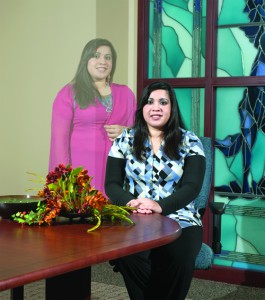 International Relations and Global Studies major Sonia Qureshi traveled across the globe before coming to MTSU.  She's thankful for the journey.  Her family (including her father, Dr. Wasimuddin Qureshi, assistant director and fiscal compliance officer of MTSU's Office of Research Services) left Karachi, Pakistan, early in Sonia's life to come to America.  "If it weren't for God's help and my parent's determination to give their children a better future and more opportunities than they had, I wouldn't be here," she says.
Qureshi has a host of scholarships under her belt, including the Raider Scholarship, the Michael Martinelli Memorial Scholarship, and Academic Achievement Scholarship, and the Tennessee HOPE Lottery Scholarship.
Her future plans include traveling to Japan under a research grant from the Fulbright Association.  At press time, she was awaiting confirmation on the grant, which will most likely be completed by July.  Qureshi is considering a five-year Ph.D. degree program at a the University of Chicago's political science department for the 2011-2012 school year.
Since as far back as 2007, Qureshi has been making her mark as a student-thinker.  During the annual Tennessee Undergraduate Social Science Symposium that year, Qureshi presented a paper titled "Muslim Women Adjusting to a Westernized World."  Such scholarship has continued across her years at MTSU.
She leaves incoming freshman of MTSU with this advice: "The departments that you choose will become your home away from home, and the professors will help you achieve your goals.  It is up to you to make something of yourself, and at MTSU you will find all the support you need and more to become a better you."
First, America.  Then, MTSU.  And along the way, Sonia Qureshi has made the most of her opportunities.
Taking Center Stage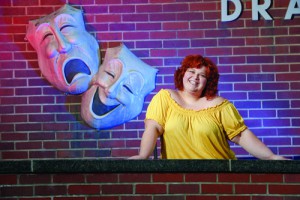 For theater student Meghan Davis, college presented the opportunity to step out of her comfort zone.  Davis, who says she spent much of her youth doubting her future, was inspired by her passion for the arts to pursue her studies in MTSU's Speech and Theatre Department.  "Every day for a whole semester, I looked in the mirror and said to myself before leaving the house, 'Be bold, Meg.  Be bold,'" she says.  Her endeavors were eventually rewarded when her play, Zest, was performed by MTSU's Speech and Theatre Department last November. "My department supports me so fiercely," she says.  "The students in the theatre department have dedicated so much time to my project."
Davis is an inaugural member of the MTSU Honors College Buchanan Fellowship program, a scholarship she believes she would be "completely lost without."  Davis credits the Buchanan Fellowships, which connected her to other Buchanan Fellows through joint classes, with establishing a "built-in" family at MTSU.
After graduating later this year, Davis plans to attend graduate school to study playwrighting.  During her final semester, she plans to intern and devote much of her time to the MTSU Theatre program.
Davis challenges incoming freshman at MTSU to never settle for less than they deserve.  "With so many major at MTSU and so many people willing to invest time into the students here, there should be no excuse for not finding your bliss here."
All the world's a state.  And Meg Davis is a player on it.
More Than a Number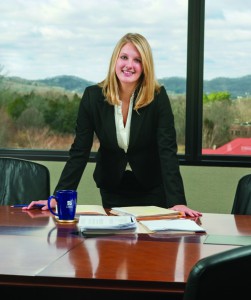 For students, part of the experience of attending college is discovering their own niche.  Accounting major Michelle Ebel has done just that.
Ebel is an inaugural member of the MTSU Honors College Buchanan Fellowship program, which drew her to MTSU over other colleges that didn't offer her the same assistance she required.  AS a member of the distinguished Fellows, Ebel took lower-division classes with other members of the group.  "We were together from day one," she says.  We were all going through the same thing."
Ebel further secured her personal niche while putting her accounting skills to use outside the classroom by joining Beta Alpha Psi, an accounting fraternity she began attending her sophomore year.  By the time she became a senior, her fellow club members elected Ebel president of the organization, which she credits as both "a resume builder and an experience builder."
Even amid difficult times, that resume has already landed Ebel a job.  After graduation in May, Ebel plans to accept a standing job offer at regional accounting firm Lattimore, Black, Morgan, & Cain, commonly referred to as LMBC.  Ebel began pursuing the job in the fall of last year.
She had this advice for incoming freshman: "Get involved, join a group, and find a group of friends."
After all, the college experience is more than just a numbers game.
---