MTSU's College of Education is leading the way in teacher education

 
by Allison Gorman
Jillian Hinesley graduated from MTSU with an education degree in December 2012. Weeks later she was in Memphis, working on her master's degree and substitute teaching in the socioeconomic stew that is the Shelby County School System. Although she'd specialized in fourth through eighth grade, she was placed in every conceivable classroom environment from kindergarten through high school. She taught the child who was hungry to learn and the child who was just plain hungry, the child with helicopter parents and the child with AWOL parents, the child who learned best when he was moving, and the child who told her to bug off (except he didn't say "bug").
Before leaving Murfreesboro, Hinesley had been one of several graduating seniors invited to dinner by Lana Seivers, dean of the College of Education (COE), who wanted to know about their student teaching experience and how well their coursework had prepared them for it. In August 2013, Hinesley—by then a resident teacher at the Martin Institute for Teaching Excellence—sent Seivers a follow-up email. "I may not have realized the full extent at dinner that night," she wrote, "but I am confident now that MTSU prepared me for a myriad of 'real worlds.'"
An Equation, Ever Shifting
The real world of teaching has a thousand moving parts, many of them far outside the reach of the classroom. Teachers must address the needs of each student (and whatever baggage that student brings) but they are also unwitting variables in a critical, often cyclical, economic calculation: good schools = good jobs = good tax base = good schools.
"We're in a county that proves that having a quality education system from the ground up really helps in recruiting and retaining quality industry in a community," says Andy Womack, a former state senator from Murfreesboro. Certainly some Tennessee communities have seen that dynamic in action, but plenty of others perennially struggle. As a result, Tennessee has lingered for years near the bottom of various K–12 rankings.
Then again, the idea that public schools across the country are declining has long been the subject of debate, Seivers says. "I have in my office a cover from LIFE magazine with the headline 'U.S. Schools Face a Crisis,'" she says. "It's from October 1950."
While the call for education reform has sounded for
generations, over the past decade Tennessee has begun
to establish itself as a leader in the reform movement. That
fact became nationally apparent in 2009, when Tennessee
was one of the first two states to win Race to the Top funding from the U.S. Department of Education.
Now, MTSU is leading the effort to reform teacher education in Tennessee.
In fall 2013, after years of planning, MTSU and all Tennessee Board of Regents schools rolled out Ready2Teach (R2T), giving prospective teachers more and earlier exposure to those myriad real worlds referred to by Hinesley.
"Ready2Teach is a game-changer in teacher preparation," says Dr. Paula Short, the former TBR vice chancellor who spearheaded the redesign. "No other state has approached that necessary change as substantially and completely."
Teacher training might look different under R2T, but the principles behind it would be instantly recognizable to COE grads like Jillian Hinesley. They are the same principles that have made MTSU the state's leader in education for more than a century.
 A Mission, Long Critical
MTSU's roots are in teacher training: Middle Tennessee Normal School opened in 1911 with a two-year program serving 125 students. But even as it evolved into Middle Tennessee State University, with 24,000 students, and more than 100 academic programs of study, its mission as a teacher-training institution remained central to the school's identity.
Dr. Robert Eaker, who served as dean of education and then interim vice president and provost of MTSU, credits the influence of key University administrators—former MTSU president Sam Ingram was Tennessee commissioner of education, as was Lana Seivers under Gov. Phil Bredesen— as well as education faculty past and present who are leaders in their field. "I think of our milestones in terms of the giants in education that Middle's been blessed to have," Eaker says. He says President Sidney McPhee upped the ante by supporting the establishment of COE's two doctoral programs as well as a state-of-the-art COE facility that had been on the college's wish list for decades.
Seivers notes that MTSU placed a high value on teacher training even when the subject of public education became politicized.
"The University has not only supported [the COE] in terms of resources," she says, "but they're proud of the fact that we started as a teacher institution and that we still educate large numbers of students to teach."
According to the Tennessee Higher Education Commission, MTSU produced 540 licensed teachers in 2011 (the most recent data available), significantly more than any other program in Tennessee. Womack says the heavy presence of COE grads in Tennessee's public schools was "extremely apparent" when he was chair of the Tennessee Senate Education Committee. "MTSU had teachers and educators working in all 95 counties," he says. "The bulk of other graduates were teaching within a 60-to-90-mile radius of where they went to school."
It makes sense, then, that the conversation about teacher education reform in Tennessee began at MTSU. Seivers was still commissioner of education when Sen. Jim Tracy (R-Shelbyville) and McPhee invited stakeholders from across the state to come to campus and discuss how teachers could be better prepared to meet the needs of Tennessee's K–12 students. The consensus? "More practical experience and less theory," Seivers says. "And what theory we had should be clearly linked to what happened in the classroom and student achievement. And from that,
Ready2Teach was born."
An Initiative, Swiftly Embraced
By 2010, when Seivers was appointed dean of COE, Ready2Teach had been formalized as a TBR initiative. Because its mandates built on inherent principles of MTSU's teacher prep program and many were designed with guidance from MTSU faculty, the University blazed the trail that other schools would follow.
"MTSU led the TBR universities in developing and implementing Ready2Teach and also continued to stay true to the model," Short says. "They understood the research behind the R2T reform effort and embraced that research to build support for change."
MTSU already had deep-rooted relationships with area schools, she says. As a result, it was ahead of the R2T mandate that universities collaborate with K–12s so that education majors spend half their time out in schools. Area K–12s were quick to offer feedback and clinical opportunities, given their familiarity with MTSU's student teachers and with individual COE faculty members, many of whom have done professional outreach in the schools.
Eaker, for example, helped establish Professional Learning Communities in the Murfreesboro City and Rutherford County school systems. "You can't have collaborative relationships with the school district if you have faculty with whom the districts don't want to collaborate," he says.
R2T's mandatory emphasis on Problem-Based Learning (PBL), a relatively new, holistic approach to teacher education, reflects the input of Dr. Terry Goodin, a professor of secondary education at MTSU and a Vanderbilt-trained expert in PBL. "To my knowledge, Tennessee is leading the way with a PBL approach to teacher preparation," he says. "I'm not aware of any other state that has put so much into such a sweeping change at the state level."
Because many COE faculty members were already using a problem-based approach to teaching, designing a PBL curriculum at MTSU wasn't the challenge that it was at other schools, Goodin says.
Perhaps the most notable R2T mandate eliminates the traditional semester of student teaching and replaces it with a two-semester residency in schools. Seivers says many students were concerned at the prospect of spending a full year student teaching, but MTSU has designed its residency program to ease students into the classroom. Bobbi Lussier, executive director of the Office of Professional Laboratory Experiences and Teacher Licensure, says Residency 1 students spend two days a week "immersed in the culture in the schools": observing, assisting, and working on PBL introduced in their coursework. "It's a two-way street," Lussier says. "Our public schools need to see that we're willing to partner with them and share expertise and in turn ask them to share their expertise with our teacher candidates."
Initial feedback from residency students has been "very, very positive," Goodin says. "It's been an absolute home run."
"Residency 1 is an extremely challenging course," says Vickie Bridges, a major in early childhood education who participated in a Residency 1 pilot program last spring. "We were pushed very hard, and our work was torn apart constantly. However, it was a huge benefit for us."
A Balance, Finely Struck
The residency program is still evolving, Seivers says, and implementing a field-based curriculum has not been without controversy. A few theory courses were cut altogether, which concerned some faculty. "Not that everybody's agreed," she says, "but we've been determined to make it work."
Seivers was surprised by how accommodating other department heads were as COE overhauled its curriculum, which involves multiple disciplines. In her previous life in K–12 (as a teacher and principal in Oak Ridge and director of schools in Clinton), she'd heard that the world of higher education could be territorial. Not so at MTSU, she says: "Dr. McPhee has put together a group of people who have a shared vision, who have certain dispositions—the work ethic, the ability to think outside the box while working within certain parameters."
Eaker says McPhee made a strategic and unexpected choice by adding Seivers to that mix, departing from the tradition of hiring from the ranks of higher education. Short agrees: "Lana Seivers has the public school administrative, teaching, and policy experience to help bring credibility to the COE at a time when most colleges of education are under attack for being irrelevant to improving schools, teacher preparation, and leader preparation."
That's a critical advantage because Tennessee has established a new, stricter framework for teacher licensing and evaluation. MTSU's overhauled education curriculum includes a taste of the alphabet soup public school teachers will face on the job. Their schooling might have begun with the ABCs, but it ends with the edTPA and the PRAXIS, and once they're licensed they'll regularly take the TEAM, administer the TCAP and the PARCC, and watch the TVAAS (see glossary page 32).
"We've just tried to hit it head-on," Seivers says. "Based upon the current culture and the policies and rules and regulations, whether we agree with them or not, they're here, and we're doing our students a vast disservice if we don't better prepare them for the world they're entering."
That's Seivers's world, too; education is data-driven at every level. She says assessments of teacher-training programs, like the reports regularly generated by the Tennessee Department of Education and THEC, provide critical if incomplete (and sometimes dated) information; they are best used in combination with other information—from personal feedback to test scores from K–12s where MTSU graduates teach—to determine what skills COE students lack and to tweak the program accordingly.
Still, a program's reputation can rise or fall on widely publicized reports like the one released in early 2013 by the National Council on Teacher Quality, which ranked teacher-training programs largely on the basis of their course descriptions. (MTSU came out fairly favorably, but some large universities in Tennessee did not—a fact not lost on national media.)
Snapshot reports like those often drive the political conversation about education, which too often views students as products, says Dr. Rick Vanosdall, director of the COE's new Ed.D. program in Assessment, Learning, and School Improvement.
"We're not producing widgets," he says. "We're working with human beings."
Dr. Terry Weeks, a professor of secondary education at MTSU and former National Teacher of the Year when he was a faculty member at Central Middle School in Murfreesboro, says classroom teaching is often a balancing act between politics and best practices.
"Every few years, you could count on politics introducing some new plan into the school system to which you had to respond," he said. "It's going to change what you do and what you're accountable for . . . but in the final analysis, you go into that classroom and do what you think needs to be done."
The professional passion of COE faculty sums up MTSU's approach to education at every level, and it explains why its graduates were ready to teach even before R2T.
"MTSU's focus was understanding the whole child: where they come from and what they bring," Hinesley says of her
own training. "It's been eye-opening trying to get them to understand the importance of school when they're wondering, 'Is my mom going to be home tonight? Am I going to be hungry again tomorrow?' There's just so much that's out of our control—but I don't know that everybody gets that."
A Reward, Justly Earned
Seivers says the best teachers feel a visceral pull to a job whose real payoff might come years later and without fanfare.
"It's not about the money or any 15 minutes of fame," she says. "When our students get to be my age, they'll see that person they taught as a child, who'll tell them, 'Wow, if it weren't for you, I wouldn't be where I am,' or 'You were one of my favorite teachers.' It's not going to buy them a mansion, but I doubt there are many professions that have that level of reward."
The state of Tennessee will reap the reward, too, as MTSU builds on century-old strengths to produce a new generation of educators who are readier than ever to tackle the real-world challenges of teaching our children.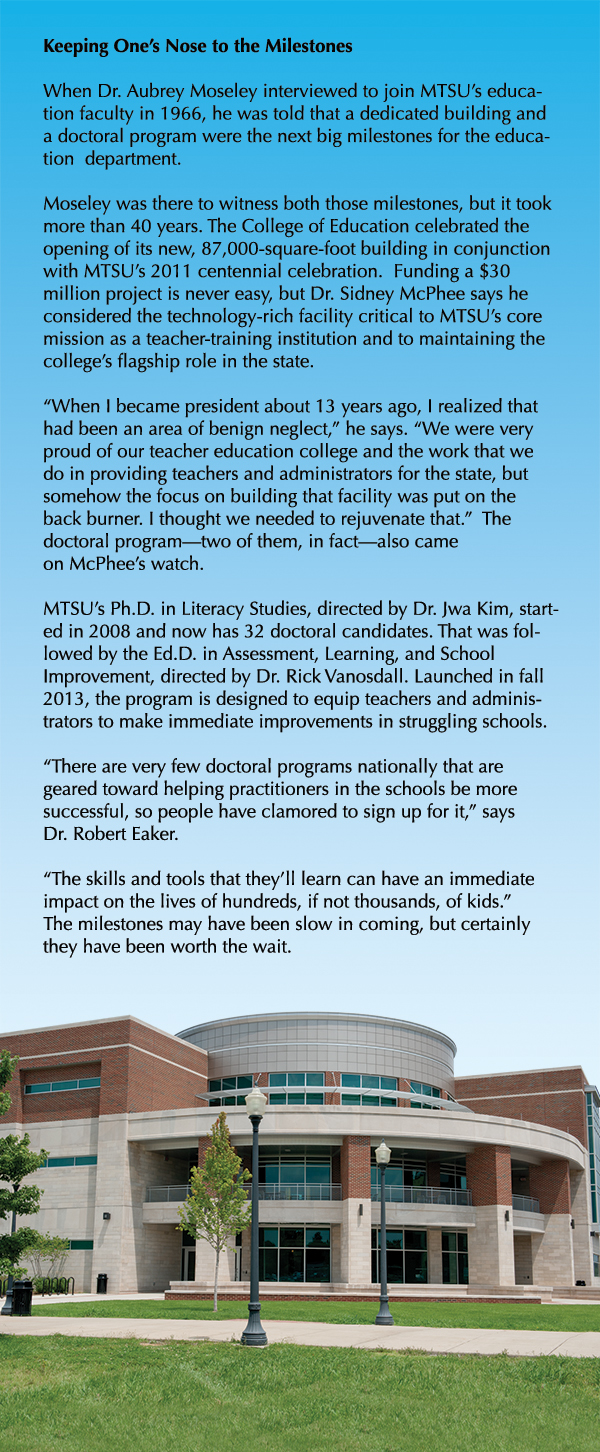 ---