Col. Greg Gregory's lifelong commitment to aviation brings him back to the campus where his feet first left the ground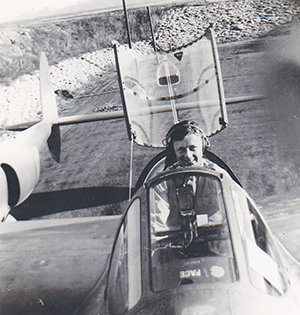 On the campus of what is today MTSU, in spring 1941, William James "Greg" Gregory, a sharecropper's son from Smith County, Tennessee, got his first taste of flight. He has never forgotten it.
More than seven decades later, following a distinguished career in aviation that included piloting some of the earliest spy planes in American history and helping develop America's earliest un-manned (drone) aircraft models, the 93-year-old Gregory still gets  a gleam in his eye when asked about those first experiences flying over campus.
"It was the beginning of my flying career right there," says Gregory, who now lives in Austin, Texas. "We had an airstrip at that time right behind what was then Jones Hall men's dorm."
How smitten was Gregory with taking to the skies? Consider that in the summer of 1941, a young fellow from Alabama ferrying a Taylorcraft to Minneapolis landed at MTSU's airfield—the strip behind Jones Hall—in need of fuel, food, and rest.
Gregory went to dinner with the Alabama traveler that evening, at which time he asked Gregory if he would be interested in piloting his 40-horsepower plane the following day on the next leg of his journey.
"It was probably not a smart thing to do, because I had a test on Monday," Gregory relates. "But we left early, just at daybreak. We flew all day long—I flew it myself all day long—and landed in Waterloo, Iowa, at dark. Then I got out and got on the highway and started hitchhiking."
Gregory hitchhiked all night long—and the next day and the next—finally arriving in Nashville at about eleven o'clock on a Sunday night.
"I caught the last bus to Murfreesboro and got there about midnight, and then I got a taxi out to the University," Gregory relates. "I took a shower and got up the next morning and took my exam, and everything was just normal. Like I said, it was probably not a smart thing to do, but it was indicative of how much I wanted to get a little flying in."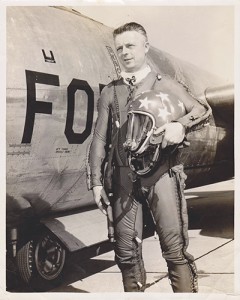 Taking Flight
Even though he never graduated from MTSU—Gregory joined the war effort during his junior year—he says he still feels a "closeness" to the University, saying, "I felt they gave me a start."
That "start" only happened because a high school principal reached out on Gregory's behalf to then dean of admissions N. C. Beasley, asking if a work-study opportunity might be available for the promising young farmhand. There was, and Gregory promptly reported to the college.
"I went over there and checked in at the Old Main with Dean Beasley, and he was my mentor from that point on," Gregory recalls. "That's how it all came about."
Gregory's daughter, Cookie Gregory Ruiz, executive director of Ballet Austin, puts the dean's generosity in perspective when she says "The fact that Dean Beasley from MTSU took a phone call from my father's high school principal one Sunday night about 70 years ago forever changed the trajectory of our family. My father was the first college graduate in his family and that area of Tennessee, and because he succeeded, my older cousins followed his lead and then the next generation and the next."
While in his junior year at MTSU, the first-generation college student Gregory applied for and was accepted into the U.S. Army Air Corps in the aviation cadet program.
"The war had been going on in Europe for two years, and I had just reached 21, so it seemed like the smart thing to do," Gregory says. "Because it was not a matter of if, but when we were going to get into the war. And, of course, we did, three months later, in December."
Gregory cites MTSU's nascent aerospace efforts at that time for supplying many needed young pilots for the war effort.
"It was a big contribution early on for the government for us to have that kind of training because it gave us a little feel for flying and a stimulation to want to continue to fly."
After finishing the cadet program, Gregory left MTSU and reported for flight training at Randolph Field in San Antonio on Dec. 7, 1941—the day of the attack on Pearl Harbor. He finished flying school in April 1942 and was assigned to a fighter squadron based in California.
Spanning the Globe
Soon after, Gregory was an Air Force fighter pilot flying P-38s, B-29s and, later, B-47s in World War II. It was the beginning of a 31-year active duty career in the Air Force that ended with Gregory achieving the rank of colonel. His highly decorated military career spanned the most significant chapters of aviation development in history. Col. Gregory piloted 55 different airplanes while in the Air Force, including a number of aircraft flown with the U.S. Navy. For instance, he is one of just a few Air Force pilots to attain Aircraft Carrier Qualification, which he accomplished through training on the USS Lexington.
Gregory is also connected to some of the most significant military events in modern American history. His biography reads like research folder for a Tom Clancy novel. An important chapter relates to the Cuban missile crisis, during which Gregory served as a U-2 spy plane pilot and commander of the Air Force/Central Intelligence Agency U-2 collaborative squadron, which used high-resolution cameras to take the first photographs identifying the presence of surface-to-air missiles and the Soviet buildup in Cuba.
"President Eisenhower decided to overfly their country without their permission, and to do that, we had to have an airplane that would fly above 60,000 feet," Gregory explains. "So the first airplane was the RB-57, and that was the one I got into first, and I was in that program four years. It was the first airplane to fly above 60,000 feet. In fact, it would go about 65,000 feet. And then, after four years in it, I got into the U-2 program, and it would fly even higher."
As a result of Gregory's command of the U-2 project, he was awarded the CIA's Medal of Merit and received a personal letter of commendation from President John F. Kennedy. Gregory's continued command of top-secret U-2 missions later provided surveillance images detailing the mounting tension in Vietnam.
Years later, Gregory ended up working at the Pentagon from 1967 to 1971 in the area of research and development of the first drone concepts. Gregory completed his undergraduate degree in education from Centenary College and, while stationed at the Pentagon, his master's degree in international affairs from George Washington University. He also served as chair of the United Nations Committee on Reconnaissance in Brussels.
"I really didn't want to go to the Pentagon, but it's a good experience to have," Gregory says. "We were working on the drones, which were having a lot of trouble at that time . . . so it was really an important time at the Pentagon."
Gregory's final Air Force assignment was as vice commandant of the Air Force Institute of Technology at Wright-Patterson Air Force Base. He retired from active duty in 1975. He holds the rare distinction of being awarded four Legions of Merit throughout his career for his service to the Air Force. His military career was followed by 15 years in the Texas attorney general's office as assistant director of workers' compensation.
Gregory was married for 46 years to Helen Dwire Gregory of Shreveport, La., until her death in 1990. He is the father of daughter Ruiz in Texas and Gretchen Gregory Davis of Keystone, Colo., and is a self-described devoted grandfather. Today, even at 93, he is in impeccable shape both physically and mentally. Gregory became an avid cyclist at age 72 and has biked across France, Germany, Belgium, and the Netherlands. He also continues to travel extensively, completing his most recent tour around the world in spring 2013.
His other interests include his 20-year involvement in the University of Texas LAMP Program, for which he developed an endowed scholarship for students in the process of completing teacher certification through the School of Education. Gregory has also funded scholarships at Centenary College and at MTSU.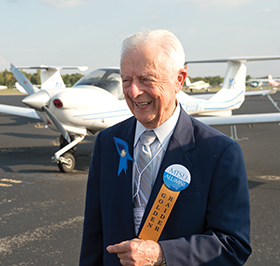 At MTSU, Gregory established a scholarship for students from either Trousdale or Macon Counties. During a trip to MTSU for Homecoming in 2013—Gregory's first visit back to campus since 1965—he expressed tremendous pride in the University, its growth and promise, and, more specifically, the quality and growth of its aerospace program.
"I'm just proud that they have continued the program from a really tiny little program that we had back then—to something that is really significant. They have a great program," he says.
Even after all he has accomplished in life, he still looks back to his early days at MTSU as a key period of growth and development, and he wanted to visit campus again for that reason and more.
"Particularly after I retired, I really felt like I owed something to Middle Tennessee State, having gotten my start there even though I didn't graduate. So it was just a wonderful visit back."
By Drew Ruble
---