One local father-son duo leaves an indelible mark on the Blue Raider basketball program
by Katie Parker
The name Kerry Hammonds has been synonymous with Blue Raider basketball since 1984. Hammonds led MT to three NCAA tournament appearances (1985, 1987, 1989) and ranks third all-time in scoring with 1,616 career points. He also ranks second all-time with 955 career rebounds.
His legacy is embodied in his son, Kerry Hammonds II, a guard in the middle of his senior season averaging 11.8 points a game with the Blue Raiders. Like his father, the junior Hammonds helped MT to an NCAA tournament appearance in addition to two straight regular season titles in the Sun Belt Conference. Before the Blue Raiders' NCAA appearance in 2012–13, the 1989 season was the last time MT made the tournament field.
Growing up in Murfreesboro, the younger Hammonds played at Siegel High School, where he was a Mr. Basketball finalist as a junior. Despite his father's legacy, MT wasn't even on the radar for him.
"It wasn't about making my own mark somewhere; it was more about it being in Murfreesboro and me wanting to go away to school," Hammonds said.
Once the recruiting process started, the son decided to give MT head coach Kermit Davis a chance to change his mind. Hammonds Sr. stayed out of the decision-making process for his son, not wanting to pressure him into choosing his alma mater.
"He really didn't force anything on me. Growing up, I really didn't ever think that I would come here to be honest," said Hammonds. "I said I wasn't going to come here, but as the recruiting process came, and I went to other schools, I came here, and I just liked the way it felt."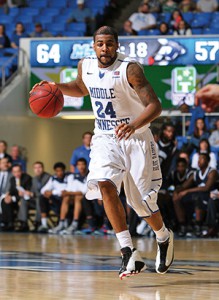 Hammonds added, "My father said that he was proud of me and he was ready to just watch me play. He told me to not think about what he did, just come out here and play basketball like I know how to. To be honest, I don't really think about it being his alma mater, but I guess it's pretty cool to come to the same school where he accomplished so much."
The younger Hammonds has also made his mark at MT. As a junior, he made the game-winning shot against Ole Miss and had a key steal and layup in the final seconds that led to a victory over Vanderbilt.
Though the elder Hammonds steered clear of the recruiting process, Hammonds says his father provided plenty of good advice about how to succeed in college as a student-athlete. "Him and my mom both just let me know to be smart, because whatever you do is magnified moreso than the regular student at MTSU. So you have to be smart with the decisions you make and the people you hang out with. You just have to think about it before you do things."
And now the younger Hammonds has words of wisdom of his own for high school prospects.
"I would encourage all prospective student-athletes to give MT a long, hard look," said Hammonds. "The school and athletic programs have a lot to offer and it's a place where you can accomplish all your goals."
True Blue Statement
When the Middle Tennessee men's basketball team stepped on the court at Murphy Center on December 1, the Blue Raiders were wearing special blackout game jerseys—and affirming their devotion to MTSU's True Blue values.
Head Coach Kermit Davis said the players decided to replace their names on the special uniforms for the contest against Belmont with the words "True Blue."
"At the beginning of the season, we talked about the values that we represent as a team and as a university," Davis said. "We felt these special jerseys could reflect how each one of us are striving to be True Blue on and off the court."
The True Blue Pledge, which each freshman class recites at the beginning of the school year as part of Convocation, reflects the University's values of honesty and integrity, respect for diversity, engagement in the community and commitment to reason, not violence.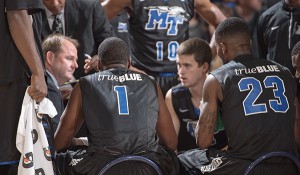 ---