MTSU's multifaceted and innovative media offerings come of age
by Allison Gorman
When USA Today launched in 1982, the journalism establishment was startled by its bold colors and condensed stories. The new national newspaper was quickly derided as "fast-food journalism."
In retrospect, the newspaper was actually pretty traditional. Like two centuries of papers before it, it printed the most important news of the day, shared its views on an editorial page, and tried to be as timely as the medium would permit. It also adopted strong policies on accuracy, attribution, and ethics.
But those core values were also complemented by a groundbreaking design, tighter editing, and a Technicolor weather map.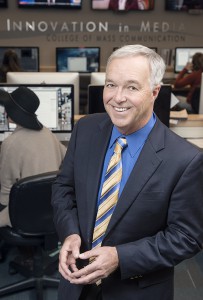 Ken Paulson was a young editor on the team that launched USA Today in 1982. He returned there as editor-in-chief in 2004 after a scandal cost the paper its hard-won credibility. Paulson later left USA Today to head the Freedom Forum and Newseum in Washington, D.C., and then the First Amendment Center in Nashville, where a search committee contacted the nationally recognized First Amendment expert about the dean's post at MTSU's College of Mass Communication—the fifth-largest in the nation.
Paulson immediately saw possibilities, starting with a USA Today–like melding of old values and new approaches as the key to the college's future.
"This is a college in which I truly saw unprecedented potential," he says. "I believe that it can position itself as the most multifaceted and innovative program of mass communication in the country, and for a variety of reasons."
Those reasons include a Department of Recording Industry (RI) that's the largest and, arguably, one of the best in the country—not to mention one located a short drive from Nashville, Tennessee, a cradle of the music business; a Department of Electronic Media Communication (EMC), whose students and state-of-the-art facilities have attracted national recognition; and a tradition-rich School of Journalism that houses the John Seigenthaler Chair of Excellence in First Amendment Studies.
For Mass Comm to fulfill its potential, though, Paulson knew it also needed retooling.
"All traditional media have been buffeted by digital technology, and that in turn has led to cutbacks and job losses," Paulson says. "But there will always be news. There will always be music. And film. And commercial art. And communication. Our challenge is to prepare our students for the new era of opportunities."
Preparing students to succeed despite those realities isn't just about having tech-savvy faculty and cutting-edge tools, Paulson says. It's about reinforcing traditional communication skills (research, writing, ethics, critical thinking) while breaking down traditional academic barriers, thinking beyond traditional media platforms, and finding nontraditional ways to communicate.
"It's not enough for us to just teach journalism, media, and production skills; we need to anticipate the future and help reinvent these industries," Paulson says. "What better place to thoughtfully explore the future of media than a forward-looking College of Mass Communication that now also boasts a Center for Innovation in Media?"
In July 2013, Paulson accepted the position as dean of the college and received a blunt directive from President Sidney A. McPhee: make the College of Mass Communication as contemporary,
innovative, and prominent as possible. Or, as interpreted by Paulson, make it "famous."
"We're embracing that challenge," Paulson says.
Beyond the Buzz
The Journalism Department's new Center for Innovation in Media is fast becoming a mecca in its own right. The state-of-the-art facility in beautifully renovated space in Bragg Mass Communication Building houses all student-run media— television station MT10, radio station WMTS, and monthly print and daily digital newspaper Sidelines—as well as student-run Match Records and professional National Public Radio affiliate WMOT.
After the $700,000 center opened in 2012, the Associated Press Media Editors recognized it as "a model for journalism schools and professional news organizations" for its converged newsroom, where some 250 students can collaborate to create content across media platforms.
Just like a real newsroom, it gets loud.
For the center's new director, Val Hoeppner, quiet time is over by 9:30 a.m., when she meets with leaders from student-run media and the students who work at WMOT. A veteran multimedia journalist who worked at newspapers including the Indianapolis Star, Hoeppner says she's a bit like publisher for the student organizations (which are editorially independent).
"I run a daily news meeting, I make a lot of suggestions, and I offer support," she says. That could mean anything from helping students create interactive graphics for a website to advocating on their behalf for the prompt release of public records.
Hoeppner says she's been impressed by the students' enthusiasm. This year, more than 140 students tried out for 82 positions with MT10 News, she says, and most who didn't make the cut now work production for the station.
With so many students sharing the newsroom, Hoeppner has to close her office door to have a conversation. And that's a good thing.
"There's just this buzz out there," she says, "and it's cool to sit back and listen to it every day."
Emily Kinzer ('14), a reporter for the ABC-affiliate TV station in South Bend, Ind., recalls staying up all night putting together her first on-air piece for MT10 News and learning to stand her ground as a field reporter when she covered a homicide for the station. The hands-on experience was invaluable, she says, and made her feel "locked, loaded, and ready to go" for a career as
a broadcast journalist.
Beyond the Printed Page
Blue Raiders regularly win accolades for traditional journalism, but in the College of Mass Communication, as in the real world, journalism is bursting out of the confines of print.
The college's aforementioned journalism programs—the School of Journalism's traditional program, for print, and the Electronic Media Communication Department's multimedia program for practically everything else—are currently being melded together in a single, vibrant, multi-platform program poised for roll out in the fall of 2015. From a curriculum perspective, it's a savvy shift in approach by the college that better reflects the media industry students will enter after graduation.
Dwight Brooks, director of the School of Journalism, says there will always be a need for trained journalists in a democracy.
"But we've got to prepare our students for the careers that are out there," he says. "And they all involve being able to shoot video and write for the Internet, in addition to the traditional skills of reporting and writing. That's the tricky thing: balancing. Ethics are still important, and we still do a lot of that very effectively."
In addition, Paulson plans to expand the role of the Center for Innovation in Media as "a laboratory for change, anticipating where the media are going and how we can ensure that our students get there ahead of it." Brooks calls it a "teaching hospital model": professional journalists working with students and professors to create a real product.
Paulson also reworked a practicum course under the purview of the Seigenthaler Chair of Excellence, headed by former Tennessean and Nashville Banner editor Pat Embry. The original model, an idea of the late Tennessean editor John Seigenthaler, allowed students to work as beat reporters covering federal courts for the newspaper. This year, Paulson expanded the concept as the Music City Project, with students contributing stories, videos, and photos about the music industry to local media. Media partners provided $15,000 in pilot project funding, from which each student receives a $1,000 scholarship at the semester's end.
"This model makes sure that students get something for their hard work, and it also guarantees them a professional outlet under the guidance of a professor," Paulson says. "And that model is going to grow."
The college is also collaborating with music industry partners such as the Bonnaroo Music and Arts Festival and the Americana Music Festival in Nashville to build on the natural synergy of all
its disciplines. In June, the Music City Project covered Bonnaroo for The Tennessean, and in April and October, Bonnaroo founders Ashley Capps and Rick Farman visited the college as guest speakers. "It's simply unprecedented for the management team of a world-class music festival to take a full day to engage and educate the next generation of music and media professionals," Paulson says.
In September, the project covered the Americana Music Festival, whose organizer brings guest artists like Billy Bragg to campus.
Meanwhile, Pittard says EMC is building partnerships with local tech companies that support Nashville's growing reputation as "the live-event video capital of the world." (An example of such
a firm is DWP Live: six recent department grads are now on staff there.)
"So many opportunities come out of our proximity to Nashville," Brooks sums up. "Most of these opportunities cross all our departments. . . . At a certain point, these divisions are so artificial."
The convergence of print and other forms of communication suits the college particularly well. For years, it has been the nation's only college of mass communication offering fully functional journalism, electronic media, and recording industry academic units. Now, "with the walls crumbling everywhere," Paulson says, that arrangement seems prescient.
The cumulative effect of this newfound departmental synergy, alongside such high levels of activity and industry engagement, will result in graduates better prepared not just to work in modern media, but also to help infuse the fields of journalism and recorded music with the fresh ideas needed to resurrect them.
"The young people entering our college are members of the Google Generation, many of them born the same year as the dominant tech company," Paulson says. "They are intuitive communicators who value instant information and interaction. They engage with technology like no generation before them. But they also decided not to pay for music, leading to layoffs in the recording industry. They decided newspapers had little value, which fueled a downward spiral in print journalism. And their preference for YouTube and viral videos took a toll on television broadcasting."
As a result, Paulson says he often jokes with incoming Mass Comm students planning to one day graduate and work in the media professions "that the new motto of our college should be 'You broke it; you fix it.'"
Beyond "Famous"
Soon after Paulson became dean of the college, he and President McPhee visited the Newseum in Washington, where they gathered 12 of the nation's leaders in news media to discuss the future of
the industry.
Last January, Paulson, Keel, and McPhee flew to the Grammy Awards (three former Blue Raiders were involved with Grammy-nominated projects) and held a West Hollywood reception in partnership with the Americana Music Association for the late Phil Everly. MTSU was the only university represented at the Grammy event.
"We are doing what a nationally prominent program would do, and that means going well beyond the borders of Murfreesboro or Tennessee," Paulson says.
Creating a buzz about Mass Comm, he says, will help it attract the main thing it lacks to fulfill its tremendous potential: significant support—financial and otherwise—from the industries it serves.
Paulson and his team of leaders in the College are fully aware of their college's past successes and its potential, and they know that the best kind of fame must be earned. But with an innovative, multifaceted vision for the future and the backing of an enthusiastic University administration, they also know that the college is meeting new challenges, shaping its own destiny, and writing
its own special definition of what becoming a contemporary, innovative, prominent, and, yes, "famous" College of Mass Communication really means.
Bookmark The Leading Edge (mtsumasscomments.wordpress.com), the blog of the College of Mass Communication, for news about faculty, students, and alumni.
Pursuit of Excellence
Pat Embry, a former editor of both the Nashville Banner and The Tennessean, was recently named director of the John Seigenthaler Chair of Excellence in First Amendment Studies. Seigenthaler, who died July 11, 2014, at age 86, was a reporter, editor, publisher, and CEO of The Tennessean. After serving as founding editorial director for USA Today, he established the First Amendment Center in Nashville in 1991. MTSU established the chair in his name in 1986 to honor the iconic journalist's lifelong commitment to free expression. The Seigenthaler Chair supports activities related to free speech, free press, and other topics of concern for contemporary journalism.
Seigenthaler championed civil rights and women's rights, Embry says, so those issues have become his early focus as he builds a website and social media presence for the chair and revitalizes its speaker/symposium program. Noting that journalists in Ferguson, Mo., were handcuffed for recharging their laptops and cellphones in fast-food restaurants, he says, "If the events of Ferguson and its aftermath . . . have shown us anything, it's that the First Amendment remains a strong but fragile foot soldier on the front lines of American justice."
Beyond Industry Standard
Taylor Thompson is a huge music fan, but she doesn't sing or play. Until she enrolled as an undeclared freshman, she didn't know she could make a living in music.
"I read about the MTSU music business program and I thought, 'Murfreesboro, Tennessee, has the number-one program?' It just blew me away."
The Department of Recording Industry has been blowing people away for 40 years. In September 2014, Billboard reinforced the department's well-established reputation when it named MTSU one of the nation's five top universities for learning about the music industry. More recently, The Hollywood Reporter listed MTSU's music business program among its "Top 25 Music Schools" for 2014, ranking it ahead of nearby Belmont University's Curb College of Entertainment and Music Business.
Chair Beverly Keel, an award-winning music journalist, former recording industry executive, and longtime professor, says that in her 19-year association with the RI program, it has selectively narrowed its enrollment from 1,800 to 1,200 while expanding its digital curricula and continuing to invest in the recording studios that serve as its classrooms. An outside reviewer recently called those facilities "second to none," Keel says, "even topping NYU—and without the subway noise."
With concentrations in Audio Production, Commercial Songwriting, and Music Business, the department boasts many alumni, former students, and current faculty who are firmly established in the industry. More than a dozen have been nominated for Grammys, and seven have won the award. Former students, including country music stars Chris Young, Hillary Scott, Eric Paslay, Sam Hunt, and Brett Eldridge, have recently found themselves on the Billboard Country Airplay chart
simultaneously. Sony Music Nashville Chairman and CEO Gary Overton and multi-Grammy-winning producer Blake Chancey are just two other examples of prominent RI graduates.
"The list of UMG Nashville staffers and artists who have attended MTSU is too long to put in print," says Mike Dungan, president and CEO of Universal Music Group Nashville. "There is no doubt why this university has always been at the top for music industry study."
The faculty as well is a who's who of industry insiders, including John Hill, a double-Grammy-winning recording engineer; John Merchant, a Grammy-nominated producer and recording engineer; and Odie Blackmon, a Grammy-nominated songwriter who is currently hard at work building up the department's fledgling songwriting program. Blackmon recently used his industry connections to hire as adjuncts three highly regarded songwriters/musicians whose real-world experience, like his, can benefit students.
Keel says that faculty diversity and depth of experience is what separates the department from similar programs at other universities. Faculty members can connect students with jobs
and internships—"We're the first to hear about job openings," she says—and students get real-time advice about succeeding as entrepreneurs in a rapidly changing industry.
"As record companies shrink in size, you're seeing more independent contractors, because the work still has to be done," Keel says. "So there's more employment at social media companies, marketing companies, and artist management companies, and we're seeing real growth in live entertainment and talent agencies."
Thompson, now a junior, says she honed her skills at Match Records, the department's working record label, which gives students experience in every facet of the music business from production to promotion. After graduation, she hopes to be an artist manager in Nashville.
"I have a lot of connections already set up there, and so I'm not really willing to say I've been promised a job," she says. "But . . ."
As an industry hub, Nashville provides a lot of fieldwork opportunities for MTSU students, Keel says.
"I think Nashville is as close to perfect as you can get on this earth," she says. "We do amazing business here that reaches the world, but the people are friendly and there's still a level of accountability, because you're going to run into them at Kroger."
Leader in Innovation
Val Hoeppner, who had been serving as journalist-in-residence in MTSU's School of Journalism, became director of MTSU's nationally recognized Center for Innovation in Media in July 2014. Hoeppner was previously director of education for the Freedom Forum Diversity Institute and spent 20 years in newsrooms as a photojournalist, newsroom leader, and multimedia director at the Indianapolis Star. Replacing Hoeppner as journalist-in-residence is pop culture critic Whitney Matheson, who built a large audience as writer and editor of Pop Candy, the award-winning blog she founded during her 15-year tenure at USA Today.
Spring Fed Middle
For nearly 30 years, the world-renowned Center for Popular Music (CPM), located in the Bragg Mass Communication Building, has been a resource for all things related to American vernacular music—from country and folk to gospel, blues, jazz, and rock. It is the largest and oldest research institution for popular music in the world.
New director Dr. Greg Reish is bolstering the CPM's role as a place where music and ideas about music are made—for instance by producing (with students' help) new reissues of historic Americana music for Spring Fed Records, the Grammy-winning label devoted to issuing historically significant recordings of traditional Southern music that Reish helped the center acquire. What comes out of the CPM, Reish says, should be just as important as what goes into it.
Music City Mavens
Beverly Keel, chair of the Department of Recording Industry, and former student Hillary Scott of Grammy-winning music group Lady Antebellum were among honorees at the Nashville Business Journal's inaugural Women in Music City Awards last fall.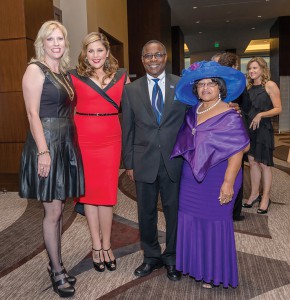 Keel ('88), an award-winning music journalist and longtime MTSU professor, most recently served as senior vice president of media and artist relations for Universal Music Group Nashville, where she developed extensive media campaigns for a roster including Lionel Richie, Scotty McCreery, and Sugarland, among others. Scott, who attended MTSU before launching a successful music career, keynoted the red carpet event. Also honored was MTSU graduate Jill Napier ('99), director of copyright management at Music Services Inc. in Brentwood.
Beyond Broadcast Borders
Senior Chris Davis says he was drawn to the University's Department of Electronic Media Communication when he toured the Mass Comm building and was told he could work on camera starting day one with MT10.
"That's exactly what I ended up doing," he says. He went on to intern with WTVF-TV in Nashville and produce football and basketball broadcasts for ESPN3, experiences that contradicted dire predictions about the future of broadcasting.
"Instead of gloom and doom, I see promise and opportunities on the horizon for this industry," he says.
Billy Pittard, department chair, seconds that opinion. Though broadcasting has changed—a TV journalist is now a "one-man band," reporting and producing—there are still jobs in the industry, he says. (At last count, there were 35 MTSU alumni working in Nashville's four television news stations.)
And the department's reach goes beyond broadcast television and radio. Its students can also learn to create content for film, the Web, and live events—e.g., big-screen video.
"There are still films being made," says Pittard, who joined MTSU in 2011 after an award-winning career in media and entertainment design that included several Emmys. "There is still a lot of television and video being shot. . . . The disruption is in the traditional structure of those businesses, and that's a concern for people who are established in them. But for students, it spells opportunity."
As in the recording industry, today's electronic media professionals often freelance, Pittard says. So they need more than technical skill—they need to understand where the jobs are and how to market themselves.
Pittard covers that territory in a new class, Create Your Career. He also offers a freelancing workshop. He says he's trying to foster an entrepreneurial culture throughout the department.
Senior Scotty Wright has been networking and building his professional reputation since his freshman year. The aspiring filmmaker started at MT10 operating a camera and then producing and directing. He eventually started freelancing. His portfolio now includes music videos, live concerts and sporting events, reality TV for cable and network, Web series, and short films—among them Sbocciare, a group project that won top honors from the Broadcast Education Association and was screened at the Newport Beach Film Festival.
EMC Productions (the department's "varsity team" for live-event TV) recently placed first nationally among student-produced sports broadcasts. MTSU also swept 11 of 12 categories at the 2014 Tennessee Associated Press College Broadcast Awards.
Street Cred
Students don't usually get to do the kind of big projects available to Electronic Media Communication (EMC) students at MTSU. Here is just one example of the type of remarkable opportunities the EMC Department (chaired by multiple Emmy-winner Billy Pittard) has recently offered.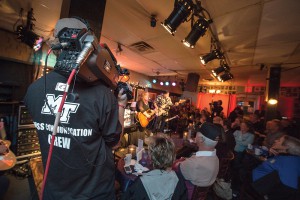 Freedom Sings is a celebration of free speech and music that has toured college campuses across the nation under the direction of College of Mass Communication dean Ken Paulson, president of the First Amendment Center. When the event celebrated its 15th anniversary with two concerts at Nashville's landmark Bluebird Café, MTSU students were there working behind-the-scenes deploying the college's 40-foot, $1.7 million HD mobile video production lab, managing social media content, helping with public relations, and covering the event for student media outlets.
Lights . . . Camera . . . Action!
Eleven College of Mass Communication students invited the public to see their cinematic work from summer travels in Paris during a September 2014 screening at Nashville's historic Belcourt Theatre. Led by Documentary Channel founder and MTSU associate professor Tom Neff, the students made films about up-and-coming fashion designers and musicians. "These students went to a foreign city, worked with new artists for only three weeks, and produced three documentaries of the highest caliber, comparable to any films coming out of any film school, bar none," Neff said.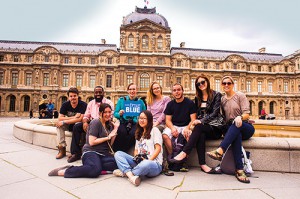 Pitch Perfect
A new partnership between Sony/ATV Music Publishing Nashville and the MTSU Department of Recording Industry allows students to submit two of their songs directly to Sony/ATV's creative team. Sony/ATV will then choose students to perform two more songs at a live showcase. Ken Paulson, dean of the College of Mass Communication, said "This bridges the gap between the classroom and recording industry in a creative and positive way." Troy Tomlinson, president and CEO of Sony/ATV, also lauded the collaboration, saying "We are constantly searching for new writers and writer/artists."
MTSU's Commercial Songwriting concentration, one of just a few songwriting programs offered nationally, is led by MTSU alum and esteemed Nashville songwriter Odie Blackmon, whose past cuts include country artist Gary Allen's hit "Nothing On But the Radio." Other hit songwriters who have studied at MTSU include Grammy-winning songwriters Luke Laird and Josh Kear, among many others.
A Legend's Legacy
In 2014, the family of country music icon George Jones established a scholarship fund at MTSU to serve as a living memorial to the late singer, who died April 26, 2013, at age 81. "George would have liked the fact that MTSU attracts so many first-generation college students, as well as students who face financial challenges," stated Jones's widow, Nancy, in announcing the gift. "Like George, they are hardworking folks who are determined to make their dreams a reality."
The College of Mass Communication is working to preserve and promote Jones's legacy in numerous ways, including by offering a course on Jones's life and music and developing opportunities for scholars to offer analyses and interpretations of his music that can be shared with scholars internationally.

Survey Says . . .

Not every state is fortunate enough to have a University-led, independent statewide poll that can reliably and regularly inform its population. Starting in fall 1998, the MTSU Poll, a product of the College of Mass Communication, has collected public opinion data every spring and fall on major social, political, and ethical issues affecting Tennessee. The latest MTSU Poll in 2014 showed a close vote would be likely in Tennessee's proposed constitutional amendment on abortion. (The measure passed with 53 percent of the vote.)
---