An MTSU professor brings great literature to a most captive, and appreciative, audience
by Katie Porterfield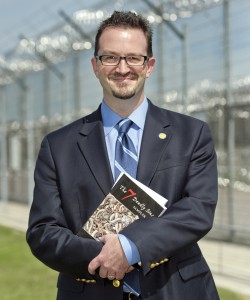 Each week, when MTSU English professor Dr. Philip E. Phillips concluded his literature class, every student lined up to shake his hand. They thanked him for his time, and they thanked him for coming. No, they weren't angling for a good grade—they didn't even receive course credit. In fact, they weren't even MTSU students. They were inmates at Nashville's Riverbend Maximum Security Institution.
"It's really hard to explain the level of gratitude I find at the facility," Phillips says, adding that while his MTSU students might be grateful for what he does, they certainly don't come up and shake his hand after every class.
Phillips, currently the interim associate dean of the University Honors College, began teaching at Riverbend in 2008 as part of Great Books in Middle Tennessee Prisons—a program that he launched and directs. A partnership between MTSU, the Tennessee Department of Correction, and the Great Books Foundation (a Chicago-based nonprofit educational organization), the program gives inmates the opportunity to read and discuss literary and philosophical works with MTSU English faculty volunteers. In addition to Riverbend, the 10-week course has been offered at the Louis M. DeBerry Special Needs Facility and the Tennessee Prison for Women for the past three years. Two professors moderate each course, and so far, Phillips and his team of volunteers have used three textbooks (published by the Great Books Foundation), each of which is an anthology containing selections from authors and thinkers such as Ralph Waldo Emerson, Flannery O'Connor, and Walt Whitman.
"We provide a different learning environment than one customarily finds in a prison," Phillips says, explaining that the 10 to 15 class participants arrange their chairs in a circle whenever possible, and instead of lecturing, the professors facilitate discussion on works the students read before class.
For Phillips, the benefit of offering these courses stems from one statistic—an estimated 97 percent of all incarcerated felons are eventually released into the community, according to the Tennessee Department of Correction.
"So the question for me is what sort of people do we want them to be?" he says. "Do we want to lock people up and throw away the key, or do we want to try to provide opportunities for people to enrich their minds, to reflect, to empathize, to work well with each other, to be able to listen to different sides of an argument respectfully, to learn how to make one's position clear—all of those things that we're able to achieve in this kind of classroom."
Phillips is perpetually hunting for modest grants to pay for textbooks and other class materials. In the past, he's received money, as well as pens, paper, and certificates of achievement, from an MTSU Public Service Grant, the College of Liberal Arts, and the Virginia Peck Trust Fund.
In the meantime, he says the inmates, at least those at Riverbend, know that he'll be back. And while he may not be able to find the words to explain just how much they seem to appreciate the program, one of his students, who admits to being leery of the course in the beginning, doesn't seem to have any trouble at all.
"I refuse to be a part of anything that free-world people introduce inside prison where I feel I would be exploited so somebody will feel good about themselves," an inmate wrote to Phillips. "However, from the time I first met Dr. Phillips […] I knew that they were here simply because they wanted to share a part of their world with no other expectation than for us to give them a chance to enhance our lives."
That's quite a testament to Phillips and his Great Books in Middle Tennessee Prisons program.
[Editor's Note: Some of the grant money the Program recently received went toward bringing Donald H. Whitfield from the Great Books Foundation to MTSU to provide a workshop, hosted by the Honors College, for the benefit of the faculty who will be teaching in the prisons in the spring of 2012. They include: Phillips, Rebecca King, Warren Tormey, Brett Hudson, Laura Dubek and Jim Hamby.]
---