An IT specialist escapes a strife-torn land an becomes a part of the MTSU family
by Drew Ruble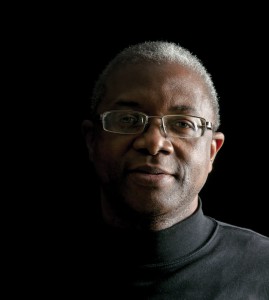 In the mid-1990s, Franck Mukendi was an IT specialist traveling in his home country—the Democratic Republic of Congo—setting up satellite offices for the insurance company that employed him. Mukendi was working in a city on the Rwandan border when rebels overtook it. He spent the next six months sequestered in that city, unable to leave and unable to contact his family—even to tell them that he was still alive—after the rebels cut off all communication to other parts of the country.
As time passed, the rebels increasingly allowed business travel in and out of the occupied city. Mukendi and his colleagues forged business documents and made their way out of the city, across the border and into Rwanda, where they attempted to board an airplane. Suspicious Rwandan officials, though, took Mukendi and his group back to the occupied city and turned them over to Congo rebels, charging that they were spies, which led to a week of incarceration in a rebel-controlled prison.
Once the rebels determined that Mukendi and his troupe weren't spies, they were released. A rebel commander, upon hearing Mukendi's story, even made arrangements for the businessman and his colleagues to return home. That's when he found out that his wife had been notified months before that Mukendi had died in a rebel raid.
"It was a joy to see my family," Mukendi says. "But this joy was just for a short period of time."
Within months of returning home, rebels overtook Mukendi's home city as well. Concerned for the safety of his wife and children, Mukendi took his family and fled the Congo with the help of a Red Cross program. While stationed at a refugee camp in West Africa, the family was granted transport to begin a new life in the United States.
Why Murfreesboro? The First Presbyterian Church agreed to sponsor the family, giving them a place to stay and startup assistance for a few months. One member of the church, MTSU Chemistry professor Preston MacDougall, along with his wife, Tara, helped Mukendi find a job at the University at which he could use his prodigious IT skills. He joined MTSU's Information Technology team almost a decade ago.
These days, Mukendi can be seen all over campus fixing computer problems experienced by senior VPs and rank-and-file workers alike. Ongoing instability in the Congo has kept him from ever returning.
"I have become an American citizen," Mukendi says. "This is home."
---