A Look at What MTSU Alumni are up to!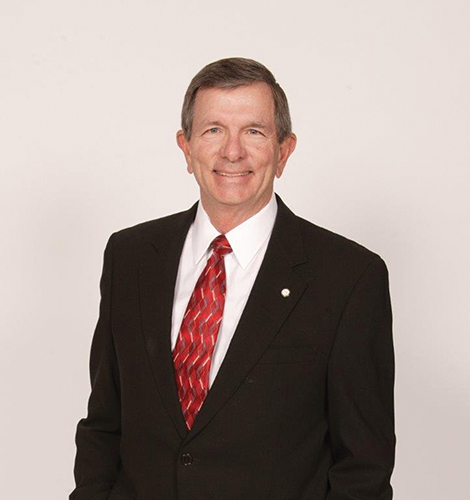 Robert Adams
Robert Adams ('73), retired as CEO of National HealthCare Corp., the nation's oldest publicly traded senior health care company, effective Dec. 31. Adams remains as non-executive chairman of the board following his retirement. The CEO since 2004, Adams has spent four decades at NHC, a period of remarkable growth for the company. NHC affiliates today operate more than 70 long-term health care centers for themselves and third parties, with more than 9,000 beds total.
Deborah Boyd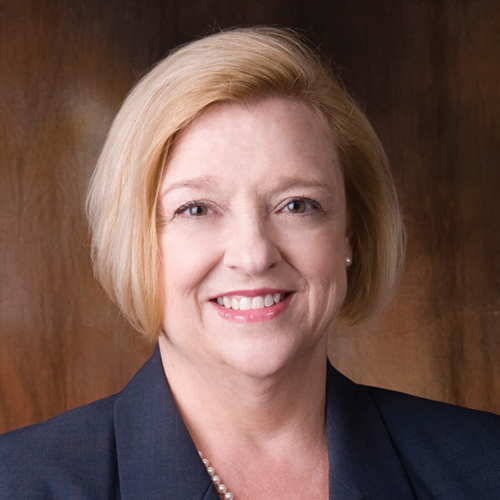 Deborah Boyd ('75, '81, '97), was named dean of the Lipscomb University College of Education, succeeding Candice McQueen, who was appointed Tennessee commissioner of education. As interim dean, Boyd led the college to an increase in enrollment. During this time, the college was also ranked No. 1 in the nation by the National Council of Teacher Quality.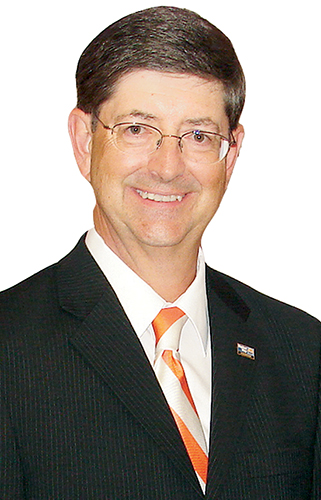 Stephen Crass

Stephen Crass ('75), longtime editor and publisher of the Cleveland Daily Banner, retired in January 2017. Crass began serving as publisher of the Banner in 2000. In all, he spent 40 years in the newspaper business. During his career, Crass also served as vice chairman of the Cleveland-Bradley Chamber of Commerce board of directors and as chairman of the board of the United Way of Bradley County, among numerous other civic activities.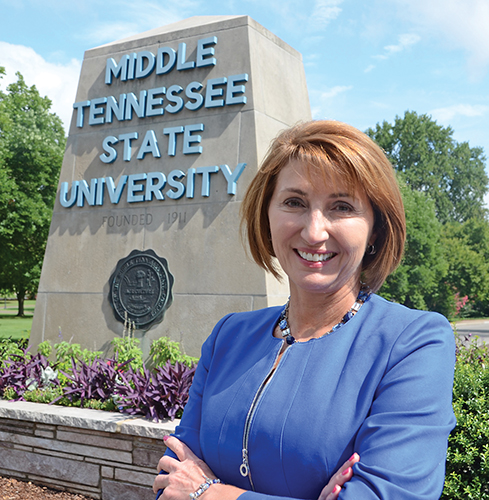 Paula Mansfield
Former First Tennessee Bank executive Paula Mansfield ('82) said she remembers the first time she stepped foot on the Blue Raider campus as an undergraduate and marvels at the transformation she's witnessed in the years since. And with more than three decades of "relationship building" in the financial services industry, Mansfield wants to help continue the transformation at her alma mater through her new role as the director of strategic partnerships in the Office of University Advancement, which she assumed in 2016. Mansfield said she was attracted to the position "by the potential to create a roadmap where industry and the University could intersect for mutual gain" by tapping into the unique resources that both offer. Her new role will allow Mansfield to assist companies in such areas as student recruitment, joint research projects, student-designed projects including capstone work, technology commercialization, faculty consulting, professional workforce development, use of lab space and campus facilities, and intellectual exchange for problem-solving. Mansfield's ties to and knowledge about MTSU run deep, since she has served as president of the National Alumni Association, among other roles.
Roy Vaughn
BlueCross BlueShield of Tennessee appointed Roy Vaughn ('82) as senior vice president and chief communications officer, overseeing all communication functions at BlueCross including public affairs and media relations, internal communications, brand strategy, market research and advertising, marketing communications, and provider communications. Additionally, he is now responsible for the BlueCross BlueShield of Tennessee Health Foundation and community relations. The Chattanooga-based company serves more than 3.4 million members in Tennessee and across the country. Vaughn joined BlueCross in 2007 as director of communications and was quickly promoted to the role of vice president for that function. Prior to BlueCross, Vaughn was a partner in the Nashville public relations firm of Katcher Vaughn and Bailey Public Relations. Vaughn, past chairman of the board of the Chattanooga Area Chamber of Commerce and its foundation, is a member of the board of trustees for MTSU's College of Media and Entertainment.
John Ampomah, Janet Amponsah, and Andrew Owusu
Former Middle Tennessee standout John Ampomah, below, ('16), along with current Blue Raider runner Janet Amponsah, participated in the Olympic games in Brazil in the summer of 2016. Ampomah, a javelin sensation, and Amponsah, a sprinter, represented the African nation of Ghana. Ampomah served as team captain. The Ghanaian national team was coached by Middle Tennessee assistant track coach Andrew Owusu ('04), who is a former Olympian from Ghana as well. Legendary Middle Tennessee head track coach Dean Hayes, who began recruiting Ghanaian athletes to attend MTSU in the mid-1970s, also served in a coaching role with the Ghanaian Olympic track team. Ampomah and Amponsah are the first Blue Raiders to compete in the Olympics since the 2004 Olympic Games in Athens, when Samuel Adade, Tanko Braimah, and Chrisitan Nsiah competed for Ghana.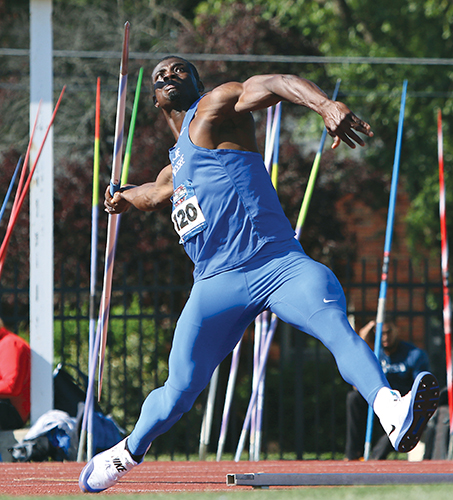 https://www.youtube.com/2U1QHB8CnCQ

Lody Limbird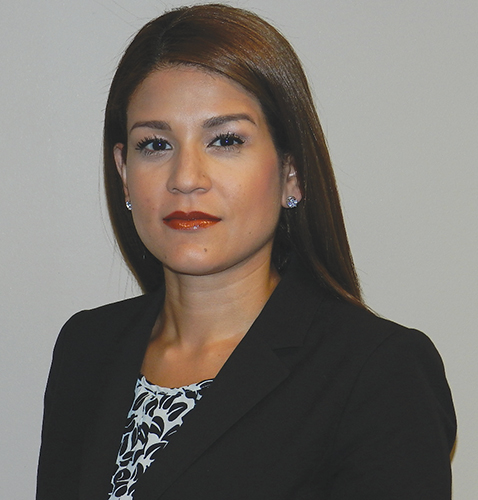 Lody Limbird ('08), was named the first Latino assistant district attorney to serve in Davidson County Criminal Court. District Attorney Glenn Funk made the historic appointment in April 2016. Limbird has been assigned to Division VI Criminal Court, where she handles prosecution of domestic violence cases. "In order to understand the needs of the people we serve, it is important for public servants to also reflect the diversity of the community," Limbird said. Prior to joining the DA's office, Limbird worked as a legal secretary for the Tennessee Coalition to End Domestic and Sexual Violence.
The Young and True Blue!
The MTSU Young Alumni Group, or YAG, exists to create programs, social events, and community service opportunities for alumni ages 35 and younger. Several programs and events (including charity opportunities) are planned and hosted by the YAG in middle Tennessee throughout the year. The YAG recently enjoyed time together at Arrington Vineyards. For a list of events, visit mtalumni.com or like the YAG Facebook page at facebook.com/MTYoungAlumni.
YAG president Rachel Lee sees the YAG as vital to creating a culture of sustained involvement with the University. "I would love to see further involvement in the Nashville community as we have a wide base of alumni there, as well as events for groups in other cities across the state and reaching into various states," she said.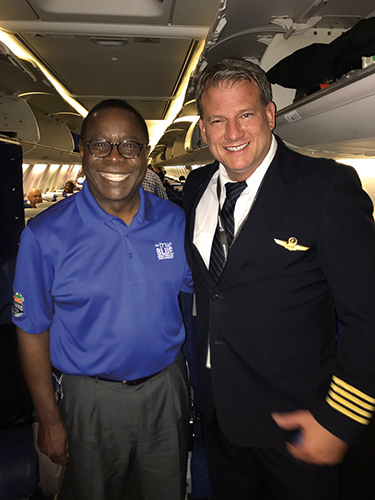 Mike Denning
What could make MTSU President Sidney A. McPhee happier than a thrilling, late-game victory in Miami making the Blue Raider football team bowl-eligible? How about finding out on the team charter flight home that the pilot, Captain Mike Denning ('96), was a proud graduate of the MTSU's nationally prominent Aerospace program. Denning, a Miami Air International pilot, flew his alma mater's football squad from Miami to Smyrna following its 42-35 win over Florida International University on Oct. 30. "Great way to end a terrific night," McPhee tweeted.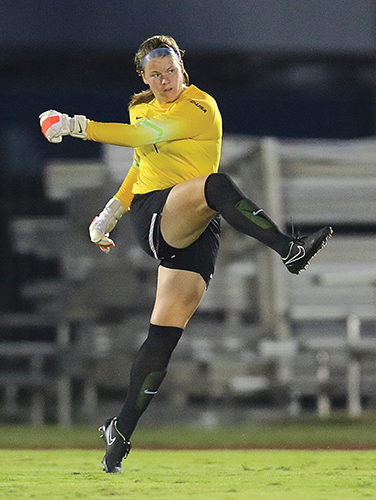 Kelsey Brouwer
Kelsey Brouwer ('15), a former all-conference goalie for MTSU, signed a contract in 2016 to play professional soccer in Cypress for Apollon Limassol FC in the Cypriot First Division. Brouwer was Conference USA Defensive Player of the Year and a first team All-CUSA selection in 2015, when she led the conference in saves per game (5.65), was second in save percentage (.876), and tied for second in shutouts (10). She is MTSU's career leader in wins (33), shutouts (27), and minutes played (6,308). Brouwer also received conference academic honors all four years at MTSU.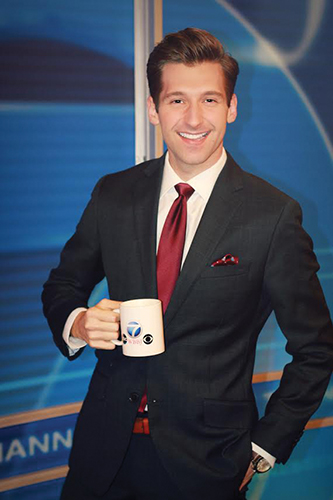 Jordan Hall
Former student ambassador Jordan Hall ('14) joined the WBBJ-TV news team in Jackson in February 2014 after graduating from MTSU the previous May. He assumed the role of weekend anchor within his first year with the station. A little more than a year later, Hall was named morning anchor for Good Morning West Tennessee, the station's Monday –Friday morning newscast. Hall said he loves being up when the sun rises and getting to be a part of west Tennessee's morning routine. "I always hope someone who's having a bad day can tune in and find some joy out of their morning," he said. As for as his MTSU roots, Hall unabashedly crows about his alma mater. "Every class and extracurricular activity prepared me for what I am doing now, whether I realized it or not at the time," he said. "I will forever be a proud alum and love supporting my Blue Raiders!"
BABY RAIDERS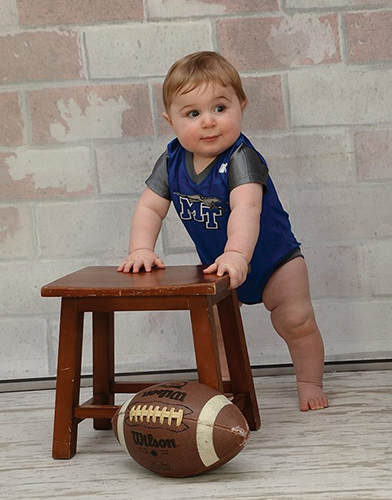 Rhys Monroe Bollinger born November 5, 2015 to Darrel (DJ) and Amber Bollinger ('04,'14), of Murfreesboro.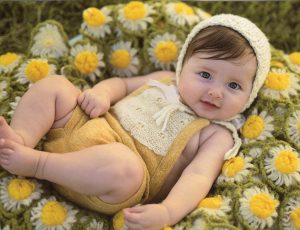 Sadie Leanne Boyce born March 8, 2015 to Caleb ('15) and Cheyenne Ralston Boyce ('14) of Rockvale.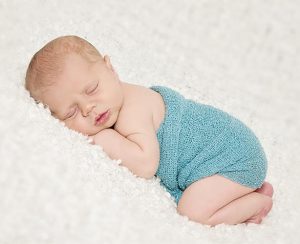 Paysen Aubrey Foster, born June 29, 2016 to AJ and Jennifer Denice Foster ('06) of Smyrna.
James Anderson Murphy born May 13, 2016 to Mark ('09, '11) and Trisha Thompson Murphy ('12, '13) of Murfreesboro.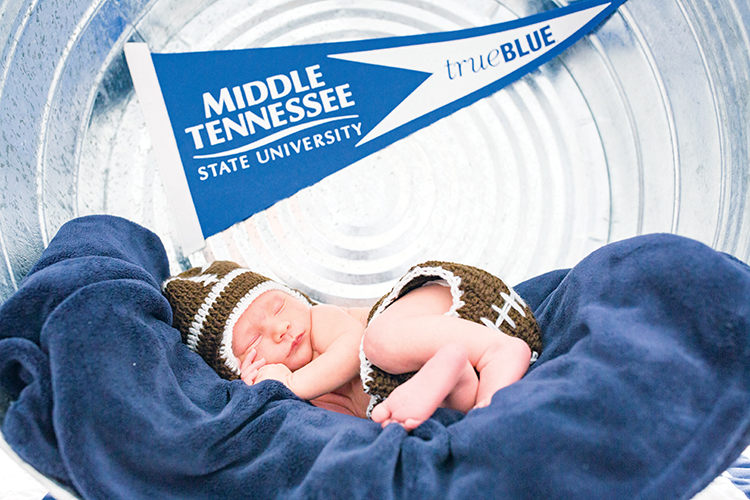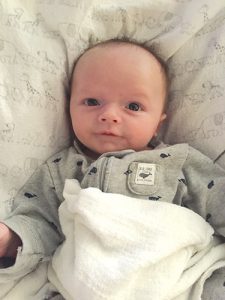 Henry Jackson Reed born July 7, 2016 to Justin Durham Reed ('07,'13) and
Matthew Reed ('07,'08) of Murfreesboro.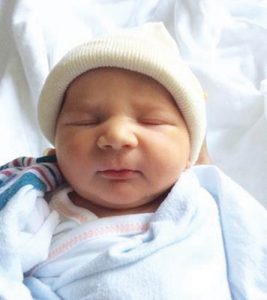 Christian Emmanuel Sanders born April 15, 2016 to Ryan ('03) and Sutonia "Tonia" Sanders ('03) of Reston, Virginia.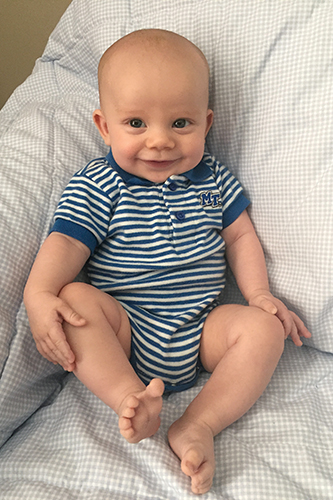 Harding Stokes Walsh born May 19, 2016 to Brian ('09) and Kaitlyn Lorick Walsh ('15) of Murfreesboro.
Lincoln Clay Williams born July 8, 2016 to Rebecca and Brian Williams ('02,'16) of Thompson's Station.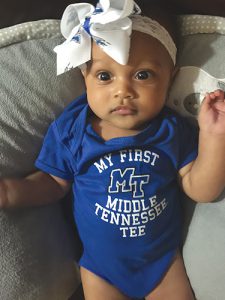 Joelle Elise Word born April 15, 2015 to Joie E. and J. Eric Word ('03) of Old Hickory.
Class Notes cont.
1970s
Larry C. Hayes ('70,'71), Savannah, Georgia, retired after 30 years as a Veterans Administration clinical psychologist primarily treating returning war veterans with PTSD. Hayes previously retired as a lieutenant colonel with 30 years active and reserve duty as a clinical psychologist with the Navy and Army, including a stint serving the Special Forces Delta group at Ft. Bragg, North Carolina.
Susan Woods Thurman ('76), Columbia, chief photographer for the Columbia Daily Herald, was honored by the Tennessee Press Association with first prize for news photo in the annual state contest.
Art Swary ('79), Carrollwood, Florida, recently retired after 37 years of teaching and coaching wherein he won numerous championships and awards coaching football and golf, as well as sponsoring student government organizations.
1980s
Ralph Jones ('82,'88), Murfreesboro, history teacher at The Webb School for 28 years, was recognized by The Webb School Parents' Association with the 2016 WSPA Faculty Enrichment Award presented annually to an outstanding member of the teaching faculty.
Dr. Brian Grisham ('84), Nashville, was recently elected as president of the International Association of Directors of Law Enforcement Standards and Training, an international association of state and national Peace Officer Standards and Training Commission and academy directors.
Dr. Angela Radford Lewis ('84,'96), Johnson City, was named an ACE Fellow by the American Council on Education. She serves as East Tennessee State University's associate vice provost for undergraduate programs, curricula, and service.
Mark Gwyn ('85), Old Hickory, was reappointed by Gov. Bill Haslam as director of the Tennessee Bureau of Investigation. Prior to his initial appointment as TBI director in 2004, he led the agency's Forensic Services Division.
Edward Vann Jr. ('87,'03), Culleoka, was appointed senior pastor of McMinnville United Methodist Church. Vann currently serves on the Tennessee Conference
Worship Committee.
Col. William E. "Bamm" Wynns Jr. ('87), Lebanon, recently retired from the Tennessee Army National Guard after a distinguished 33-year military career.
1990s
Larry Brown ('90,'95,'09), Mount Pleasant, was named the first athletic director for Maury County. For the past 15 years, he has been principal at Mount Pleasant Elementary School.
Laurie Ralston ('90), Tullahoma, was appointed pastor for Normandy United Methodist Church. Ralston is also a member of the board of directors for the Tullahoma Chamber of Commerce.
Dr. Debbie Byrd ('91), Knoxville, was named the new dean of the Gatton College of Pharmacy at East Tennessee State University.
James "Brian" Byrd ('91,'96), Milton, is the new chief financial officer for Roscoe Brown Inc.
Jerry Tomlinson Jr. ('91), Nashville, was promoted to fire district chief by the Nashville Fire Department. He joined the department in 1995 as a firefighter.
Trever Bernarding ('92), Hixson, joined SIGNiX as vice president of technology, leading software development and operations at the provider of cloud-based Independent E-Signature solutions.
Onita Smith Porter ('92), Lewisburg, is a chief audit officer for Columbia-based First Farmers and Merchants Bank. She recently served as the director of the CPA Examination Review Board for the National Association of State Boards of Accountancy.
Dana Barrett ('93), Murfreesboro, was hired by the United Way of Rutherford and Cannon Counties as director of development. She previously served as marketing coordinator and real estate agent for Parks Realty.
Kimberly Nowell ('94), Franklin, was named senior vice president of human resources for Ingram Barge Company.
Andrew Jakes ('95,'03), Murfreesboro, was hired by Wilson Bank and Trust as senior vice president.
Jason Surratt ('97), Smyrna, joined Franklin Synergy Bank as vice president and community banker with the bank's Rutherford County banking team. He joins Franklin
Synergy from Honor Bank in Traverse City, Michigan, where he served as commercial relations manager.
Linda Olsen ('98), Murfreesboro, joined MTSU as the director of undergraduate recruitment. Formerly, she was director of admissions and advising for Eastern Florida State College.
Daphne Davis ('99), Nashville, was named general counsel for the Tennessee State Lodge of the Fraternal Order of Police. She will continue her private practice concentrating in police defense.
Travis Lytle ('99), Chattanooga, was promoted to senior vice president and relationship manager by SmartBank.
Beverly Miller ('99), Pulaski, was promoted to director of instruction by the Maury County Public Schools and is responsible for curriculum review and implementation.
2000s
Gilbert Backlund Jr. ('00), Murfreesboro, retired from Stones River National Battlefield as chief of operations after nearly 40 years with the National Park Service.
Martha Akins ('00), Castalian Springs, was hired as deputy director for facilities for Vizcaya Museum and Gardens. She previously held the position of historic sites program director for the Tennessee Historical Commission.
Bryan "Keith" Palmer ('00), Murfreesboro, accepted a position as a development officer for the Tennessee Tech University School of Nursing and College of Agriculture and Human Ecology.
Charles Hoover Jr. ('02), White House, was promoted to fire assistant chief by the Nashville Fire Department. He joined the department in 1991 as a firefighter.
James "Chip" Hoover ('02), Murfreesboro, was promoted to senior vice president by J. Smith Lanier and Co., one of the largest privately owned insurance brokers in the
United States.
Mary Maples ('02), Gatlinburg, was named the new director of the Smoky Mountain Tourism and Development Council.
Casey Rainey ('02), Murfreesboro, was named the August 2016 Volunteer of the Month by the United Way of Rutherford and Cannon Counties. He currently serves as the vice president of investments for Rainey Asset Management of Raymond James. He also is the finance chair of the board of directors for the United Way of Rutherford and Cannon Counties and was the 2015 chair for the Murfreesboro Young Professionals.
Travis Watson ('02), Cleveland, is head baseball coach for Tennessee Wesleyan College.
Kimberly Stines Ballard ('03,'11), Flintville, was elected the first female president of the Franklin County Farm Bureau, the voice for Franklin County agriculturalists.
Andrew Brooks ('03), Franklin, was promoted to senior associate at Diversified Trust, a wealth management firm with more than $5 billion in client assets.
Phillip Holt ('03), Hendersonville, is the new principal for Station Camp Elementary. He had been a leadership coach with the Tennessee Department of Education and was selected as a participant in the Principals' Leadership Academy of Nashville through Vanderbilt University's Peabody College.
Gerald Brown ('04), LaVergne, was named chief executive officer for Nashville-Based nonprofit Dismas Inc., providing temporary homes and support services for citizens returning to mainstream society from prisons and jails. He is also president-elect for the Middle Tennessee Chapter of the Association of Fundraising Professionals.
Justin Burriss ('04,'08), Murfreesboro, joined Franklin Synergy Bank as assistant vice president and commercial banker.
Taffey Hall ('05), Niota, was named the new director of the Southern Baptist Historical Library and Archives.
Jesse Newsom ('05), Franklin, was hired as the new director of tourism for the Cullman Area Chamber of Commerce in Alabama. He previously served at the Fayetteville Area Convention and Visitors Bureau.
Stephanie Russell ('05), Olathe, Kansas, joined Sage Communications as account lead on the senior leadership team overseeing marketing and communications plans for clients, which include John Deere and Nova Source.
Paige Stiefel ('05), Nolensville, was recently awarded International Professional Underwriter of the Year by the International Association of Insurance Professionals.
Whitney Crear Altman ('07), Hendersonville, joined Barge, Waggoner, Sumner, and Cannon Inc. as human resources generalist.
Stephanie Compton ('07), Penrose, North Carolina, was hired as the Western North Carolina program director at Muddy Sneakers, an environmental education organization that partners with schools to take fifth-graders to public lands to learn science and foster a connection with nature.
Shavon Davis-Louis ('07), Murfreesboro, was named principal of Cason Lane Academy.
Dawn Golson-Saunders ('07), Lebanon, was named Teacher of the Year at West Wilson Middle School, where she has been teaching eighth grade for eight years.
Dana Stewart ('07), Murfreesboro, was promoted to assistant director of Brilliant Solutions, a marketing company.
Sheila P. Umayam ('07,'08), Clarksville, received her doctorate from Vanderbilt University School of Nursing and currently works as a pediatric nurse practitioner.
Alysha Clark ('09), Mt. Juliet, is a WNBA player for the Seattle Storm. During her "off-season," she plays in Israel for the club Maccabi Ashdod and has been part of back-to-back Israeli League championships.
Jaclyn Pritchett ('09), Murfreesboro, was honored with the Nashville Emerging Leader Award by the Nashville Area Chamber of Commerce and YP Nashville. She is the senior manager of leadership development at Bridgestone Americas, where she leads development and succession planning for Bridgestone retail operations. Pritchett also serves on the boards of the Middle Tennessee Society for Human Resource Management and New Frontiers.
2010s
Jason Casteel ('10), Spring Hill, joined the Construction Administration Department of Nashville-based Architectural firm ESA (Earl Swanson Associates).
Charles Wright Pittman ('10), Atlanta, was hired as the DOOR Atlanta City Director.
Chad Slaven ('12), Harrogate, graduated from the University of Tennessee Health Science Center with the Doctor of Dental Surgery (D.D.S.) and is now completing a pediatric residency in Memphis.  While enrolled, he received the Leadership Award, Pediatric Award, and Oral Biology Award and was selected into the Dean's Society.
Sharon Edwards ('13), Shelbyville, is working as children's service coordinator in the Fayetteville-Lincoln County Public Library. She also writes for the Huffington Post.
Victoria England ('13), Smyrna, joined TruStar Marketing as marketing coordinator.
Rachel Sparkman ('13), Nashville, joined The Lebanon Democrat as news editor.
Julie Baker ('15), Antioch, accepted the position of tour coordinator for the office of Undergraduate Admissions for MTSU.
Ryan Baker ('15), Gallatin, was named interim director of the Sumner County Museum.
Charles "Wesley" Alexander ('16), Woodbury, accepted the position of information services analyst at Caterpillar Financial Services Corp.
In Memoriam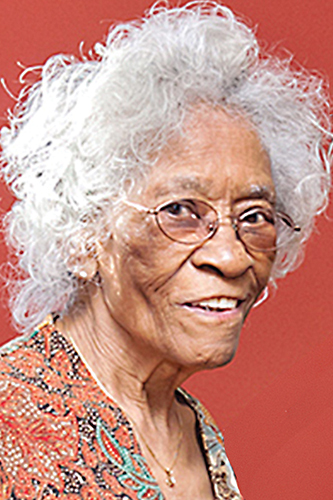 Olivia Murray Woods
Olivia Murray Woods ('65, '74), MTSU's first African-American undergraduate student, died Oct. 2 in La Vergne. She was 96 years old. A native of Murfreesboro, she attended both Bradley Elementary School and Holloway High School, where her love of education survived both segregation and the Great Depression. She attended Tennessee Agricultural and Industrial State College (now Tennessee State University) prior to marrying educator Collier Woods Sr., starting a family, and teaching part-time. According to her family, she enrolled at Middle Tennessee State Teachers' College (now MTSU) in fall 1962 as a transfer student after her husband told her that his salary alone would not be enough to put their three children through college. She graduated in May 1965 with a bachelor's degree in elementary education and a minor in humanities. She obtained her master's degree in curriculum and Instruction in 1974. Woods taught second- and third-graders full time in Murfreesboro City Schools, retiring in 1986 after 21 years as a teacher.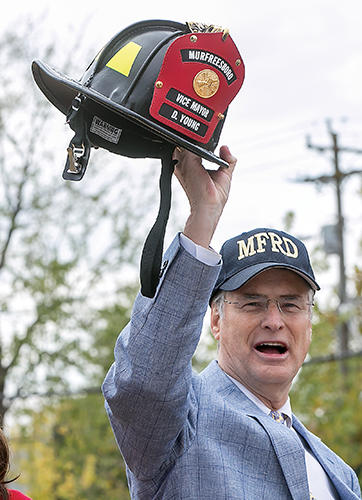 Doug Young
Douglas Brock Young ('71), 68, a lifelong resident of Murfreesboro, died on December 18, 2016. He is survived by his wife of 45 years, Susan Hanson Young. The former Central High School senior class vice president was a charter member of the Delta Lambda chapter of the Kappa Alpha fraternity while a student at MTSU. He was commissioned as a 2nd Lt. in the U.S. Army and served for two years in military intelligence. He was an owner and store manager of City Tile and Floor Covering. Since 2002, he was an elected Murfreesboro City Council member and was elected as the Murfreesboro Vice Mayor in 2014. Young served his alma mater as a member of the MTSU Alumni Association, the MTSU Foundation, and as chair of the MTSU College of Liberal Arts Advisory Board. "Doug Young was a friend, a tireless advocate for our University and a force for good in our community," stated MTSU president Sidney A. McPhee.
1930s
Ruth Scott Tucker ('39,'60), Auburn, Alabama, Feb. 17, 2016
1940s
Dennis Hale ('49), Columbus, Georgia, March 15, 2016
Louise Beasley Hall ('48,'71), Fairview, April 21, 2016
Billie Odom Smith ('49,'67), Murfreesboro, May 23, 2016
Irene Stone Stevenson ('44), Marietta, Georgia, May 18, 2016
Annelle Stepp Story-Barley ('49), Huntsville, Alabama, Jan. 24, 2016
Justine Doster Stutts ('43), Saint Joseph, June 25, 2016
1950s
Joe Arnold ('52), Winchester, March 27, 2016
Paul Beasley ('52), Evansville, Indiana, June 19, 2016
Lola Reed Glenn Bowersox ('53,'58), Franklin, April 24, 2016
William Brazel ('57), Goodlettsville, May 9, 2016
James Clouse ('57), Poolesville, Maryland, June 21, 2016
Dr. Kermit Cothron ('58,'72), Red Boiling Springs, July 16, 2015
Austin Davis ('56), Seymour, Aug. 13, 2016
William Fandrich ('52), Murray, Kentucky, May 14, 2016
Jesse "James" Faulkner ('57,'63), Murfreesboro, June 4, 2016
Rep. George W. Fraley Jr. ('55), Winchester, Aug. 24, 2016
Dale Jackson Hardison ('57,'83), Mount Pleasant, May 4, 2016
Leonard Johnson Jr. ('59), Nashville, April 28, 2016
Glendel Bryson Knight ('58), Murfreesboro, April 27, 2016
James Lowe ('52), Parkersburg, Illinois, May 31, 2016
Dr. Martin McCullough ('54,'59), Murfreesboro, Sept. 8, 2016
Violet Vaughn Ognio ('52,'63), Murfreesboro, May 16, 2016
George Ralston ('58), Rockvale, June 1, 2016
Fred Rogers ('56,'57) Readyville, May 16, 2016
Kent Stockton ('59), Franklin, Aug. 1, 2016
Joe Tenpenny Jr. ('55), Knoxville, May 29, 2016
Ramona Thaxton ('56), Seneca, South Carolina, May 7, 2016
Lois Turner ('51), Summerville, South Carolina, Sept. 3, 2016
Anna Wood Vance ('54), Arrington, July 13, 2016
James Wright Sr. ('58,'62), Franklin, May 7, 2016
Viola Wright ('55), Nashville, May 4, 2016
Wayne Yearwood ('52), Vincent, Ohio, May 6, 2016
1960s
Betty Beasley Adcock ('63), Shelbyville, April 18, 2016
Russell Ayers ('66,'69,'76), Ooltewah, July 5, 2016
Carolyn Baldwin ('68), Marietta, Georgia, Aug. 6, 2016
David Blair ('64,'69), Brentwood, Sept. 17, 2016
Anita Jo Murphy Brashears ('69), Ashland City, Aug. 1, 2016
Gwendolyn Turner Brooks ('68), Jefferson, Georgia, Sept. 13, 2016
William "Billy" Bryson ('66), Murfreesboro, April 24, 2016
Milton "Buck" Campbell Jr. ('66), Tullahoma, Oct. 17. 2015
Tony Wayne Chumley ('69), Lebanon, Aug. 5, 2016
Betty Alford Coleman ('68,'69), Murfreesboro, Aug. 14, 2016
Glenda Johns Davidson ('69), Nashville, April 21, 2016
Jimmy Dendy ('68), Hayden, Alabama, Sept. 10, 2016
Gen. James Gardner ('65,'67), Hanahan, South Carolina, July 23, 2016
Dr. Philip Howard ('69), Brentwood, May 30, 2016
Jack Jenkins ('65), Nashville, June 15, 2016
Charles McGinnis ('63), Athens, March 7, 2016
Billy Mooningham ('68), Old Hickory, June 12, 2016
Jimmy Ousley ('67), Paducah, Kentucky, Sept. 8, 2016
Ellen Hunter Parker ('67), Hendersonville, July 21, 2016
Jaucile Long Reid ('62), Alexander City, Alabama, July 21, 2016
Judy Silvers Roberts ('66,'71), Hendersonville, May 20, 2016
Judy Steagall Roch ('64,'79), Hendersonville, Aug. 11, 2016
Nell Rogers Scannella ('64,'68), Mount Pleasant, Aug. 14, 2016
Allen Sligh ('66), Chattanooga, July 11, 2016
Darby Marable Smart ('66,'69), Chattanooga, Aug. 11, 2016
Evelyn Beard Terry ('68,'71), Lawrenceburg, May 22, 2016
Nancy Trobaugh Stanford ('62,'79), Murfreesboro, Sept. 22, 2016
Buford Youngblood ('60), Conyers, Georgia, September 3, 2016
1970s
Rosalind Ross Akin ('73), Nashville, July 19, 2016
Ernestene Eddins Bane ('77), Lebanon, Sept. 20, 2016
William Barnes ('71), College Grove, March 30, 2016
John Beck ('75), Murfreesboro, April 9, 2016
Patricia Blaylock ('76), Smyrna, Sept. 4, 2016
Tommy Branum ('70), Tullahoma, May 20, 2016
James Browning ('70), Columbia, Aug. 25, 2016
Lois Jenkins Carr ('75), Murfreesboro, Sept. 27, 2016
Roger Carson ('72), Savannah, Georgia, March 1, 2016
Donald Chambers ('75,'79), Foley, Alabama, May 3, 2016
Thomas Cox ('72), Spearfish, South Dakota, March 24, 2016
Ralph Craighead ('70), Atlanta, June 17, 2016
Judith Young Dunlap ('71), Antioch, June 21, 2016
William Edens ('72), New Market, Alabama, June 11, 2016
Cheryl Flanigan ('76,'79,'95), Murfreesboro, April 13, 2016
Randal Francis ('76), Nashville, April 24, 2016
Paul "Tommy" Halmontaller ('73), Manchester, April 27, 2016
William "Tom" Hankins Jr. ('72), Franklin, March 27, 2016
Richard Harris ('74), Macon, Georgia, Aug. 30, 2016
Mitchell Harter ('72), Seminole, Florida, May 18, 2016
Charlotte Hediger ('72), Effingham, Illinois, July 22, 2016
Royce Hughes ('72), Pulaski, May 23, 2016
Maj. Longstreet Hull, USMC Ret., ('79,'85), Manchester, July 3, 2016
Raymond Hunt ('73), Goodletsville, Aug. 21, 2016.
Robert Jobe ('75), Lebanon, April 3, 2016
George McCashin ('72), Chattanooga, July 14, 2016
Joe McCrady ('72), Longmont, Colorado, June 9, 2016
Neta Hancock Smith ('73), Calhoun, Georgia, Dec. 8, 2014.
David Matthews ('75), Murfreesboro, Aug. 17, 2016
Clinton Merrill ('74), Murfreesboro, Sept. 13, 2016
Ronny Moon ('72), Tullahoma, July 14, 2016
John Moore ('74), Bay City, Texas, April 24, 2016
Michael Moore ('78), Nashville, July 6, 2016
Nan Piercy ('72), Murfreesboro, Sept. 14, 2016
Kenneth Riley Sr. ('71), Highland Park, Michigan, July 18, 2016
Mary Schneider ('73), Georgetown, Texas, July 16, 2016
John Shelley ('71), Whitwell, July 26, 2016
Dean Smith ('70), Nashville, Sept.13, 2016
James Tucker Jr. ('73), Midland, Texas, April 26, 2016
Bonnie Vannatta ('77), Shelbyville, June 13, 2016
Robert Vandervort Jr. ('77), Knoxville, June 28, 2016
Phyllis Veazey ('78), Hopkinsville, Kentucky, July 6, 2016
Bob Wilson ('78), South Pittsburg, Dec. 14, 2015
Mary Boss Winbrow ('73), Knoxville, July 3, 2016
1980s
Darren Allen ('87,'89), Champaign, Illinois, July 10, 2016
Mickey Lynn Gray Barnes ('82), Livingston, Jan.1, 2016
Rodney Bryant ('86), Lewisburg, May 25, 2016
Lt. Col. Walter Coble ('80), Columbia, April 24, 2016
Chris Ertel ('84), Lexington, Kentucky, April 30, 2016
George Giner ('84), Lebanon, April 11, 2016
Perry Hendrix ('88), Smyrna, May 5, 2016
Maria Huddleston (87), Livingston, Aug. 20, 2016
Michael Graves ('83), Humboldt,  May 9, 2016
Josephine D. Hunt ('85), Tullahoma, May 10, 2015
Deborah King ('86), Lebanon, Feb. 15, 2016
Esther Matthews ('81), Crossville, Aug. 18, 2016
Dr. Robert Peterson ('89), Signal Mountain, May 24, 2016
James A. Ridley Jr. ('89), Nashville, April 8, 2016
Dr. James Seber ('88), Sunbright, May 11, 2016
William Semmes ('84), Knoxville, Aug. 4, 2016
Michael Sharp ('87), Athens, Georgia, April 23, 2016
Thomas Tenpenny Jr. ('88), Murfreesboro, May 7, 2016
Deborah Victory ('85), La Vergne, May 30, 2016
Jonathan Wilson Sr., ('86), Nashville, June 6, 2016
1990s
John E. Allen Jr. ('93), Columbia, Oct. 16, 2015
Carol Davis Bowie ('90), Greenbrier, Sept. 18, 2016
Darian Daily ('92), Independence, Kentucky, Aug. 27, 2016
Shirley Louden Arter ('99), Murfreesboro, June 8, 2016
Sally Chandler Bastian ('91), Trinity, Florida, July 21, 2016
Kimberly Craig Bohannan ('96), Wilmington, Delaware, Aug. 6, 2016
Judy Crosslin ('91), Bell Buckle, May 28, 2016
Christy Donegan ('99), Franklin, April 17, 2016
Jeffrey Gish ('95), Franklin,  July 18, 2016
Jacob Funderburk ('95,'97), Murfreesboro, Aug. 26, 2016
Jackie Haskins ('90), Springfield, Aug. 13, 2016
Charles Helbling (94,'03), Brentwood, Aug. 25, 2016
Teala Alees Thibodiaux Widner ('93), Nashville, April 9, 2016
2000s
William Birkholz ('02), Loudon, May 26, 2016
Courtney Blooding ('03), Murfreesboro, May 24, 2016
Keith Hamilton ('03), Mt. Juliet, May 28, 2016
John Hundt ('06), Franklin, July 20, 2016
Gregory Kucharski ('00,'02,'03), Unionville, August 9, 2016
Teresa Tidwell Moore ('02), Gallatin, Sept. 1, 2016
Brandolyn Perry ('02), Saulsbury, May 3, 2016
Levar Wilkerson ('04), Morrison, March 5, 2016
2010s
Sarah Budai ('11), Oak Ridge, July 23, 2016
Elizabeth Chitwood ('15), Estill Springs, Aug. 28, 2016
Tara Hill Hall ('13), Ardmore, Dec. 8, 2016
Lindsey Schoenberger ('13), Lewisburg, Aug. 1, 2016
Taylor Stone ('14), Chattanooga, Sept. 7, 2016
---