A look at recent awards, events, and accomplishments at MTSU
compiled by Gina E. Fann, Jimmy Hart, Gina K. Logue, Paula Morton, Drew Ruble, and Randy Weiler
Veterans Center honors Hall of Famer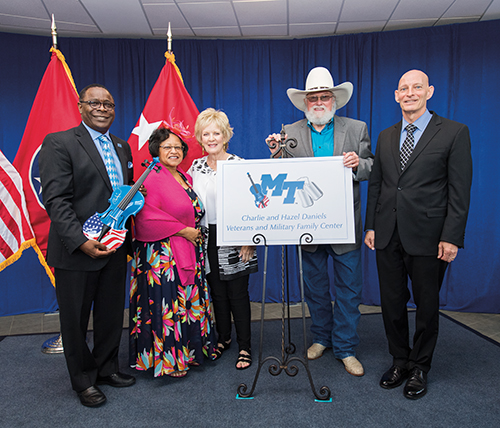 With the unveiling of a plaque and a revised logo for MTSU's Charlie and Hazel Daniels Veterans and Military Family Center named for them, MTSU formally recognized Country Music Hall of Fame member Daniels and his wife of 52 years, Hazel Daniels, as well as The Journey Home Project that Daniels co-founded to assist veterans, during an Aug. 23 celebration at the Miller Education Center on Bell Street. The Daniels family and The Journey Home Project gave separate $50,000 and $70,000 gifts to the Veterans and Military Family Center in 2015 and 2016, a one-stop shop for MTSU's approximately 1,000 student veterans and family members. Daniels said the center "is where veterans can obtain so much support—health care, teleconferencing facilities, job placement, academics, government bureaucracy, and a therapeutic place to sit and talk with others." Nashville Mayor Megan Barry, also in attendance at the ceremony, said "the work of the Veterans and Military Family Center changes many lives for the better, opening up new opportunities to veterans so they have every chance to reach their potential and continue serving their communities and their country in new ways." In a related development, Mike Krause, the new Tennessee Higher Education Commission executive director and a U.S. Army veteran, announced the awarding of a nearly $185,500 grant to the center. "MTSU has led the way in Tennessee regarding serving student veterans," Krause said.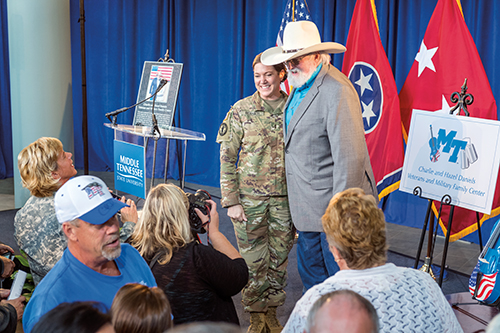 It was awesome, Baby!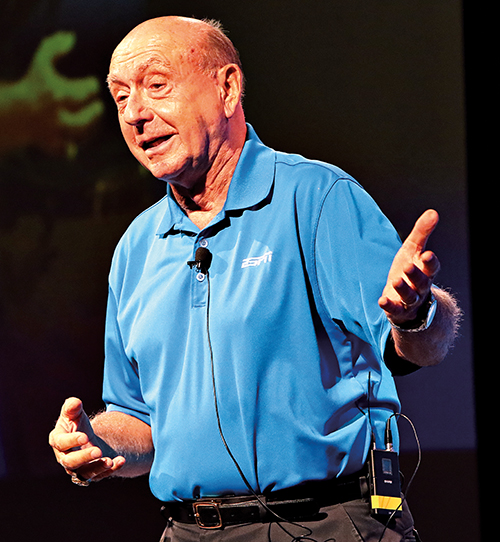 Premier college basketball analyst Dick Vitale served as the guest speaker at the MTSU men's basketball annual Tip-Off Luncheon, presented by Auto Art, on Oct. 27 at Embassy Suites in Murfreesboro. Vitale began his journey as an ESPN analyst during the 1979–80 college basketball season just as the network was launching. Prior to joining ESPN, Vitale served as head coach at the University of Detroit for four seasons before being offered the head coaching job for the NBA's Detroit Pistons. During his tenure at the University of Detroit, Vitale went head-to-head with Middle Tennessee and legendary Blue Raider head coach Jimmy Earle in the 1977 NCAA Tournament Mideast Regional, downing the Raiders in Baton Rouge, Louisiana, by a score of 93-76. In 2008, Vitale was inducted into the Naismith Memorial Basketball Hall of Fame, marking his 17th different Hall of Fame induction.
Still True Blue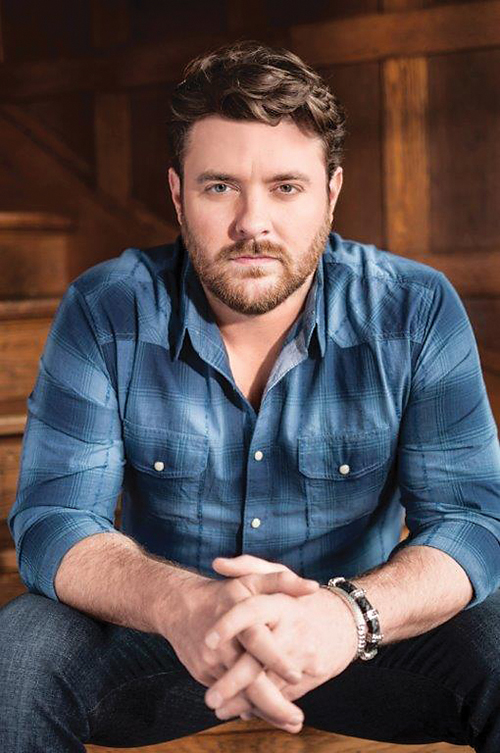 RCA Records Nashville artist Chris Young, a former MTSU student, created and announced in November an annual scholarship for Recording Industry students at the University. "MTSU helped to give me a foundation for the music business, and I want this scholarship to help other students who are looking to take a similar path," said Young, a native of Murfreesboro. Young previously donated some of his touring audio equipment and accessories for departmental use. The singer/songwriter has amassed eight No. 1 singles in his career.
Game Changer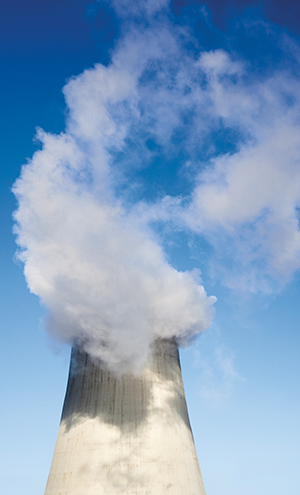 MTSU and Tennessee Technological University student and faculty researchers discovered two new species of bacteria in a cooling tower and hot tub in Putnam County. The discovery may provide clues to new pathways of disease and treatment, according to the lead scientists, whose nearly 20-year research endeavor has been published in Genome Announcements (January 2016) and the International Journal of Systematic Microbiology (February 2016). Thanks to nearly $1 million in U.S. Environmental Protection Agency grant funding, MTSU and Tennessee Tech researchers and students used a variety of microscopic and genomic techniques to describe these organisms, which have been named Candidatus Berkiella aquae and Candidatus Berkiella cookevillensis. MTSU professor Mary Farone named them in honor of the city of Cookeville, where the cooling tower and hot tub were located, and for Sharon Berk, a Tennessee Tech researcher for 27 years who is now an MTSU senior scientist writing grant proposals for the Office of Research. Through the years, more than a dozen MTSU grad and undergraduate students assisted with the research in on-campus laboratories and locations where bacteria samples were collected.
An I/O Pioneer
Michael Brian Hein, a professor of Psychology at MTSU since 1990 and the director of MTSU's nationally prominent Center for Organizational and Human Resource Effectiveness (COHRE), was this year's recipient of the MTSU Foundation's Career Achievement Award. The honor is considered the pinnacle of recognition for stellar MTSU professors. Hein joined the MTSU family aiming to improve the University's master's degree program in Industrial/ Organizational Psychology. He has raised it from its local roots to a model national program with a focus on strong recruitment, a cohort class structure, and improved student internship opportunities. He also developed one of the few stand-alone undergraduate Industrial/Organizational Psychology majors in the country, creating a stronger foundation for the I/O graduate program. In addition to his University and community service, Hein also works as a consultant for industries on job preparation, employee training, leadership development, and other factors critical to success.
New Leadership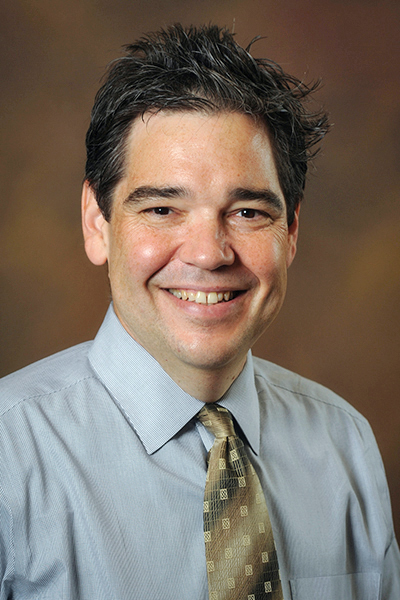 Following a nationwide search, David L. Butler, 46, was named vice provost for research and dean of the College of Graduate Studies at MTSU. Butler comes from the University of Southern Mississippi, where he has served as chairman in the Department of Political Science and director of the doctoral program in International Development. He has been awarded nearly $2.8 million in funding for 14 different projects since 2002.
Richard "Rick" Sluder, the administrator leading MTSU's Quest for Student Success, now also will serve as dean of the University College and will oversee work with students undecided on majors, as well as adult degree completion, online learning, and academic outreach to high school students. Under Sluder's leadership as vice provost of student success at MTSU, the University has seen record increases in its retention rates and other key student success measures.
Good Psychology
Five MTSU graduate students in their second year of the MTSU Industrial/ Organizational Psychology program won the Krannert School of Management Human Resources Case Competition in November at Purdue University. MTSU's team defeated finalists from Brigham Young University, the University of Minnesota, Penn State University, the University of Pittsburgh, and Purdue. The team of Kin Chan, Katelyn Class, Jacqueline Masso, Hung Nguyen, and Megan Wertheimer presented to a panel of human resources experts from Amazon, Dell, and General Electric.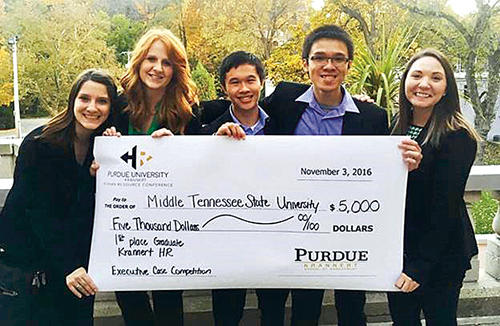 One-Man Gang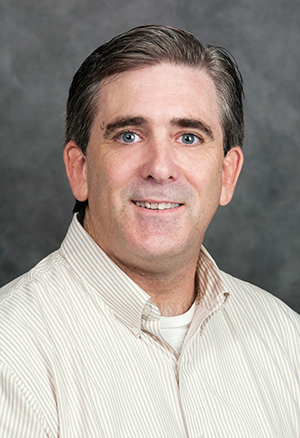 For the third time in his career, an MTSU professor has won one of his profession's highest honors. Carter F. Smith, a lecturer in the Department of Criminal Justice, received the Frederick Milton Thrasher Award from the Journal of Gang Research on Aug. 8 at the International Gang Specialist Training Conference in Chicago. The Thrasher Award was established in 1992 to honor and recognize superior scholarship, leadership, accomplishments, and service contributions in dealing with public safety issues like that posed by gangs. Smith, who had earned the honor twice before, is retired from the U.S. Army Criminal Investigations Command, where he established the Army's first gang and extremist investigations team. He also provided and directed the security of several U.S. Army bases, supervised multinational fraud and theft investigations, and conducted various criminal and cybercrime investigations in Germany, South Korea, Panama, and the U.S. Smith's areas of expertise include street gangs, military-trained gang members, gangs in the military, gangs in colleges and universities, organized crime, international and domestic terrorism, and employment in the criminal justice professions.
True Blue Diversity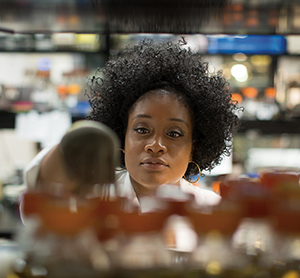 Ciara Taylor wants to assist doctors and nurses by working in a laboratory providing diagnostic test results in her future career. An MTSU senior and single mother of two children, Taylor, 23, of Chattanooga, was one of three recipients of $10,000 scholarships by the BlueCross BlueShield of Tennessee Health Foundation on Aug. 1, allowing her to further her education. The diversity scholarship program was launched to help address the growing need for a qualified and more inclusive workforce to deliver health care in Tennessee. Taylor, a 2010 Hixson High School graduate, pursues Pre-Medical Technology studies in the College of Basic and Applied Sciences at MTSU. Through its health foundation and community trust, BlueCross has invested $105,000 in Diversity Scholarships since 2013.
School of Rock
MTSU merged its signature concrete management program with its construction counterpart to form the MTSU School of Concrete and Construction Management. School Director Heather Brown formally announced the merger and name change to industry representatives Dec. 8 at Ascend Amphitheater's VIP Club in Nashville. MTSU has offered both the nationally recognized Concrete Industry Management degree program—the first of its kind in the country—and the highly successful residential/development and commercial construction program for more than 20 years. There are 310 students combined in the two majors. As of August 2016, department data showed 8.4 jobs per each graduating MTSU concrete major, and average starting salaries during 2012–16 included nearly $43,000 in Tennessee and nearly $51,000 out of state.
Aloha, Raiders!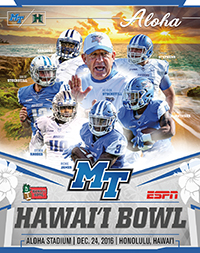 In 2016, the Blue Raiders football squad played in its sixth bowl game in the Rick Stockstill era and third in the last four years. Stockstill's Blue Raiders represented Conference USA in the 15th annual Hawai'i Bowl, the only college football bowl game played on Christmas Eve. The game against the hometown Hawai'i Rainbow Warriors aired nationally on ESPN. The Blue Raiders (8-5) went 5–3 in C-USA play and upset Southeastern Conference foe Missouri on the road in non-league action.
Flying High Again
Students in MTSU's Aerospace Maintenance Management program will also be taking their training to new heights thanks to Southwest Airlines' recent generous donation of a turbofan airplane engine. The 4,300-pound CFM56 engine, which was used on flying aircraft, "rules the skies today with regard to commercial transportation," said Bill Allen, associate professor and coordinator of the Maintenance Management concentration. The donation, with an estimated market value of $100,000, was arranged by alumnus Chad Rhyne, who works for Southwest. Such engines can cost millions of dollars brand new. "It's a great asset for our program," MTSU senior Jeremy Lacy said. "This is real-world experience right here. We can put this on our resume. I'm excited."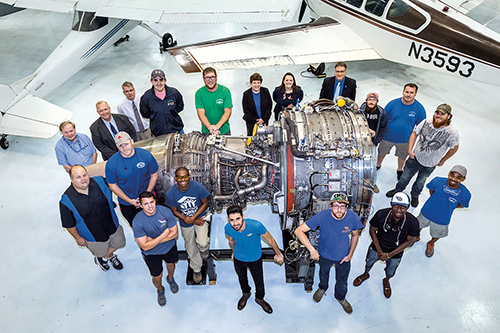 A Captain's Chair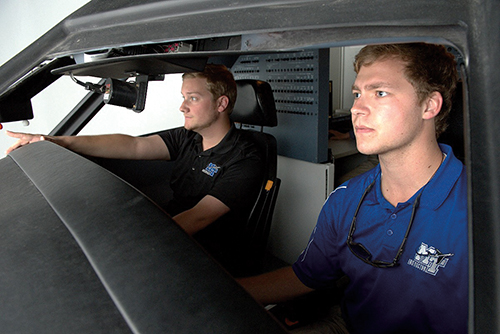 MTSU students are the beneficiaries of a new $700,000 Department of Aerospace Flight Simulator Building dedicated in May 2016 at the Murfreesboro Municipal Airport. The 3,600-gross-square-foot facility houses four flight simulators  at MTSU's Flight Operations Center just off Memorial Boulevard. Other features include a classroom and six briefing rooms. The design of the building lends itself to future expansion in three directions, and the profile of the building's roof is inspired by the profile of an aircraft wing.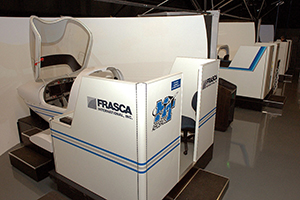 The simulators are used by all Professional Pilot students, from early training through their transition to turbine-powered aircraft.
Never Grow Up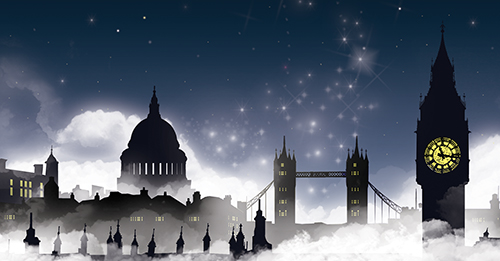 The MTSU Arts production of Peter Pan took place Nov. 3–6, 2016, in MTSU's Tucker Theatre. The professional-caliber production was the latest from Theatre professor and Director Kristi Shamburger, who combined forces once again with musical director Raphael Bundage, a Vocal Performance professor in MTSU's School of Music. Senior Daniel Meeks (pictured) of Chattanooga portrayed Captain James Hook. Sophomore Parker Chase of Memphis played Peter Pan. In all, MTSU's Peter Pan featured a 34-member cast, an orchestra, and a crew that brought the total involved to nearly 60 people. Peter Pan continued the Department of Theatre and Dance's large-scale musical production schedule, coming on the heels of West Side Story in spring 2016, La Cage Aux Folles in spring 2015, The Drowsy Chaperone in spring 2014, and the record-setting four-night run of Les Misérables in fall 2013.
Safety First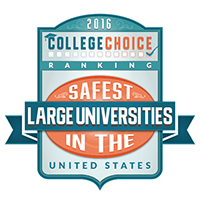 MTSU was ranked among the Top 50 safest large universities in the nation, according to the website collegechoice.net. The data used to develop the campus safety ranking came from the U.S. Department of Education, as well as from the universities' and colleges' websites, U.S. News & World Report, and The National Center for Education Statistics. The website states that it used each respective school's general crime report and the number of documented hate crimes, incidences of violence against women, arrests made, fires, and discipline-enforced activities for each in the last three years. Schools were given a safety grade based on those reports, with MTSU's grade ranking it 40th on the list. "From providing RAD self-defense training to auto assistance, student-led patrol, and victim assistance, the safety crew at MTSU works closely with all components of campus life to instill and ensure a safe and healthful space," the website states. "Their core values—honesty and integrity, respect for diversity, engagement in the community, and commitment to nonviolence—have led to MTSU's recognition as one of the safest large schools in the country." Among its numerous safety initiatives, MTSU has a full-time police force of 44 officers that includes a bicycle patrol and community policing, numerous surveillance cameras positioned throughout campus, and a critical notification system to alert the campus community during emergencies.
A+ Science Project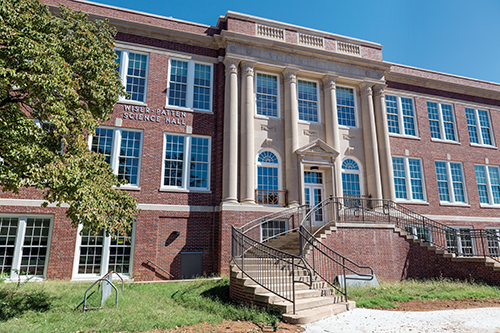 With the recent completion of $167 million in new and renovated science facilities, the College of Basic and Applied Sciences celebrated the opening of MTSU's new Science Corridor of Innovation this winter. The University now boasts some of the finest combined science facilities in the South with the 2014 opening of MTSU's new $147 million Science Building and the fall 2016 completion of $20 million in renovations to MTSU's pre-existing science facilities—Davis Science Building and Wiser-Patten Science Hall. A true campus-within-a-campus, this complex is already helping MTSU prepare more teachers for math and science in K–12 schools, creating additional science graduates to fill high-technology jobs, and enhancing the economy of the region and state. The physical improvements will also make MTSU more competitive for research projects, science scholarship, and entrepreneurial efforts. State funds from the original Science Building project were allocated for the renovation project, which will directly or indirectly benefit all 11 CBAS departments in addition to some departments from other campus academic units.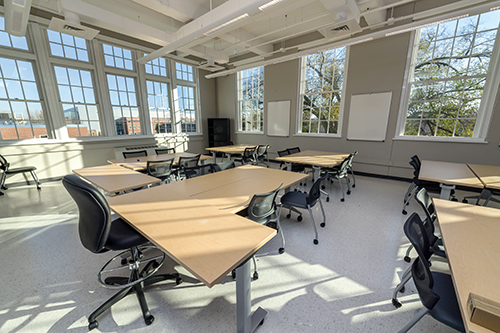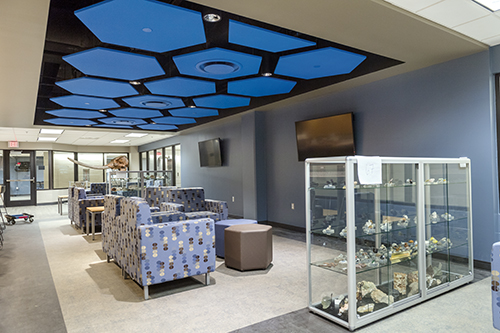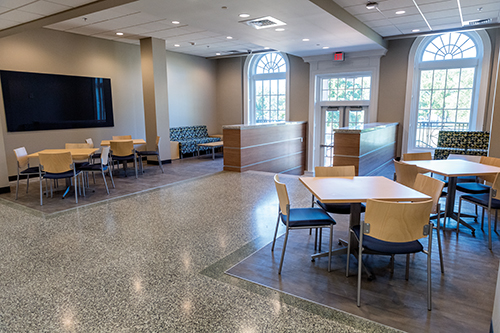 Corporate Partners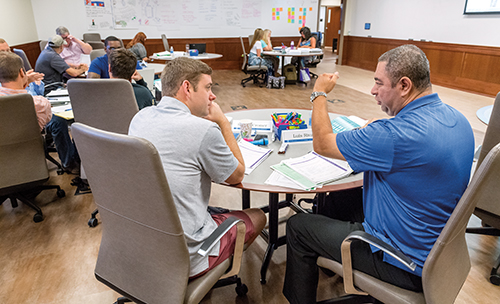 The first group of enrollees began coursework in MTSU's new program in leadership developed in concert with leading tire and rubber company Bridgestone Americas. Coordinated through MTSU's University College, the new Applied Leadership certificate program offers adult learners already on the job a chance to earn additional job certifications—and even a bachelor's degree—through online courses and short, intensive on-campus instruction. MTSU President Sidney A. McPhee said the program "perfectly illustrates the kind of close collaborations this University embraces to fill the educational needs of a dynamic workforce environment in the 21st century." A student enrolling in the program can earn individual certificates in the following four areas: leadership theory, communication and problem solving, leading teams, and leading people and managing change. Students who obtain all four certificates—10 credit hours each for a total of 40 credit hours—and complete other general education and elective requirements can earn a Bachelor of Science in Liberal Studies with an Applied Leadership concentration. The cross-disciplinary Applied Leadership concentration features instructors from a range of academic areas, including retired U.S. Army Lt. Gen. Keith Huber, MTSU's senior advisor for veterans and leadership initiatives.
---