It could be said that a new photo gallery soon to open at MTSU has been more than a half-century in the making
by Drew Ruble
A few years after arriving from Colorado in 1959 to teach industrial arts at MTSU, now-retired photography professor and Murfreesboro resident Harold L. Baldwin launched the University's photography program. He soon realized the need for gallery space to augment the instruction he was providing in the rapidly expanding program.
"We needed to bring in popular photographers to enhance the student experience," Baldwin said. "That was the one thing that was lacking. Students couldn't get exposed to the work of top professional photographers like all the big schools on the East and West Coasts."
Baldwin began working with the Eastman Kodak Company to bring exhibits to campus, but the Kodak shows did not match his vision.
"They were the traditional pretty prints; they didn't have any real meaning to them," he explained. "I knew I needed to get some true artists to campus."
Baldwin started contacting well-known photographers. One of the first was American photographer Ansel Adams.
"This was before big PR agencies handled big photographers. They handled their own shows," Baldwin recalled. "So I wrote him a letter asking him to come, and he sent me a postcard, saying, 'I'm going to send you one of the best little shows you have ever seen.' And I thought, 'Well, my God!'"
That exhibition, as well as others Baldwin arranged, hung in what is now the Tom H. Jackson Building. At each exhibit, the professor found a way to cobble together funds to purchase a print; some of the artists donated prints to the University.
As a result, Baldwin said, "I just kind of accumulated a permanent collection here."
While a full appraisal has never been conducted on the collection, which was formally established in 1961, Baldwin recently funded an independent assessment that values it "easily in excess of a million dollars." In fact, the value could be quite a bit more. One piece of the collection alone—a print of one of Adams's most famous photos, Moonrise, Hernandez, New Mexico—is considered quite valuable.
In addition to Adams, other photographers who have exhibited their work at MTSU through the years include Richard Avedon, Sally Mann, André Kertész, Henry Horenstein, and Arthur Fellig (who was better known by his pseudonym, Weegee). Photographers whose work is part of the Baldwin collection though they never exhibited on campus include Edward Weston, Minor White, Paul Strand, and Jerry Uelsmann.
Slowly developing
For many years, works from the collection were shown in a hallway of the McWherter Learning Resources Center, a space that was renamed to honor Baldwin in 2009.
Now a $100,000 donation by Baldwin will support plans to develop a new photography gallery in the John Bragg Mass Communication Building.
The renovated space, to be dedicated in 2013, will become the new permanent home of MTSU's photography archive—the million-dollar-plus collection that Baldwin pieced together during his decades of service to the University.
In its new home on the second floor of the Bragg Building, the Baldwin Gallery will feature movable walls and contemporary lighting and will also showcase traveling exhibits and student work.
The gallery will be the third specialized media area in the building, which is already home to the Center for Popular Music and the Center for Innovation in Media.
Baldwin's gift is part of MTSU's Centennial Campaign. With his commitment, the campaign has surpassed $60 million in gifts and pledges toward its $80 million goal.
"Harold's gift truly embodies the spirit of the Centennial Campaign," said Nick Perlick, director of development. "He has been part of this campus family for decades, and now he has chosen to make an investment to enhance the particular aspect of the University that means so much to him. We are extremely grateful for his generosity."
Worth a Thousand Words
The expanded new gallery will no doubt become a significant cultural asset for MTSU and Murfreesboro.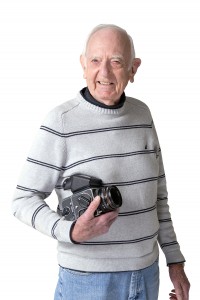 "It's an opportunity to display what we are doing here, what's happening, and get the word out. It is a good advertisement for the photography program itself," said Baldwin, who shifted to teaching photography full-time in 1968 and taught thousands of photographers until his retirement in 1991.
Baldwin said that he hopes his gift will inspire others to donate to the gallery. "Recent cutbacks mean we have only been able to host a limited number of shows in recent years," he said. "More gifts would help keep that gallery rolling."
Now 85, Baldwin is busy working with the University to reestablish the gallery. He's also excited about a trip he has planned in February 2014 to the Galapagos Islands. He and his daughter are two of 30 photographers included in a 10-day trip guided by a National Geographic photographer.
When asked if photos from that trip might be shown in the new campus gallery, Baldwin laughed and said, "I haven't even thought of that!"
---