Collecting manure doesn't deter horse enthusiast Goertzen's desire to help area equines
by Patsy Wieler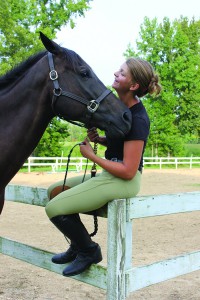 Animal science major and Buchanan Fellow Ellen Goertzen knows her research isn't something most people would discuss during dinner. After all, collecting and freezing manure samples and then studying them for equine intestinal parasites is a project few might want to touch. However, Goertzen, who owns, trains, and rides horses for fun and competition, felt right at home in the various barns where she collected her specimens.
"My research focused on horse parasites, the eggs of which can be seen in the manure when examined under a microscope with a special technique called the McMaster technique," Goertzen says. "This technique uses specially marked slides with a slot in which I injected the feces after some processing."
The Slidell, La., native says her main motivation for pursuing this area of research is a desire to contribute to the overall well-being of horses.
"As a horse owner and enthusiast, I have a strong personal interest in any research that leads to improving the health of our horses," she says. "A parasite study was relatively straightforward and required some equipment but nothing too complex or expensive. I could do most of the research on my own, and because I could freeze my samples for later use, I could do it in my own time."
Goertzen gathered at least two samples from 60 horses boarded at six different barns. When frozen, the airtight bags of manure were kept in various Davis Science Building freezers and defrosted under hot water before being tested.
"The project was a survey of horse deworming programs that are currently being used in this area, and then I compared these practices with the actual need [amount and type of parasite eggs found in the feces of the horses]," Goertzen says. "I then designed a program for each barn based on actual results."
Her findings showed it is more effective to use a rotation of treatments rather than just one product, and that a fairly aggressive deworming program is needed to maintain low to zero levels of parasites.
"Horse owners can use the data and information in my project to make better decisions for the health of their animals," Goertzen says. "Even if individual fecal testing might be impractical, I have at least shown that rotation of products is much more effective than non-rotation, and that a relatively frequent deworming program is necessary for this region."
She says the horse owners, MTSU equine veterinary medicine specialist Johnny Haffner, Rebekah Norman of the UT Extension, and her advisor, biology professor Anthony Newsome, provided a great deal of time and expertise for her project.
Goertzen (who cooks and plays the violin and is an MTSU equestrian team member), says her work "is a good starting place for further study in parasite management research. A good project is a small part of the definite answer, which takes many more repetitions and follow-up studies."
---