by Jimmy Hart and Drew Ruble
The granting of an honorary doctorate degree, a tradition of universities dating back to the Middle Ages, is higher education's most significant accolade. Such degrees recognize those with sustained records of achievement who have made outstanding contributions and who exemplify the ideals for which a university stands. They are not lightly given. It is a university's ultimate sign of respect.
On May 10, 2014, during the University's commencement ceremonies, MTSU granted just the third and fourth honorary degrees in its 103-year history. Receiving them were MTSU alumnus Lt. Gen. William Phillips ('76), a U.S. Army three- star general from Bell Buckle, and Madam Xu Lin of China, a vice minister of education and director-general of the worldwide network of Confucius Institutes. Each honoree addressed graduates during commencement exercises.
A Soldier's Soldier
From February 2010 to April 2014, Phillips was stationed at the Pentagon and served as principal military deputy to the assistant secretary of the U.S. Army for acquisition, logistics, and technology. He retired in April after 38 years of service.
In a recent House speech honoring Phillips, U.S. Rep. John Carter (R-Texas), a member of the House Appropriations Subcommittee on Defense, called Phillips "a true champion for soldiers and their families," adding, "His dedication to excel- lence has ensured our beloved soldiers fighting on behalf of the nation have always had, and will continue to have well into the future, the most technologically advanced and reliable equipment whenever and wherever they need it most."
Phillips graduated from MTSU in 1976 with a bachelor's degree. He received a master's in procurement and materials management from Webster University and a master's in personnel management from Troy State University. He is a graduate of the Command and General Staff College, the Defense Systems Management College, and the Industrial College of the Armed Forces.
Among his many awards are the Bronze Star Medal, the Army Meritorious Service Medal, and the Iraq Campaign Medal. In 2001, he was named U.S. Army Acquisition Commander of the Year.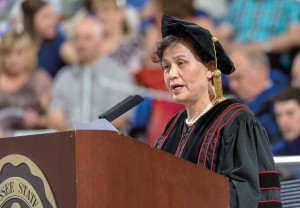 A Cultural Icon
Xu Lin leads the Chinese Language Council International (Hanban) and serves as chief executive of Confucius Institute Headquarters in Beijing. During her tenure, the organization has experienced tremendous growth. Since 2004, it has expanded to more than 120 countries with more than 440 Confucius Institutes and 650 Confucius Classrooms, reaching more than 850,000 students. MTSU joined China's Hangzhou Normal University to open its Confucius Institute in 2010.
"Under Xu's leadership, Hanban has been committed to making Chinese language and culture teaching resources and services available to the world, meeting the demands of over-seas Chinese learners and contributing to the formation of a world of cultural diversity and harmony," said President Sidney A. McPhee.
In October 2013, Xu visited the MTSU Confucius Institute and the Tennessee State Capitol, where she met with Sen. Bill Ketron and Gov. Bill Haslam, among others, to discuss the importance of cultural exchanges between the U.S. and China. Xu received her undergraduate degree in chemistry from Fudan University in Shanghai and a master's degree from Beijing Normal University. She has received many honorary doctorate degrees from universities around the globe. MTSU
[Editor's Note: Almost 2,300 students graduated at MTSU's spring 2014 commencement ceremonies on May 10. Of that number, 1,893 were undergraduates and 393 were graduate students.]
---