by Drew Ruble
One of the perks of working at MTSU is the ability to take one course per semester to apply either to the pursuit of a degree or simply for self-edification. As one of the area's many closet songwriters, I recently took a course in commercial songwriting taught by professor Hal Newman.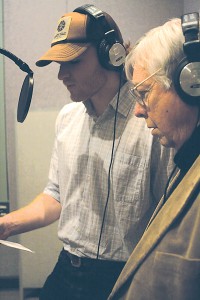 What I learned from that experience far exceeded classroom knowledge. In addition to witnessing first-hand the quality of instruction available at MTSU—and the incredible opportunities being provided by the University—I also learned about the generosity of some of its alumni. Let me explain.
Although he's recently departed MTSU and returned fulltime to the Nashville music industry, Professor Newman is credited with co-founding the commercial songwriting concentration at MTSU. Among the numerous hit song writers and artists Newman groomed over the past decade is chart-topping country music tunesmith Eric Paslay (pictured in studio with Newman here). Newman also helped create one of the most remarkable partnerships at MTSU—a student-mentoring program with ASCAP, one of the three major performing rights organizations in Nashville. The program pairs MTSU songwriting students with professional song pluggers, publishers and other industry insiders, giving students multiple chances each semester to play their songs for professionals on Music Row, get feedback, and maybe even start a career. I can tell you as the former editor of two Nashville business magazines, such access is unparalleled in the music business today.
My ASCAP mentor was MTSU graduate and former Newman student Brooke Arrington (pictured here), currently the creative director for Big Yellow Dog Music, one of the most successful independent music publishing companies in Nashville (and home to Grammy Award–winning songwriter and MTSU graduate, Josh Kear). Arrington cleared her demanding schedule several times during the semester to work with me and other students trying to elevate our music to the "commercial" level. It was an invaluable experience.
There are many ways to give back to the University. One is to give money. And, in fact, as an article on page 26 outlines, MTSU recently launched an $80 million campaign. Even a $25 donation can go a long way to reaching the goal of making MTSU an even greater university in its second century.
As my personal experience with Brooke—and the feature story about MTSU graduate Jeffrey Reid on page 12—reveals, giving back to the University can also come in the form of mentoring MTSU students (or even graduates) to help them reach their professional dreams. Imagine what impact the MTSU alumni base could have on the Nashville market alone if every Blue Raider committed to helping just one MTSU student, graduate, or alum seeking an internship, job, or networking opportunity—particularly in these lean economic times.
Reaching back or reaching down to help a fellow Blue Raider make his or her way in the world? To me, that's a great example of what it really means to be True Blue.
---