by Drew Ruble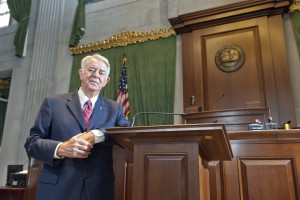 When Don Keaton ('61) was in grade school, he got tangled up in a stirrup and was dragged by a horse for about a mile. It nearly killed him. As a result of the lingering effects of that injury, he spent six months during high school bedridden, unable even to sit up.
Maybe that explains why Keaton, now 71 years old, is one of the most active people you'll ever meet. In fact, he says he can't remember a time when he wasn't holding down two to three jobs at once while simultaneously engaging in side projects.
Keaton's primary job these days is one of the more peculiar but necessary jobs in all of Tennessee. As chief sergeant of arms for the Tennessee State Senate, Keaton is the key man in charge of carving order out of chaos on Capitol Hill.
Working at the will of Lt. Governor Ron Ramsey—who appointed him to the position—Keaton and staff are often asked to find a lawmaker in the halls of legislative plaza and bring him or her to the committee room for a vote or to constitute a quorum. (Back in the old days, the sergeant of arms and his staff were often dispatched to the Tennessee countryside to pull elected lawmakers off their farms and up to the Capitol for votes.)
Keaton and staff would describe themselves more as servants than enforcers, though.
"One of biggest problems is lawmakers will leave their offices, head for legislative hearing rooms, and get stopped by lobbyists or some special interest group," Keaton says. "And they feel like they are obligated to talk to their constituents. So we help to get them where they need to go."
Keaton has, in all, spent 11 years on the Hill. He doesn't do the job for the money. A savvy private investor, Keaton was among the earliest investors in Cracker Barrel and Wilson County Bank (among other smart investments). His long professional career included stints as city hall finance commissioner for the City of Lebanon and economic opportunity commission executive director for Lebanon/Wilson County. (Keaton was also the primary provider of photographic services to Cracker Barrel for many years.)
No, not money, but activity—Keaton's lifeblood—is the draw to the Senate job. "I enjoy work," he says. "It's not really work because I enjoy what I'm doing."
What else does Keaton do to keep himself busy? One of his primary entrepreneurial hobbies is firearms design. Keaton holds a patent on the use of embedded magnets to quickly change the length of gunstocks in the manufacturing process. He also now holds a provisional patent on the use of the same principle of magnets (reverse polarity) to create an invisible spring or cushion on the butt of a gun to reduce recoil.
"Even Bubba can understand that," he says.
For pure enjoyment, Keaton also works part-time at Bass Pro Shops in Opry Mills, helping customers select gun sights. But taking care of senators remains Keaton's primary passion.
Sen. Kerry Roberts, who replaced Congresswoman Diane Black in the Tennessee State Senate last March, and who had never served in an elected position in his life, called Keaton and his staff "life-savers" when he arrived on Capitol Hill the morning after his special election.
"What surprised me was that Don and his staff immediately knew who I was," the freshman lawmaker Roberts says. "Don has a heart of service. He takes care of everything, and he does it with joy. He and his staff, they are true public servants."
Spend a little time on the floor of the state Senate and one fact quickly becomes obvious. Every senator there deeply appreciates the attitude that Don Keaton and his staff come to work with.
And Keaton? He just appreciates the opportunity to go to work.
---