by Mike Browning
Some of us live life day-to-day, month-to-month, or year-to-year. The MTSU alumni featured on this page live by seconds. Engaged daily in gathering and disseminating television news and weather for middle Tennessee, these MTSU alumni work fast, constantly conscious of time to ensure that their television content is ready to broadcast at the designated hour. Whether producers, directors, audio engineers, reporters, anchors, or meteorologists, they are willing slaves to the almighty clock. Missing a deadline is considered a mortal sin, but then again these professionals prefer the adrenaline of their fast-paced careers over the everyday nine-to-five. After all, they chose the "seconds-to-air" lifestyle when they graduated from MTSU's highly respected programs in electronic media communication or recording industry. They are highly visible examples of MTSU's significant role as a supplier of Nashville's workforce.
WSMV Channel 4

Middle Tennessee has been waking up in the morning to a cup of coffee and Emmy Award–winning journalist Holly Thompson, co-anchor for Channel 4 News Today, since 2000.
Regina Raccuglia earned Reporter of the Year honors from the Associated Press while working in Huntsville, Alabama.
Left to right: Michael Lester ('96), director, Channel 4 News Today, morning show and  midday; Alicia Collins ('09), editor; Holly Thompson ('94), anchor, Channel 4 News Today, morning show and midday; Regina Raccuglia ('05), reporter; Mary Katherine Rooker ('98), producer, 5 p.m.
Not pictured: Forrest Sanders ('07), reporter/photographer; Nancy Van Camp ('95), meteorologist; Elizabeth Emmons ('97) producer; Corinne Gould Jasso ('04), producer; Chuck Morris ('90), digital content manager; Matthew Parriott ('05), morning show producer; David Weathersby ('98), investigative producer; Craig Landschoot ('07), photographer; Tiffany Sawyer ('08), producer;  Jessica Turri ('06), producer
NewsChannel 5 and 5+

Phil Williams, WTVF NewsChannel 5 chief investigative reporter, has won multiple Emmy, DuPont, and Peabody Awards for being the reporter no one wants to see coming. Williams graduated with honors from MTSU in 1985. His investigations of corrupt court systems, insider contracts, government waste, and sex offenders have earned national respect for his career and NewsChannel 5.
Kelly Cox, a familiar face to those who watch early morning weather, helped start MTSU's first morning news show. She attended MTSU on a Presidential Scholarship and graduated summa cum laude in 2001.
Left to right back: Brian Bates ('94), executive director, NewsChannel 5+; Lucas Wyatt ('06), technical operator, NewsChannel 5; Phil Williams ('85), chief investigative reporter, NewsChannel 5; Dwayne Stewart ('07), traffic coordinator, NewsChannel 5; Mark Martin ('79), news operations manager, NewsChannel 5; Kevin Sherrill ('99), director, NewsChannel 5; Andrew Diemer ('08), producer/director, NewsChannel 5+
Left to right front: Jamie Berry ('98), news producer, NewsChannel 5; Rachel Ward ('07), assignment desk, NewsChannel 5; Lacey Strader-Devlin ('06), web producer, NewsChannel 5; Kelly Cox ('01), weekend meteorologist, NewsChannel 5; Mareliena Ramos ('06), producer/director NewsChannel 5+; Samantha Smith ('08), producer, NewsChannel 5
Not pictured: Danielle Allen ('06), associate producer, NewsChannel 5; Mitzi Gargus ('06), director, NewsChannel 5; Takahiro Hamada ('08) graphic artist, NewsChannel 5; Sarah Moore ('00) news producer, NewsChannel 5; Rob Harrison ('06) audio engineer, NewsChannel 5; Clifton Hunt ('79), promotions producer; Debbie Hunt ('81), account representative, News Channel 5
FOX 17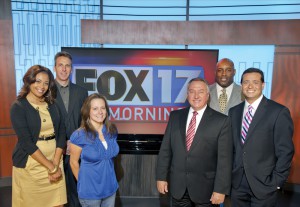 FOX 17 morning co-anchor Nick Paranjape is proud to say he grew up in Murfreesboro and earned his degree from MTSU.  Before coming to Nashville, Paranjape sharpened his news skills in Knoxville and Memphis. After 30 years of forecasting weather in Tennessee and
Kentucky, FOX 17's morning meteorologist, Craig Edwards, is one of Tennessee's most trusted.
Left to right: Toni Taylor Fitzgerald ('97), account executive; Dennis Breckey ('96), chief operator, sister-station WNAB; Amanda Ward ('07), morning editor; Craig Edwards ('78), morning meteorologist; Greg Pollard ('91), local sales manager; Nick Paranjape ('91), morning co-anchor
Not pitctured: Michelle Heron ('10), associate producer; Orlando Rodriguez ('02), commercial producer; Brittany Thomas ('05), producer assistant; Randy Keys ('80), program coordinator; Sarah Shiverdecker ('04), morning producer; Marty Spears ('02), traffic dept./copy coordinator; Kim Watson ('93), commercial producer
WKRN NEWS 2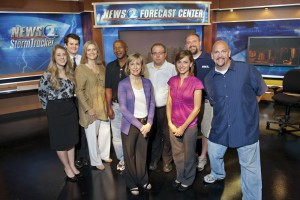 Karen Higbee and Heather Jensen began work as associate producers for News 2 while attending classes at MTSU.  These days Higbee also hones her craft as a video journalist.
Jensen, likewise, isn't afraid to do what needs to be done to tell the story, working as a photographer, editor, producer, reporter, and anchor to bring viewers the news.
Left to right: Rebecca McGrath ('10), sales associate; Nick Oliver ('09), account executive; Laura Schrader Crenshaw ('83), account executive; Joe Gregory ('79), chief video journalist; Lisa Denny Hustedt ('81), account executive; Bart Baird ('94), assignment editor; Heather Jensen ('99), video journalist; Beau Fleenor ('01), video journalist; Joe Dubin ('97), sports anchor/reporter (recently departed WKRN)
Not pictured: Karen Higbee ('07), video journalist; Alison Coe ('02), assistant news director; Glenn Proffitt ('78), account executive
---