Two MTSU professors take different paths to the same gasoline-free conclusion
by Randy Weiler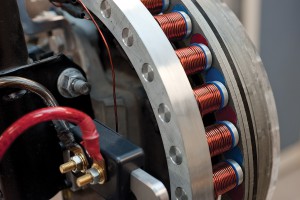 A RetroFit Future
Dr. Charles Perry and his Engineering Technology team invent a way to make every car a hybrid Prolific patent recipient Dr. Charles Perry's latest invention, the Plug-In Hybrid RetroFit Kit, could save America 120 million gallons of fuel daily.
Perry (B.S. Chemistry '66 and M.S. '69) is the holder of the Robert E. and Georgianna West Russell Chair of Manufacturing Excellence in the Department of Engineering Technology at MTSU. He spearheads an eight-member team collaborating on this patent-pending, wheel-hub motor project. The team includes Paul Martin III, an automotive engineering technology expert, co-patent holder, and the grandson of Paul W. Martin Sr., for whom MTSU's University Honors College is named.
Perry says that 80 percent of U.S. drivers make daily trips of 30 miles or less driving 40 mph or less. Those trips can be made with his 10- to 15-horsepower electric motors powered by extra batteries installed in the car's trunk. The hybrid retrofit kit is installed in the space between the brake mechanism and the hub, generating more electricity while the vehicle is driven.
A former IBM electrical engineer who was awarded 40 patents during his career there, Perry says he believes the kits could be developed into a product selling for between $3,000 and $5,000.
Under Martin's mechanical guidance, a prototype vehicle recently hit the streets, allowing the Perry team the opportunity to prove its fuel mileage savings and system reliability. The next step will be to fund a fleet of independently manufactured cars that will be retrofitted with the kit and which will fully enable Perry and crew to test the product's efficiency and durability.
The Tennessee Technology Development Council (TTDC), a state agency that offers grants designed to help Tennessee inventors take their innovations from the lab to the marketplace, awarded the kit first place in a recent competition that included applications from Vanderbilt University, St. Jude Children's Research Hospital in Memphis, and Oak Ridge National Lab. It's the latest proof that the right infusion of capital is just the thing to make Perry and crew's kit a significant tech transfer success story at MTSU, a success that will no doubt pave the way for future successes coming out of the University's Department of Engineering Technology.
Dr. Cliff Ricketts embarks on a 2,800-mile road trip on 1.87 gallons of gas
Last fall, Dr. Cliff Ricketts made national headlines when he drove the length of the state of Tennessee using only sun and water to power his vehicle.
The latest step in Ricketts's lifetime of alternative fuel research was a planned 2,800-mile cross-country drive in October using less than two gallons of gas.
At press time, the longtime MTSU School of Agribusiness and Agriscience faculty member was in final preparations for his proposed drive in a modified 2008 Toyota Prius from Wilmington, N.C., to a Pacific Ocean beach near Los Angeles. Besides a few drops of gas, his fuel consisted of various hybrid sources, including sunlight and hydrogen from water.
The journey required about 3.75 tanks to achieve 750 miles per fill-up or charge (100 miles with solar electric, 250 miles with hydrogen, 350 miles with 95 percent switchgrass ethanol and 5 percent gas, and 100 miles with on-board regeneration, a unit similar in theory to the device created by MTSU professor Charles Perry. See companion story on opposite page.
Ricketts planned to make the drive using only 1.87 gallons of gas. The only reason gas was involved at all is because federal regulations mandate ethanol fuel have at least 5 percent gasoline in it.
"My whole passion is sun and water," says Ricketts, who considers himself a modern-day Davy Crockett, "a frontiersman with energy" who has "blazed a trail with ethanol, blazed a trail with hydrogen, and blazed a trail with sun and water."
Will he make it? He says he's 95 percent sure he will. "This is research, after all," he cautions.
And what's next for Ricketts? He's planning a coast-to-coast trip powered exclusively by sun and water in the fall of 2012.
---