Helping ensure the recruiting trail ends in the graduation line
By Allison Gorman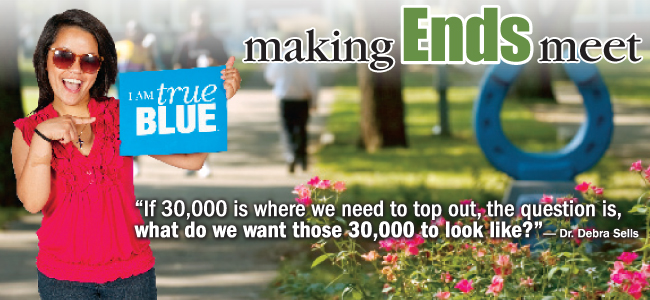 Dr. Debra Sells, MTSU's vice president ofStudent Affairs and vice provost for Enrollmentand Academic Services, jokes that when she took over enrollment management in 2008, the strategy was pretty simple: "Go get the mail and see who applied."
That had worked well for many years. As Middle Tennessee grew, the number of qualified applicants grew…and MTSU grew, not so suddenly, into the biggest undergraduate university in the state. Its current enrollment is more than 26,400, and future growth is "inevitable," Sells says.
"Growth is inevitable, but we don't want it to control our destiny."— Dr. Debra Sells
But the mailbox strategy won't work anymore. Funding for public universities has declined nationwide,and in Tennessee the funding formula has changed: it's now based on retention and graduation rates, not enrollment. So earlier this year, President Sidney A. McPhee asked that a plan be developed that should allow MTSU to grow in a deliberate, economically  viable way. The Strategic Plan for Enrollment Management, currently in draft form, will focus on attracting more students who are likely to graduate, and will recommend a variety of support systems to help keep all students on a path to academic success. The draft plan analyzes the potential for growth that peaks at a maximum enrollment of 30,000, staying on firm financial ground and maintaining the MTSU commitment to academic quality along the way.
"Growth is inevitable, but we don't want it to control our destiny, "Sells says. "We don't want to wake up in 20 years and realize that we're at 45,000 students. So if 30,000 is where we need to top out, the question is, what do we want those 30,000 to look like."
MTSU isn't the only school asking that question. John Dysart, a North Carolina–based consultant who helps universities and colleges develop enrollment strategies, says public institutions that once counted on state support, regardless of enrollment or retention numbers, are now struggling with funding issues their private counterparts have faced for decades. "Just in the last five years, with budget cuts across almost every state in the country, even the biggest-name public universities have had to address recruiting in a way they haven't had to before," he says.
That doesn't mean recruiting students. It means recruiting the right students—a major focus of discussions related to MTSU's strategic plan.
Discussions have focused on potentially slowing the growth of the freshman class, targeting high-achievers by slightly raising academic standards for guaranteed undergraduate admission (pending approval by the Board of Regents). The draft plan also proposes increasing the number of graduate students, who earn their diplomas more quickly and reliably than undergraduates. It suggests greater recruitment efforts and scholarship dollars for transfer students, who have survived the so-called dropout years of early college. And it encourages the enrollment of more international students, a high-achieving and lucrative population, whose members generally complete their degrees on time.
Retention, in other words, is critical.
"It doesn't doanybody any good—the student or the institution—to get somebody to enroll as a first-year student and not to complete, "Dysart says. " And if Tennessee is moving toward more accountability focused funding, retention is even more important."
Recruiting those lower-risk students will bear little resemblance to college recruiting of old. The days of university representatives passing out interest cards at college fairs are gone—or they should be, Dysart says. Instead, the key is communication by phone, text message, and, to a lesser extent, email, to keep prospective students engaged from initial contact all the way through enrollment.
MTSU's new enrollment plan will reflect that trend, emphasizing constant communication as a key to targeted recruitment.Strategic use of software can make it easier for the University to identify and stay in touch with desirable prospects.
According to Dysart, that strategy bodes well for the plan's success. "In my opinion, an emphasis on communication is exactly the right track to be on," he says.

MTSU will be a step ahead of many schools by using communication as a retention tool, not just a recruitment tool, says Dysart. Schools shouldn't just focus on recruiting from a limited pool of high achievers, he says, but must adopt the "harder ways to retain students, which is proactively communicating with them, monitoring their academic progress, watching their social commitments, and so forth."
That's expected to be another major focus of MTSU's plan, which will provide a continuum of support to keep students on track and engaged.
It's not the most straightforward solution to retention issues, Sells says, but it's the most realistic one.
"Everybody wants to change the input, the student, so that the output, the graduation rate, will increase," she says.  "We really believe it's not about changing the input. It's about what we do, our process while they're here with us on campus. That's where we need to be engaged. Otherwise, it just becomes a scholarship race, upping the ante for the very best students, and we're not going to win that."
Sells explains that students leave a university for one of two reasons: they aren't engaged academically, or they aren't engaged socially. The plan will seek to address any gaps that prevent academic engagement and will also enhance social engagement (with an updated, student friendly website, for example). The latter is likely to be an easier task because it builds on one of MTSU's biggest selling points: the sense of community that stems from its roots as a small, regional college.
"We came from a culture where we were educating our neighbors' kids," Sells says, "and somehow, as our population grew, we never lost sight of that."
That friendliness and sense of shared purpose may prove to be MTSU's  best strategy yet. MTSU
---