A look at recent awards, events, and accomplishments involving the MTSU community
Compiled by Gina E. Fann, Gina K. Logue, Tom Tozer, and Randy Weiler
High Achievers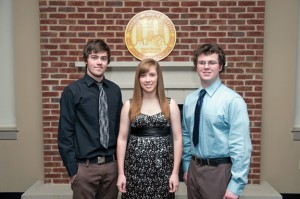 MTSU students Evan Craig (pictured at right) and Chris Ehemann (left) earned prestigious Barry M. Goldwater Scholarships, and Lauren Rigsby (center) received honorable mention. The Goldwater Scholarship, honoring former U.S. Senator Barry M. Goldwater, encourages outstanding students to pursue careers in the fields of mathematics, the natural sciences, and engineering. Graduating senior Kim Yarborough and alumnus Patrick Pratt were MTSU's most recent recipients of prestigious the Fulbright Program for U.S. Students award. The Fulbright is intended to foster cross cultural understanding. Yarborough is headed to Spain, and Pratt is headed to Tanzania.
---
ADDY Girl
Five gold awards—including Best of Show by senior Stefanie Cobb— and two silvers led to a spectacular night for the MTSU Department of Art at the 2011 Nashville Student ADDY Awards. Cobb, who graduated in May, earned a Gold ADDY and Best of Show for her "American Ladies Feline Fellowship Society Annual Report" entry. A past president of the student chapter of AIGA, the professional association for design, Cobb also earned a Silver Student ADDY for a mixed-media campaign, "Streets in the Sky: The Rise and Fall of Brutalist Architecture." The following senior art majors also received Student ADDY Awards: Cody Newman, Eric Pavol, Nathan Henris, Whitney Mortimer, and Michael Slattery.
---
Miss Speaker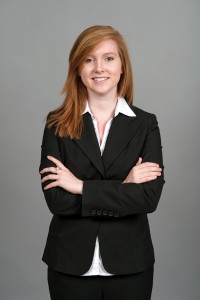 MTSU junior Katie Bogle participated in the Campus-Capitol Connection on Capitol Hill in April, an event where university students observe and learn about the various elements of state government. Bogle will serve in the role of Speaker of the House when the Tennessee Intercollegiate State Legislature convenes this coming November. A political science major, Bogle plans to work in government on public policy issues after graduation.
---
Growth by Association
MTSU's new Saudi Students Association was formed to organize, promote, and support activities that allow an exchange of cultural, social, and sports activities between all its members and the campus and city communities. Graduate student Abdullah Alkobraish, a native of Riyadh, Saudi Arabia, cofounded the organization and serves as its president. According to Alkobraish, the association will help orient new Saudi students at MTSU and at the English Language School to American culture and also serve the Murfreesboro community. "We hope our friends here in town will help us to build the bridges and find solid ground for a peaceful world," Alkobraish said.
---
Scenic City Connection
Chattanooga State Community College students will find it easier to pursue a bachelor's degree at MTSU under an agreement reached by the leaders of both institutions. President Sidney A. McPhee and CSCC president James Catanzaro announced a Memorandum of Understanding, committing to a shared curriculum plan for students seeking an associate degree in Chattanooga who also wish to pursue a bachelor's degree in Murfreesboro. Under the agreement, Chattanooga students who meet specific eligibility requirements will qualify for dual admission at the community college and MTSU and will be guaranteed acceptance into MTSU. They will get access to MTSU faculty and staff while attending the community college and can take advantage of enhanced advising and transition services offered by the University.
---
Sports Round Up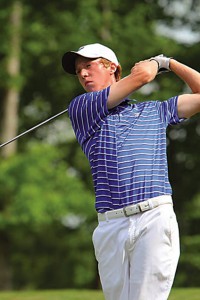 Men's golfer Brett Patterson became the first-player in school history to qualify for the U.S. Open. Blue Raider baseball player  Will Skinner was selected by the Atlanta Braves in the 25th round of Major League Baseball's First-Year Player Draft. And for the third straight year, MTSU earned the Sun Belt's annual Vic Bubas Cup, given to the school that gained the most cumulative points in the conference's 19 sponsored sports. Western Kentucky finished second.
---
Set in Stone
The MTSU Department of Concrete Industry Management (CIM) came out from under the umbrella of the Department of Wngineering Technology to become one of 10 departments in the College of Basic and Applied Sciences. CIM, the first program of its kind in the country when students first took classes in fall 1996, offers a four-year bachelor of science degree for its majors. An executive M.B.A. degree to train students at a higher level is expected to be added to the CIM Department.
---
Big Spring
The University awarded more than 2,400 degrees at MTSU's 100th spring commencement in May, setting a record for the spring ceremony. MTSU, the state's largest undergraduate institution, divides its commencements into two ceremonies to accommodate its large graduation classes. Candidates recognized at spring 2011 commencement surpassed the mark set in spring 2009, when 2,147 were honored.
---
MTSU has changed and expanded the University's news offerings with video, audio, slide shows and text at www.mtsunews.com. The multimedia website replaces The Record, MTSU's twice-monthly print newspaper. Using electronic delivery, MTSU can now get more news to more people, more often, than it has ever been able to do. Visit the website and sign up for the e-Record, MTSU's weekly digital news digest — a roundup of relevant MTSU news delivered directly to your inbox.
---