Pat Duke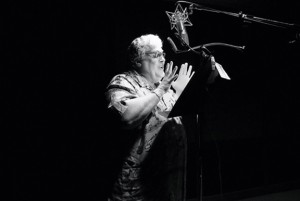 Voiceover talent Pat Duke ('81), of Los Angeles, has voiced more than 10,000 national TV commercials (Napa, Coors, Mercedes Benz), has appeared in movies including Talladega Nights, and recently narrated Swamp People for the History Channel. He's also performed character voices for the Cartoon Network. Since arriving in L.A., he's been several superhero voices for Marvel Comics and, more recently, a video game called Arcania. In that one, Duke plays a huge, dumb ogre. "Typecasting?" he ponders. "Kinda." And, oh by the way, have you heard of the blockbuster video game Halo: Reach, which sold three million copies its first day on the market? Duke plays Colonel Holland. (Ask your kid what he thinks of that.)
Jeffery Reid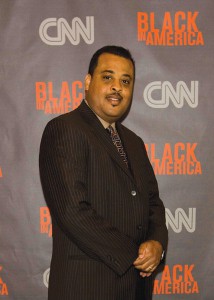 Jeffery Reid ('81), is the Atlanta-based executive producer for CNN Productions and the man behind the first two installments of Black in America. Reid's latest project, which aired earlier this year, was called "Race and Rage: The Beating of Rodney King." Reid is a Cornerstone Donor to the new media center in the College of Mass Communication.
Andy Adams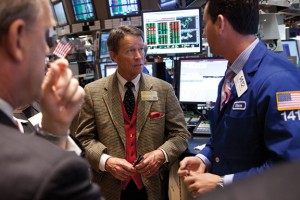 Andy Adams ('68), founder and CEO of Murfreesboro-based, publicly traded real estate investment trust (REIT) National Health Investors, handed his CEO title to president and COO Justin Hutchens. Adams remains chair of the company. He had been interim CEO since April 2008. The firm, founded in 1991, invests primarily in long-term care and comprises more than 120 facilities in 17 states. Adams also founded and remains a board director of publicly traded long-term care provider National HealthCare Corporation.
Vicki Smith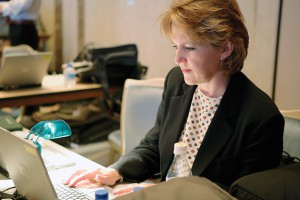 Vicki Smith ('99) was named communications committee co-chair of the Nashville Symphony Council (with Andrew Oppmann, associate vice president, MTSU Marketing and Communications). Smith is senior manager of global communications for Nissan Motor Co. Her work involves writing for the CEO of the Renault- Nissan Alliance and for other global executives within the company. Smith's 24-year career with Nissan has included three years at the company's global headquarters in Tokyo.
Cynthia Fitzgerald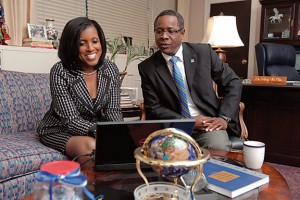 Cynthia Fitzgerald ('79), VP of legal services for compliance at the Tennessee Education Lottery, was highlighted for her social contributions by Gov. Bill Haslam during his State of the State address to the legislature in March. Describing her story as "one that shows a commitment to be more and then encouraging others to do the same," Haslam explained how Fitzgerald was accepted by MTSU but, with no family car, simply gathered her luggage and started out walking the route to the Greyhound station, where she boarded a bus to Murfreesboro. She earned her degree at MTSU, worked as an IRS agent, and later earned a law degree from Vanderbilt. Fitzgerald and her husband, Maurice, dean of students at Smithson Craighead charter school in Nashville, are the founders of the nonprofit In Full Motion, which works with inner-city youth, offering free ACT prep courses and helping kids get to college. There are 700 students in the program now.
Jerome Hruska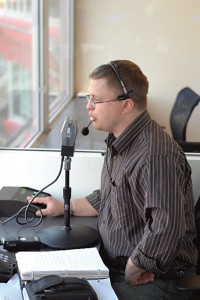 While working in MTSU college radio as a Mass Comm major, Jerome Hruska ('01) heard that Blue Raider athletics officials were searching for a public address announcer for baseball games. He jumped at the chance, and a passion was born. In 2005, when Washington, D.C., was awarded a Major League Baseball franchise (the Washington Nationals), Hruska submitted his résumé to join the PA team—30 times. He wasn't selected the first year, but he got a call in year two of the franchise and joined the team as a spotter. A year later, when the PA announcer for the Nationals stepped aside, Hruska stepped up to the plate, becoming the youngest PA announcer in the major leagues at age 29.
Vernice "FlyGirl" Armour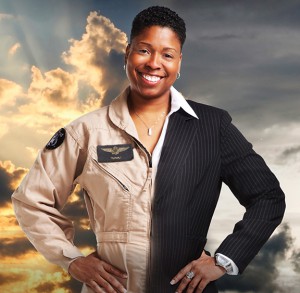 Vernice "FlyGirl" Armour ('97) can proudly boast to be America's first African American female combat pilot. After brief stints with the police departments of Nashville and Tempe, Ariz., Armour joined the Marines, became a combat pilot, and completed two tours in Iraq. Today, she is a professional speaker and founder of Washington, D.C.–based VAI Consulting
and Training. You might have seen her as a guest on CNN, PBS, the Tyra Banks Show, Tavis Smiley, and Oprah
Eric Paslay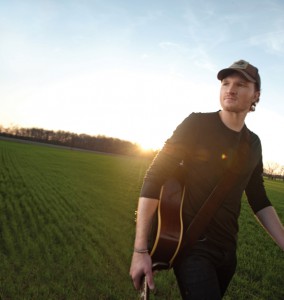 Songwriter/artist Eric Paslay ('05) recently signed to EMI Records Nashville, a sister label of Capital Records Nashville, and released his first album and has had his first single on the radio. In demand as a songwriter, Paslay wrote country artist Jake Owen's recent single "Barefoot Blue Jean Night." While studying music and business at MTSU, Paslay served as president of the MTSU chapter of the Nashville Songwriters Association International (NSAI) and worked as an intern at Cal IV Entertainment, which signed him as a songwriter about a year after his graduation.
---