A look at recent awards, events, and accomplishments at MTSU
compiled by Gina E. Fann, Jimmy Hart, Gina K. Logue, Paula Morton, Drew Ruble, and Randy Weiler
Success Starts Here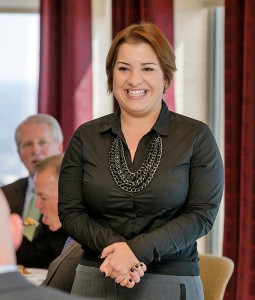 Timecia Terry, a recent graduate who interned this spring with state senator Jim Tracy, (R-Shelbyville), was among 13 MTSU students who worked as legislative interns during the most recent session of the  Tennessee General Assembly. Mark Byrnes, dean of the College of Liberal Arts, said the internships provide students hands-on experience in legislative matters from bill analysis to constituent concerns, research, and general office work. The University funds internships for students serving the Rutherford County legislative delegation. Students can also compete for spots assisting other lawmakers and committees through the broader state legislative internship program. "The vast majority say it's the best thing they ever did in college," Byrnes said. Sen. Bill Ketron (R-Murfreesboro) was so impressed with intern  Sara Mejia-Gomez that he asked her to help in the research for his proposal to study the feasibility of a monorail from Murfreesboro to Nashville. "The quality of the students that I get in my office is simply amazing," said Ketron, who later hired Mejia-Gomez to work in his private business in Murfreesboro after graduation.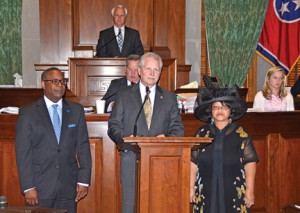 Capitol Praise
President Sidney A. McPhee was honored in April by the Tennessee State Senate for his efforts to expand and strengthen the University's international partnerships and educational outreach. Lt. Gov. Ron Ramsey welcomed McPhee and his wife, Elizabeth, to the Senate chambers for the reading of a resolution by state senator and alumnus Bill Ketron (R-Murfreesboro), pictured here. Under McPhee's leadership, Ketron said, MTSU "has strengthened its international undergraduate and graduate student enrollment, expanded its study-abroad and cultural opportunities, and developed research collaborations with international partners."
Posterizing the Legislature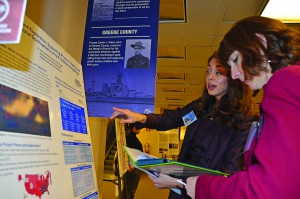 Ten student researchers were among 61 undergraduates from across Tennessee to present research at the ninth annual Posters at the Capitol event held at the Ten- nessee State Capitol in Nashville this spring. Participants included Emmy Rice (Luray), Brett Bornhoff (Nashville), Martin Moran (Clarksville), Daniel Murphy (Murfreesboro), Shiloh Siegle (Murfreesboro), Christie Sanborn (Nashville), Victoria Harrison (Greeneville), Shannon Allen (Murfreesboro), Lenzie Howell (Chapel Hill), and Rance Solomon (Manchester). Solomon's research on sickled red blood cells was chosen to be presented later in the spring in Washington, D.C., at the national version of the event.
Grammy U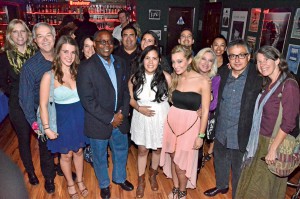 Three former MTSU students were nominated for Grammys this year, and one was a Grammy winner. Michael Knox produced Jason Aldean's Night Train, which was in the running for Best Country Album. Jessi Alexander cowrote two Best Country Song nominations: Lee Brice's "I Drive Your Truck" and Blake Shelton's "Mine Would Be You." Luke Laird coproduced the Kacey Musgraves album Same Trailer, Different Park, which won Best Country Album. (Laird also cowrote many of the tracks.) More than a dozen MTSU alumni/former students and faculty have been nominated for Grammy Awards in the last three years, and seven have been winners.
The College of Mass Communication hosted an event at the legendary Troubadour nightclub in Hollywood before this year's Grammy ceremonies. Dean Ken Paulson, President Sidney A. McPhee, and department chair Beverly Keel met with alumni and friends at the event in an effort to increase the visibility of the department, long regarded as one of the best in the nation.

Fifty Years of Good Display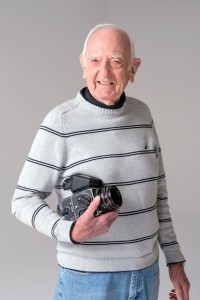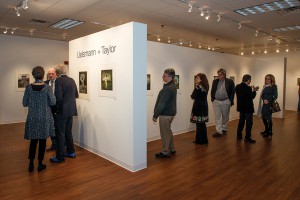 The Baldwin Photographic Gallery's new home is on the second floor of Bragg Mass Communication Building. Professor Harold Baldwin started the photography program at MTSU in 1959 and established the gallery five years later to expose students and the local community to the work of leading photographers from around the world. He built a permanent collection from gallery exhibits of work by artists such as Ansel Adams, Edward Weston, and Minor White. Now professor emeritus, Baldwin donated $100,000 in 2012 to find and renovate a new gallery location. The former student newspaper office in the Bragg Building was turned into a 1,300-square-foot photographic gallery featuring 200 feet of wall display space and museum-quality lighting to showcase the Baldwin Collection, traveling exhibits, and student work.
Shure Thing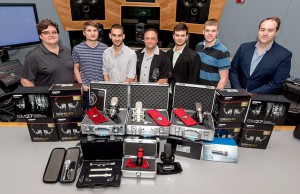 A team of students from the Recording Industry Department won the grand prize in May in the annual Fantastic Scholastic Recording Competition sponsored by Shure Inc. (An MTSU team also took top honors in 2012.) The 2014 group of Jimmy Mansfield, Sam Hillman, Charlie Garcia, and Frank Gerdts defeated teams from across the country by producing an original composition that had to be tracked and mixed using special equipment provided by Shure. As the winners, the Recording Industry Department got to keep the "micro- phone locker" of Shure equipment, valued at more than $11,000.
The College of Mass Communication and the Bonnaroo Music and Arts Festival formed a partnership allowing students to work behind the scenes at the June 12–15 event in Manchester. A select team of students provided multimedia coverage of the world-famous music event for The Tennessean and other media platforms. The partnership includes a symposium that MTSU will host this fall on the anatomy of a music festival and the future of such events.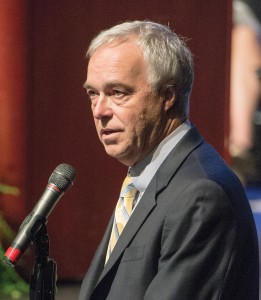 Expert Commentary
Internationally recognized First Amendment scholar Ken Paulson, dean of the College of Mass Communication, appeared on a recent edition of ESPN's award-winning Outside the Lines investigative news program hosted by veteran sports broadcaster Bob Ley. Called "The Art of Noise," the program tackled the topic of rude, crude chants and language by student fans and whether public universities can limit student speech in an arena or stadium. Paulson, president and CEO of the First Amendment Center and former editor of USA Today, pointed out that while the remarks are often distasteful and deplorable, the First Amendment provides that government bodies—including public universities—can't set rules on what Americans can or can't say. "We can disagree with that from a policy perspective, but it's the law," Paulson said, adding that universities should be creative in their approach to dealing with the issue, including limiting the location and size of signs but not their content.
Mass Appeal
The College of Mass Communication was ranked among the top 20 journalism programs in the nation in a survey by the popular news industry trade publication NewsPro Magazine in its December 2013 issue. The survey was distributed to mem- bers of the Radio Television Digital News Association, with 1,321 respondents participating. MTSU was the only Tennessee university to be ranked.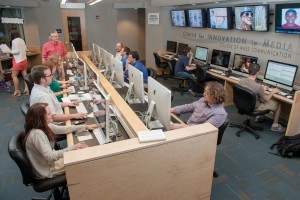 Pictured at the Right:
Mass Communication Students at work in Middle Tennessee State University's acclaimed Center for Innovation in Media in the John Bragg Mass Communication building.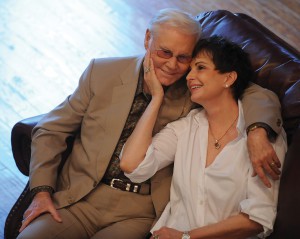 A Legend's Legacy
Nancy Jones, the widow of country music icon George Jones, announced in April that the George Jones Scholarship Fund she recently established at MTSU had already raised more than $171,000. "George received help from people as he strove to have a country music career," Nancy said in a press release. "I know he would have loved this." Donations can be made online at www.MTSU.edu/georgejones, or by calling (615) 898-5595.

Take Your Place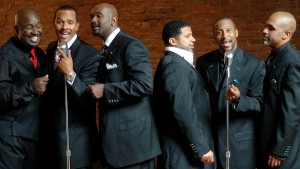 School of Music professor Cedric Dent and his longtime colleagues in the award-winning group Take 6 have been inducted into the Gospel Music Hall of Fame. A renowned a capella sextet, Take 6 laid the foundation for what has become the norm for professional and collegiate vocal jazz ensembles today (and, arguably, the popularity of televised vocal competitions such as The Sing-Off and singing-driven comedies and dramas like Glee and Smash.) Dent, who joined the faculty in 2005 and teaches music theory, the history of black gospel music, vocal jazz, and music industry, maintained an active touring schedule with Take 6 until 2011.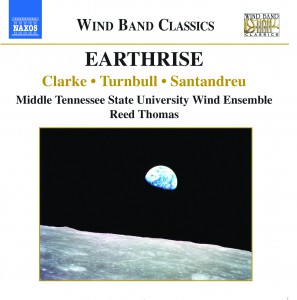 Double Dip
MTSU's Wind Ensemble continues to stand alone among Tennessee university bands with the recent release of its second CD, Earthrise, a collaboration with three international composers on Naxos, one of the world's most prestigious classical labels. Reed Thomas, director of bands and a professor of music and conducting in the School of Music, says MTSU is the only school in Tennessee that has even one CD with Naxos, "let alone two." Thomas conducted the Wind Ensemble for Earthrise as well as its 2011 release, Angels in the Architecture. The 12-song collection is part of the Naxos Classical/Wind Band Classics Series.
Hail to the Chief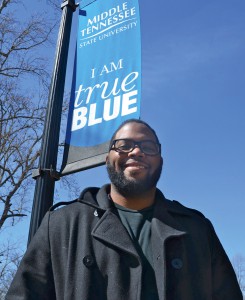 MTSU graduate and current master's student Joshua Crutchfield traveled to Washington, D.C., in February to introduce President Barack Obama at a gathering of grassroots organizations. The nonprofit Organizing for Action invited him to introduce Obama at the National Organizing Summit on Feb. 25 after reading a letter to the editor from Crutchfield published in the Daily News Journal, in which he explained how easy it was for him to sign up for healthcare coverage through the Insurance Marketplace under the Affordable Care Act.

In the Scrum
The MTSU men's Rugby Football Club qualified for the Sweet 16 national playoff tournament this spring. The team lost to Missouri in the quarterfinal round in Bowling Green, Ohio. Other schools in the Sweet 16 included LSU, Georgia, Arizona, Oregon, Stanford, Brown, and Princeton. While men's rugby is not an NCAA-sanctioned sport, it is a fast-growing club sport at colleges nationwide. The MTSU team has a strong alumni association that helps provide scholarships for promising players. The men's and women's rugby teams are overseen by Campus Recreation.
True Blue Team Green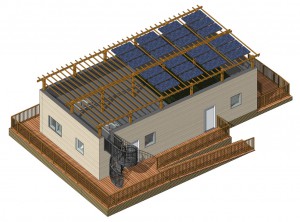 Team Music City, composed of students and faculty in MTSU's College of Basic and Applied Sciences and College of Behavioral and Health Sciences, the School of Engineering at Vanderbilt, and partners from Habitat Nashville, was selected to compete in Solar Decathlon 2015, a U.S. Department of Energy event that challenges students to design and build a functioning, energy-efficient, solar-powered house. Twenty teams from colleges and universities across the world have started the nearly two-year process of building their houses. Students in Construction Management, Interior Design, and Engineering Technology will be involved in work leading to the building of a house on the Vanderbilt campus that is less than 1,000 square feet. The Solar Decathlon comprises 10 contests designed to gauge how well the houses are built and how livable and affordable they are.
There's an App for That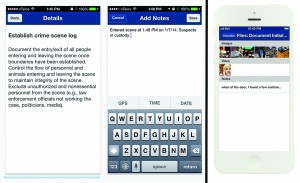 The first moments at a crime scene can be critical to saving lives and ensuring justice. Thanks to an MTSU-led effort, a key to preserving crime scenes can now be held in an officer's hand. MTSU's Forensic Institute for Research and Education (FIRE), led by internationally recognized investigator Hugh Berryman, worked with other seasoned investigators across the country to develop a system to guide first-responding law enforcement officers through what can be chaotic and confusing situations. Instead of trying to juggle notepads, cameras, and video recorders, officers can now capture text, photographs, video, audio, GPS information, dates, and times with their smartphones. Using a $200,000 grant from the U.S. Department of Justice, FIRE partnered with WillowTree Apps of Charlottesville, Va., to create CASE (Checklist App for Scene Examination). LifeWings Partners of Collierville, Tenn., a healthcare safety and accountability consulting company, provided guidance in developing the application.
Ancient Perspectives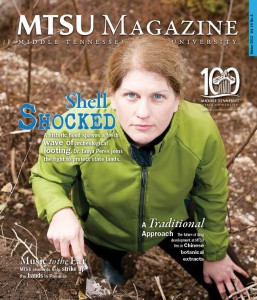 Dr. Tanya Peres launched the MTSU/Rutherford County Archaeology Research Project to learn more about prehistoric peoples that called the area home. Magnolia Valley, near Eagleville, has evidence of Native American occupation starting around 12,000 years ago. Dr. Peres and Dr. Shannon Hodge, another MTSU archaeologist, and some of their sociology/anthropology students, are also trying to preserve, protect, and study occupations of Black Cat Cave in Murfreesboro. The cave is well known among locals as the reputed site of a speakeasy during Prohibition. Since 1971, the cave has been part of a public park, but the entrances have been closed for some time due to vandalism and concern about liability for injuries. Recent discoveries have shown that the cave is an important prehistoric Native American site.
In other news, archaeologist and anthropology professor Kevin Smith helped uncover ancient history at the Sulphur Dell construction site where the city of Nashville is building a new minor league baseball stadium. Fire pits and broken pieces of ceramic pans that could date back as far as 1150 C.E. were uncovered, suggesting the site was a place where mineral water was boiled to collect salt for trade. The ballpark will be built over the archeological site, but not in a way that will damage any artifacts.
Marching On

Director of Bands Emeritus Joseph T. Smith, who founded what we all know today as the Band of Blue, died in May 2014. Smith was also founding director of the Contest of Champions, one of the longest-running high school marching band contests in the nation, hosted annually by the Band of Blue.
The Man Behind the Mask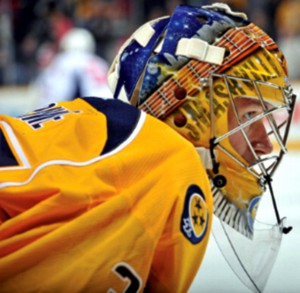 Senior Scott Sulfridge's favorite sport gave his budding art career a boost when fans of the Nashville Predators picked his work as the winner of this season's contest to design the helmet and mask worn by Predators goaltender Pekka Rinne. Sulfridge fashioned representations of a guitar neck and strings across the top of the helmet and piano keys around the bottom edge to symbolize Nashville's music industry and the city skyline. The guitar pick on the mask includes the three stars from the Tennessee state flag. Sulfridge's design was forwarded to NHL headquarters for approval and then to Dave Gunnarsson, a Swedish artist who has been painting goalie masks for more than 20 years.On pace to graduate with a degree in fine arts, Sulfridge and his partner, James Mangrum, create different types of masks through their fledgling business, Uncanny Valley Productions. "We specialize in vintage and retro-style monsters like vampires, mummies . . . things like that," Sulfridge said.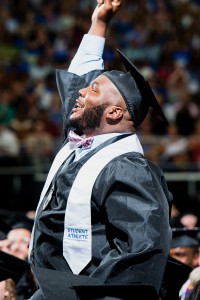 Daily Double
Jimmy Staten was selected in the fifth round of the 2014 NFL Draft by defending Super Bowl champion Seattle Seahawks. Staten found out during his graduation ceremony in May. He was given special acknowledgement by President Sidney A. McPhee and a rousing ovation from the crowd. Other Blue Raiders invited to NFL camps this summer included Sammy Seamster and Kenneth Gilstrap (Ravens), Logan Kilgore (Saints), and Josh Walker (Colts).
A Public-Service Standout
Honors student Tandra Martin was selected as a recipient of the 2014 Harold Love Outstanding Community Involvement Award. She is one of only five students and five faculty or staff members in the entire Tennessee Higher Education system selected to receive a $1,000 award in recognition of significant public service. Tandra's father is Terry Martin, who works for MTSU in Printing Services. A Buchanan Scholar majoring in International Relations, Tandra recently studied abroad in Costa Rica and Israel. Martin is currently preparing to spend a year in Morocco after winning a David L. Boren Scholarship sponsored by the National Security Education Program.
Podium Power
Many acclaimed speakers have visited MTSU in the past few months.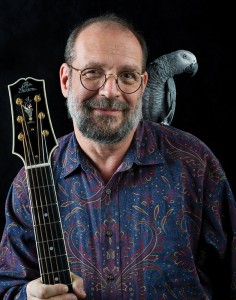 George Gruhn,(left) an expert on vintage guitars and owner of Nashville's Gruhn Guitars, a mecca for musicians and collectors worldwide, kicked off a series called "The American Guitar."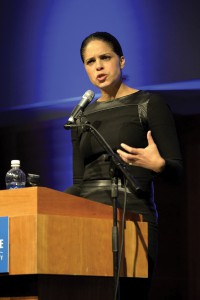 Award-winning broadcast journalist Soledad O'Brien (right) was the keynote for MTSU's National Women's History Month celebration. A former CNN anchor/reporter who joined Al-Jazeera America last year as a special correspondent, she delivered an address on diversity.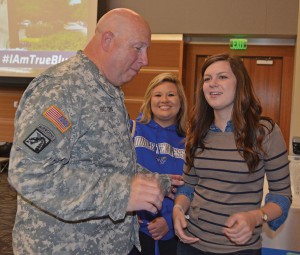 Major Gen. Terry M. "Max" Haston (left, an MTSU alum) spoke at Senior Day. Haston is adjutant general of the Tennessee National Guard. He had a special reason for attending: his son Travis graduated with a degree in Mass Communication in May.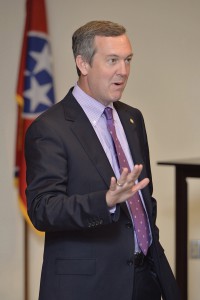 Tre Hargett, (left)Tennessee secretary of state, spoke during Omicron Delta Kappa True Blue Leadership Day on Friday, April 4, in Paul W. Martin Sr. Honors Building. The event also featured business leaders H. Lee Martin and David McGowan.
Former Blue Raider placekicker Alan Gendreau, (right) who was in high school when he told his parents he is gay and was a college freshman when he told Coach Rick Stockstill, spoke at the first LGBT+ College Conference hosted by MT Lambda and the College of Behavioral and Health Sciences.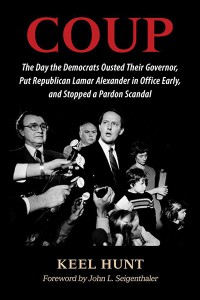 Willie Wilson, former major league outfielder with the Kansas City Royals, was the keynote speaker at the annual Baseball in Literature Conference produced by the College of Liberal Arts.
The Windham Lecture Series in April welcomed Senator Lamar Alexander, public affairs consultant and former journalist Keel Hunt ('71), former U.S. Attorney Hal Hardin (also an MTSU alumnus), and The Tennessean editor emeritus John Seigenthaler to an in-depth discussion of the 1979 political scandal involving then-Gov. Ray Blanton and his unprecedented bipartisan ouster.
MTSU Scorecard
The scorecard rates MTSU in comparison to 14 peer institutions nationally and to eight Tennessee public, four-year universities on student performance and financial data. In each category, MTSU is ranked in the top, middle or bottom third according to the color code in the key at right.
Institutional Characteristics
Enrollment: 26,442
Student-to-faculty ratio: 20:1
Tenure-track faculty: 655
Student Performance
Bachelor's degrees granted: 3,868
Graduation rate: 51.6%*
Cost Per Undergraduate
Undergraduates receiving grant/scholarship aid: 66%
Undergraduates receiving Pell Grants: 41%
Full-time, first-time undergraduates receiving grant/scholarship aid: 95%
Full-time, first-time undergraduates receiving Pell Grants: 48%
Average net price: $9,148*
Indebtedness upon graduation: $14,500†
State appropriations per FTE (an efficiency rating): $4,387
Endowment
University endowment: $64,494,524
Endowment per FTE: $2,802
Source, unless otherwise noted: National Center for Education Statistics
*Source: Tennessee Higher Education Commission November 2012 Report
†Source: College Affordability and Transparency Center College Scorecard
Military Honors


Military Times magazine named Jennings A. Jones College of Business among its Best for Vets Business Schools 2014. Jones College is one of just 64 schools in the country to make the list. Academic quality, outcomes and policies, school culture, student support, and cost were factors in the judging.
MTSU's student-led veterans group, the Blue Raider American Veteran Organization (BRAVO) was recognized in March 2014 by the Student Veterans of America national organization as its chapter of the month. BRAVO grew from five to 300 members in 2013 alone. Malcolm Stallard, BRAVO president, said hosting events for nearly 1,000 student veterans and their dependents has stimulated growth and awareness across campus and helped lead to the recognition. "Veterans helping veterans is helping with our retention," he said.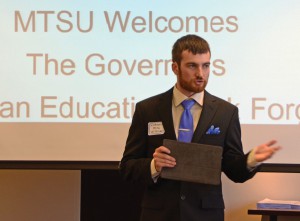 BRAVO member Sean Martin, a Marine Corps veteran who served in Iraq, is the only student representative on the 10-member Tennessee Veteran Education Task Force created by Gov. Haslam last year to help combat veterans returning to the classroom. The group met at MTSU this spring.

Up, Up, and Away
MTSU signed a memorandum of agreement with the Civil Air Patrol, the volunteer civilian auxiliary of the U.S. Air Force, resulting in an aerospace education partnership to benefit area youth. Civil Air Patrol has a cadet program for youths age 12 to 21 that can benefit from access to MTSU's aerospace facilities, which include a $3.2 million, 360-degree air traffic control tower simulator.
The Great Debate
The Blue Raider Debate team hosted the International Public Debate Association's National Championship Tournament and Convention for colleges and universities in April. Almost 300 teams from 33 colleges and universities in 13 states showcased their debating skills. Participating schools included Boise State, Southern Illinois, and the U.S. Military Academy at West Point. It was the largest tournament IPDA has ever hosted and the first time the national contest was held at MTSU.
Looking East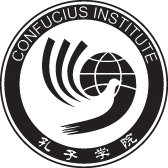 President Sidney A. McPhee signed various agreements with universities in China this spring. The partnership with Hangzhou Normal University for a Confucius Institute at MTSU was granted a five-year extension. The institute is sponsored by China's Education Ministry to promote Chinese language, history, and culture through tours, exchanges, and academic partnerships. MTSU joined Hangzhou Normal to open the institute in 2010.
Another pact will allow select juniors from China's top communication university to complete their bachelor's degree studies in Murfreesboro and then earn master's degrees from MTSU in one year. The agreement aligns MTSU's acclaimed College of Mass Communication with Communication University of China, known as "the cradle of China's broadcasting and televisions talents."
MTSU gained an international partner with expertise in mechatronics engineering through a pact signed with Shanghai Second Polytechnic University (SSPU) enabling student and faculty exchanges and joint research projects. SSPU specializes in energy generation and manufacturing motor vehicles and aircraft. MTSU recently launched a Mechatronics Engineering degree program.
An agreement with Xiangnan University in Chenzhou, which specializes in teacher training and medical sciences, will also allow student and faculty exchanges.
Last, MTSU signed an agreement with Shaanxi Normal University (SNU) in Xi'an, home of some of China's top cultural sites including the archaeological dig of terra-cotta warriors at the mausoleum of the first Qin emperor. Both universities began as teacher training schools and remain committed to that mission. SNU was among three hosts for a group of Rutherford County schoolchildren and parents visiting China in July as part of a Confucius Institute cultural exchange.
Hybrid Thinkers
MTSU has partnered with Meliksah University and Firat University in Turkey to further develop Dr. Charles Perry's retrofit wheel-hub motor, which converts a standard gasoline-powered vehicle into a plug-in hybrid with just a minor alteration to the rear wheel hub, cutting a vehicle's fuel consumption by half or more. "Turkey is like the Detroit of Europe," said Dr. Andrienne Friedli, director of the Center for Advancement of Research and Scholarship. "Many European automobile companies manufacture cars there, and because of the high price of gasoline, people in the region are already spending $1,000 to retrofit their cars to use cheaper fuels."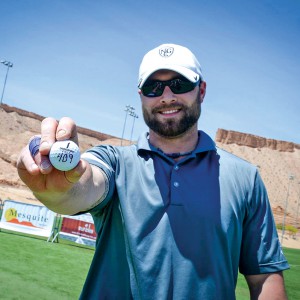 Drive to Succeed
Jared Brentz, a 25-year-old Criminal Justice Administration major and amputee golfer, successfully defended his 2013 Mesquite NV ParaLong Drive National Championship in May 2014, blasting a 409-yard drive in the final round. Brentz was born with club feet and arthrogryposis, a rare congenital condition that causes stiff joints and muscle weakness. At age 12, after consultation with his parents, he decided to have both amputated below the knees. Undaunted, Brentz competed on his middle school golf team in the eighth grade, and his team won the district title. He was a four-year letterman in both golf and wrestling in high school and was named to the All-District team as a senior.
---