Roughly 30 percent of entering first year students in the United States are first-generation college students,
meaning that they are the first members of their families to enroll in any educational institution after high
school.
To be the first in a family to receive a college degree is a big accomplishment and a deserved point of
pride. MTSU has long been a top choice of such "first-gens" who enroll in college in a deliberate attempt to
improve their social,economic, and occupational standing.
It is perhaps appropriate, then, that at MTSU, six of the nine academic deans leading the various colleges
and academic units that comprise MTSU are themselves first-generation college students. Pictured here are
the six MTSU deans and below they are listed with the colleges they helm and the institutions from which
they received their bachelor's degrees.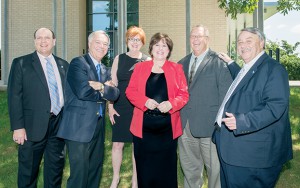 (left to right) David Urban (Business) University of Virginia, B.S., commerce, 1977,  Ken Paulson (Mass Communication) University of Missouri, B.J., journalism, 1975, Bonnie Allen (Walker Library) Indiana University–Bloomington, B.A., fine arts (art history), 1972, Lana Seivers (Education) MTSU, B.S., speech and hearing therapy, 1972, Bud Fischer (Basic and Applied Sciences) Herkimer County Community College, A.S., liberal arts: science, 1980 SUNY College, B.S., forest biology, 1982, Terry Whiteside (Behavioral and Health Sciences) University of Miami, B.A., psychology, 1967
---