Any archeologist would have jumped at the opportunity to excavate "a late Ice Age elephant barbeque," says Aaron Deter-Wolf, but it was six MTSU students who helped unearth the 14,000-year-old bones of a mastodon, plus the tools used to butcher it, found in a Franklin, Tenn., backyard.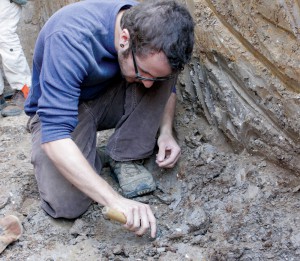 The dig, part of an ongoing collaboration between the University and the state Division of Archeology, was a win-win, Deter-Wolf says.
He got help excavating a 14-foot hole, and Tanya Peres and her students, mostly undergraduates, got to analyze one of the few known sites of late Ice Age human/animal interaction.
"I will never get another chance at a site that old and that cool," Deter-Wolf says. "For Tanya's students to get a chance to do it—that's amazing."
Peres invited Joey Keasler to work the mastodon site after he had spent long days on the Cumberland River, helping her team document flood and subsequent looting damage to archaic burial sites. He went on to intern with Deter-Wolf at the division.
Keasler had enrolled at MTSU after 20 years in the custom automotive business. After that market was hit hard by the recession, he says, "I took the opportunity to do something that had always been of interest to me and to do something with the rest of my life that I was going to really enjoy."
He says he's still wrapping his brain around the whirlwind of opportunities he's had so far. It was, after all, one heck of a freshman year.
---