Jeremy Kellem gains recognition for his performance both on and off the field.
by Drew Ruble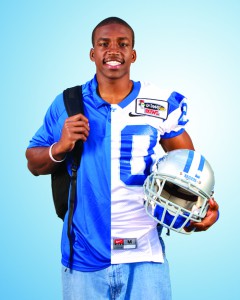 On Saturday, April 30, from a microphone on the stage of Radio City Music Hall in New York City, Jeremy Kellem ('11) hopes to hear his name called.  But if the 30 teams in the National Football League choose not to draft Kellem, the star MTSU defensive back shouldn't be too concerned about finding employment.  He'll have his high grade point average to fall back on.
Kellem, who recently graduated cum laude with a degree in organizational communications (and achieved a perfect 4.0 GPA in his final semester), is the first MTSU football player since 1991 to be named to the ESPN Academic All-America Football Second Team.  Kellem is just he fourth Academic All-American in school history, and the first to both an Academic All-American and a first team All-Conference performer.
According to Kellem, academics have always come before sports in his family.  "Plus, I like to shock people," he says.  "They get in the classroom with me and they are like, 'Oh, he can actually talk, or 'Oh, he's not dumb' -I just like to change people's perception of athletes."
Kellem is a four-year starter on the team, and his good grades are in large part responsible for that.  MTSU head football coach Rick Stockstill is a stickler for good grades, and has, in fact, led MTSU to the highest APR rate in the Sun Belt conference.  (The APR -different from graduation rate- provides a real-time look at a team's academic each semester by tracking the academic progress of each student-athlete.  Factors include eligibility, retention, and graduation, thus providing a picture of the academic culture of each sport.)  Entering the 2010 season, 75 of the 78 student-athletes who have played under Stockstill earned degrees.
"Football comes last to Coach Stock," Kellem says.  "He really focuses on making you a better student and a better man. If you aren't doing well as a man and as a student, he isn't going to let you on the field."
Stockstill describes Kellem as a "highly motivated, goal-oriented young man" who is involved in a lot of community outreach activities like motivational speaking to students in local elementary schools.  "He's a great example of what a college student athlete should be," Stockstill says.  "He's what every coach would love for his players to be."
That local involvement resulted in Kellem being nominated for a college football "Rudy" award.  Founded by Daniel "Rudy" Reuttiger, the inspiration behind the blockbuster Hollywood film Rudy, the award seeks to identify the most inspirational and motivational Division I football players in America who best defined what Reuttiger refers to as "The Four Cs"" Character, Courage, Contribution, and Commitment.
Perhaps on April 30, Kellem can add "draft pick" to his list of accomplishments. MTSU
---