Logan Kilgore's NFL hopes rest on his arm and on his head
by Drew Ruble
Sports Illustrated writer John Lopez introduced a formula in 2010 aimed at predicting the future success or failure of college quarterback prospects at the professional level. According to Lopez, if an NFL prospect scored at least a 26 on the Wonderlic test, started at least 27 games in his college career, and completed at least 60 percent of his passes, there was a good chance he would succeed at the NFL level. (The Wonderlic test, a popular group intelligence test used to assess the aptitude of prospective employees for learning and problem-solving in a range of occupations, has become best known for its use in evaluating prospective professional football players.) If a prospect did not reach those three high-water marks, their chances of success professionally diminished.
The list of quarterbacks since 1998 to ace all three parts of Lopez's formula includes Peyton Manning, Phillip Rivers, Eli Manning, Drew Brees, Tony Romo, Matt Ryan, and Matt Stafford. (Others include Matt Shaub, Kevin Kolb, Kyle Orton, and Ryan Fitzpatrick.)  Those who failed at least one part of the formula include famous NFL busts Ryan Leaf, Akili Smith, David Carr, Vince Young, and JaMarcus Russell. Based on those lists, it would certainly appear that Lopez's formula is a pretty accurate barometer of quarterback success at the highest level of the sport.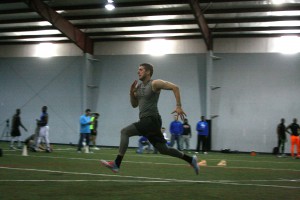 Middle Tennessee quarterback and recent graduate Logan Kilgore hopes to be drafted by or to sign a free-agent contract with a professional football team later this spring. For the record, Kilgore started 38 career games for the Blue Raiders and had a 61 percent passing completion rate. At the request of NFL teams, Kilgore has already taken the Wonderlic test several times. Though teams have not revealed to him what the results were, it is highly likely that Kilgore met or exceeded Lopez's threshold score of 26. That's because Kilgore is not only a highly decorated college quarterback but also a highly accomplished academic graduate of the University.
During his senior season, Kilgore was named to the Conference USA All-Academic Team. The list, selected by the league's media relations directors for football, consists of student-athletes who have earned a 3.2 cumulative grade point average or better and are starters or key reserve players on their team. Kilgore earned his undergraduate degree in three years and received his M.B.A. (with a 3.78 GPA) before graduating last winter. The Rocklin, Calif., native was also named to the Commissioner's Honor Roll each semester he played and was also a Capital One Academic All-District III member. He was a two-time winner of the Terry Whiteside Award, presented for excellence in academics, football, strength training, community service, and campus activities. (Whiteside is dean of the College of Behavioral and Health Sciences, and MTSU's faculty representative to the NCAA.)
Kilgore is busily preparing himself to audition for NFL scouts who may be interested in drafting him in May or signing him to a free agent tryout contract afterward. His athletic accomplishments are likely to draw at least some interested scouts. After all, Kilgore is a member of the 2013 Manning Award Watch List, which is presented every season to the nation's top quarterback, as judged by the Sugar Bowl Committee in conjunction with ESPN.com. Kilgore owns a school record of 53 career touchdown passes and is the first player in MTSU history to throw for more than 2,000 yards in three consecutive seasons. Kilgore and the Blue Raiders completed an 8-4 regular season in 2013 and led the team to the Armed Services Bowl in Fort Worth, Texas, against the Navy Midshipmen last December.
At almost 6'3" and more than 210 pounds, Kilgore has the size NFL scouts like in a prospective quarterback. In today's pro game, where speed and elusiveness is key to keeping plays alive, Kilgore's 4.9-second 40-yard dash speed is also attractive. The Sports Exchange rates Kilgore the 24th best quarterback of 152 eligible for the upcoming May draft. It also rates him the 492nd-best overall player out of roughly 4,000 eligible. No doubt MTSU's move to a larger, more competitive conference (CUSA) during Kilgore's senior season (and the success both he and the team experienced playing better competition) bodes well for his prospects.
Bryan Perez, director of college scouting for firstroundgrade.com, lists Kilgore among his five "under the radar" quarterback prospects in the draft. According to Perez, "Kilgore is a traditional pocket passer who has a strong arm and can make all the NFL throws. Kilgore throws a nice, tight spiral and presents as an intriguing developmental prospect. He's shown the ability on tape to make all the throws, but he is a limited athlete who, as stated above, is going to need to get bigger in order to have a shot at a long NFL career."
Kilgore has something else working in his favor. He  is represented by "Bus" Cook, one of the top pro football sports agents in America. In fact, Kilgore is the only college quarterback Cook is representing in the draft. Cook's list of pro quarterback clients includes recent Super Bowl champion Russell Wilson and household names Cam Newton and Jay Cutler. Cook is actively lobbying NFL teams to take a closer look at his client.
"When he calls, people pick up the phone," Kilgore says.
According to Kilgore, who has been training in Mississippi alongside fellow NFL prospect A.J. McCarron of Alabama, the feedback he's been receiving from NFL teams has been very positive.
"We have been hearing good things from teams, and I fully expect to be in a pro camp at the start of next football season, whether it be through the draft or through free agency," he says.
What will Kilgore do if for some reason that dream of playing in the NFL doesn't materialize? Kilgore credits MTSU head football coach Rick Stockstill for preparing him for that possibility.
"Coach Stock emphasized to all of us from the time we got to Murfreesboro to make sure we use MTSU to our advantage – don't let MTSU use you," Kilgore says. "I took that to heart. I graduated early, worked my butt off, and got my M.B.A., always thinking about the fact that football isn't going to last for anybody…Coach Stock has helped me position myself for success regardless."
[Editor's notes: MTSU defensive back Sammy Seamster and lineman Josh Walker are the Blue Raiders most likely to be drafted in May. Kilgore, defensive tackle Jimmy Staten, and cornerback Kenneth Gilstrap will also, according to various media reports, receive consideration either as draft picks or free agent signees.]
You can see Logan Kilgore's Career Highlight Reel below:
---