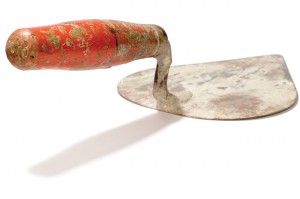 by Katie Porterfield
MTSU's Concrete Industry Management Department, the first of its kind in the U.S. and, perhaps, the world, is led by Heather Brown, a woman who has defied stereotypes and carved out a solid reputation in the industry.
Between 2011 and 2013, China, which has been building whole cities to accommodate population growth, consumed 6.6 gigatons of concrete—more than the U.S. used in the entire 20th century.
That fact, uncovered by population and energy researcher Vaclav Smil, prompted business magnate Bill Gates to write about it on his blog, which in turn drew worldwide media attention to Smil's analysis. Forbes magazine wrote, "Look at what the U.S. built between 1901 and 2000: all those skyscrapers, the Interstate, the Hoover Dam, the list goes on and on, but all that concrete only amounted to 4.5 gigatons."
That's not to say the U.S. isn't still building. Concrete is a $200 billion industry with 500,000 people employed in a variety of careers working with this "liquid rock."
Though easy to take for granted, concrete has been the cornerstone of engineering for centuries, from the Roman Empire to the development of modern-day skyscrapers. So how is all of this relevant to MTSU?
Although other MTSU departments tend to grab more headlines, the Concrete Industry Management Department (CIM) may be MTSU's most well known. Throughout the nation, the CIM program is recognized as the first and finest of its kind. The concrete industry helped fashion the program at MTSU nearly two decades ago. It has been the template for every other university program like it in the U.S.
From cutting-edge research, to almost guaranteeing student success and job placement, to the recent rollout of a new executive M.B.A. designed in concert with industry, the CIM program is one of the University's biggest success stories. Adding interest to the mix is that steering the department is a woman who has defied stereotypes and carved out a solid reputation in the national concrete industry.
A Firm Foundation
As a little girl, Heather Brown was a tomboy. Her specialty? Building. In addition to crafting Lego masterpieces, she also built forts out of snow, wood, and even leaves. So, when she took a test in ninth grade that indicated she was well suited for civil engineering, she bought into the idea. She attended Tennessee Tech University and earned a bachelor's, master's, and doctorate in the subject.
Today, as chair of the CIM Department, Brown does more than just recruit students who think of themselves as master builders (or who may have scored well on one of those career aptitude tests). She also promises to give them chances to find a career in the high-growth, science-driven concrete industry.
"In recent graduating classes, I've had four jobs for every graduate," Brown says. "I've had 200 jobs and 50 kids to take them."
According to Brown, that number will continue to climb as the booming construction industry expands for at least the next five years and perhaps the next decade. But these job openings aren't for laborers who place and finish concrete. Brown's students fill a wide variety of jobs in the industry, from sales or quality control to production management or contracting.
"Our degree was started for the management side of the business," Brown says, using the pitch she delivers to parents of prospective students. "Our industry, which continues to be a partner, dreamt this whole thing up because they realized they were not getting college-educated kids to enter concrete construction and production."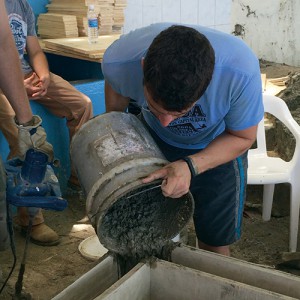 Cementing a Reputation
MTSU, with its already well-known academic programs such as Recording Industry, Horse Science, Agribusiness/Agriscience and Aerospace, seemed the perfect fit for a CIM program. In 1995, industry representatives started pushing for the first four-year bachelor's degree dedicated to the development of managers for the concrete industry. They convinced MTSU officials that CIM was a degree that would open doors for students.
"The industry saw a need, and there wasn't a university in the entire country that had a degree focused on concrete construction," Brown says. "MTSU, unlike many other
universities they approached, had open arms and took them in and said, 'We can work together; we can be a partner.'"
Those same industry folks became teachers, turning out the first graduates in 2000. In 2001, Brown, who'd been a research assistant for the Tennessee Department of Transportation (TDOT) while pursuing her education, agreed to come aboard as a teacher and researcher.
"It was all about concrete, and that's what I'd primarily worked on during my master's and Ph.D., so it was a passion of mine already," Brown says. "I jumped right in, and I loved it."
In 2006, she became the program director, and in 2011, when CIM became a department in the College of Basic and Applied Sciences, she became its chair. Under her leadership and with the continued support of industry executives now known as the National Steering Committee (NSC), the program has since expanded to other universities (California State University–Chico, New Jersey Institute of Technology, and Texas State University) to better serve industry needs beyond the Southeast. The NSC plans eventually to introduce the program at two more U.S. schools and possibly in foreign countries.
A Concrete Advantage
In 2012, MTSU rolled out the first-ever M.B.A. with a concentration in Concrete Industry Management, offered through the Jennings A. Jones College of Business. Executives or managers from across the nation take online courses for 15 months from business faculty who have received training in the industry.
"This was a huge effort because after we started the four schools, we realized there was a whole level of workforce out there . . . already in concrete who needed that degree to move up in their organization," Brown says.
Comparing it favorably to Belmont University's music business M.B.A. or Vanderbilt University's healthcare M.B.A. in the local market, Brown says the first class of eight students graduated from the M.B.A. program in concrete in March 2014. A second group of six students followed last March, and 10 will come online in January 2016.
Those graduates, along with more than 800 from the undergraduate CIM program, continue to work their way up in a field that is hungry for young people. The average age of a manager in the concrete industry, Brown says, is about 57, and when the recession hit in 2008, managers who'd been expected to retire decided to stay on a bit longer to earn more money.
"There's going to be and has been a big let-go of all of these seasoned professionals, and our guys are just waiting in the wings," Brown says, adding that at least two MTSU alumni have already reached the vice president level after only 10 years.
CIM alum Nicholas Edwards ('06), director of sales (Eastern U.S.) for Kalyn-Siebert (a company that manufactures custom-engineered transport equipment and trailers), says his experience in the program prepared him for career acceleration and opened doors "beyond description."
"What folks don't realize is we are missing an entire generation . . . within the concrete industry," says Edwards, who is also vice president of the MTSU CIM Patrons Board, a group of local concrete professionals who serve the department and its students with financial, marketing, and mentoring help. "Filling this void with accelerated, adequately prepared individuals was the very vision the founders of the CIM program conceived."
Set in Stone
The future for CIM graduates seems bright, and Brown's plan is to continue to expand the department with its own concrete building. In addition to giving CIM a separate space, the building would showcase the different ways concrete can be used and be a learning lab for students.
"People don't realize that concrete can be made to look like anything else," Brown says.
The proposed new building would look like other red brick buildings on campus from a distance, Brown says. However, the exterior would be concrete sanded and stained to give the appearance of red brick. The inside of the proposed building would feature translucent concrete, a light-transmitting material that allows, among other things, people with windowless offices to feel as though they have windows to the outside because they see shadows and sunlight.
Brown plans to finance the building with industry money. She's already raised $2 million and hopes to raise the remaining $6 million in cash and materials such as steel and rock in time to break ground when the program turns 20 years old next year.
Breaking the Mold
In the meantime, Brown plans to stay busy recruiting students to help industry benefactors fill all those vacant positions.
"I'm just trying to get more students that want to be around construction and have a passion for this," she says.
Perhaps some of those will be women looking to follow in Brown's footsteps.
"When I got into concrete, I was the only girl in the room," Brown says.
Today, although the number of females in the industry has grown somewhat, Brown says only 10 percent of her students are women. Such a low percentage reflects the problem of women and girls eschewing science, technology, engineering, and math (STEM).
A 2010 report by the American Association of University Women found that the number of women in science and engineering is growing, but men continue to outnumber women, especially at the upper levels of the professions. It doesn't bode well for research and discovery when half of the human race—for whatever reason—remains outside the arena of science. Nor does it help America fill the STEM jobs that are increasingly available.
Brown would like to see that percentage in her department reach 15 to 20 percent.
"At the end of the day, I can't say, 'Every woman come over to concrete,'" she says, "because you do have to have a certain kind of personality or spunk. You have to have thick skin because it is still very male-dominated and very 'good-old-boy' in nature."
If women are willing to enter that culture, opportunities are there to be had. The industry wants to be more diverse.
"Females are just so different in this world," Brown says. "They are way better at multitasking and diffusing conflicts, and they are really go-getters, so companies who have traditionally hired men get a couple of our girls and say, 'Send us more.' That's good for us, but we still need more to sign up."
One thing is certain: women who decide to give concrete a try at MTSU will have the perfect mentor in Dr. Heather Brown.
From the Ground Up
It's simply hard to imagine a world without concrete. Often overlooked, though, is that there is an underlying science to concrete and its many uses that must be understood in order to be properly applied.
Given concrete's fundamental role in the built environment, the CIM Department at MTSU will likely continue to benefit the concrete industry as it cements the professional prospects of its graduates.
Hard Evidence
In addition to preparing graduates to   work in the high-growth field of concrete management, MTSU's program is a powerhouse in research. Much of the research produced by CIM is done by undergraduate students and in time intervals that match the speed of the    ever-evolving concrete industry.
"Essentially, we investigate anything to    do with concrete floors, roads, elevated slabs, walls, bridges, columns, etc.," says Dr. Heather Brown, chair of the Concrete Industry Management Department. "We are most concerned with durability, utilizing recycled products, economics,
and safety."
College of Basic and Applied Sciences dean Bud Fischer says the program regularly receives grants from TDOT for projects such as gauging the life expectancy of roads and bridges and selecting the correct concrete for transportation projects.
"It's pretty unusual nationally to see students involved in state transportation projects like this," says Fischer. "It allows our students to do hands-on research activity, which is also important for the state."
---