Meet one Mass Comm grad who has her career in excellent shape
By Candace Moonshower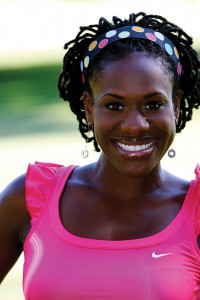 Saran Dunmore ('98) was MTSU'S Homecoming Queen in 1996. Over a decade later, she became a professional football player. As a member of the Lingerie Football League's Chicago Bliss, Dunmore was named Offensive Player of the Year in 2009.
"I agreed to play in the Lingerie Football League after being introduced to the league by a friend," Dunmore says. "I was reassured by the fact that Lingerie Football isn't a 'prissy thing.' The uniforms resembled track and field uniforms—with lace trim—and the game those gals play is serious football."
Dunmore scored the most touchdowns in the league in winning the 2009 award. She clearly had fun doing it, too. "In every single photograph of me, I'm laughing!" she says.
It wasn't Dunmore's first experience playing America's favorite sport. As a student at MTSU, she played on an intramural team that made it to the national competition in New Orleans. (Dunmore also ran track at MTSU and was a conference hurdles champion.)
These days, Dunmore is putting her degree in Mass Communication (with a concentration in Radio-Television) to work as a fitness expert and TV personality, a career move that began when she was still an undergraduate at MTSU.
"I always had aspirations to be on TV, and I began by hosting shows on [MTTV, MTSU's television] station," Dunmore says. She had her own show, Onyx, a talk and variety show focusing on different campus organizations. After graduation, she moved to Washington, D.C., and worked for a video-monitoring service, moonlighting at Bally's as a fitness trainer.
After another move—back to her hometown of Chicago—Dunmore worked as a trainer on a public access channel TV show for teens. As a member of the National Association of Black Journalists, she attended a conference in the hope of pursuing a career as a fitness expert on a major network.
An NBC news director in Chicago liked what he saw and, beginning in 2005, put Dunmore to work writing, producing, and broadcasting live weekly fitness segments for the local NBC affiliate, WMAQ.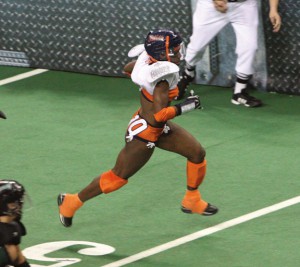 Dunmore's biggest break came in 2009, when MTV hired her as a fitness trainer on a new television program to help teens lose weight. The show, I Used to Be Fat, features 20 overweight high school seniors who each want a new image and more self-confidence before they enter college.
"I help these young people put their best foot forward," Dunmore says. "I really want them to get a better sense of who they are."
Despite her busy TV schedule, Dunmore still trains several private clients, is writing a book about physical fitness and personal motivation, and regularly works as a show host for events such as the Chicago Music Awards and the International Reggae & World Music Awards in New York City. She's also been featured as a fitness expert in a number of high-profile magazines and newspapers.
"I love the direction of my career," Dunmore says, "and I credit the Mass Comm program at MTSU—it provided me with so many opportunities to do the things I am doing today."
What will she be doing tomorrow? Dunmore says she still aspires to be a sports reporter and would also love to be a motivational speaker on topics such as fitness and self-empowerment.
With homecoming queen, gridiron star, and television fitness personality already on her résumé, it seems likely Dunmore will make those dreams come true, too. MTSU
---