Five Minutes with the President
The Quest for Student Success
A recent issue of the Chronicle of Higher Education stated there is a growing call for innovation that supports greater student success at our institutions. What is MTSU doing to ensure that students who enroll here succeed and graduate?
Nothing is more important than ensuring our students' academic success. MTSU faculty and administration have come together to respond to these challenges by putting ourselves under a microscope as we attempt to better understand why our successful students succeed and what barriers to success get in the way of those who struggle.
Even with statewide and national accolades for its efficiency in creating college graduates, MTSU's continued success depends on its ability to help our students earn college degrees. These students are our responsibility, and we must discover and develop new and innovative ways to help them be successful, instead of whining about who they are. At MTSU, from a staff and faculty perspective, we simply must maintain and grow our student-centered culture. If students become an interruption in your day, you're in the wrong business.
MTSU already has changed some administrative processes and policies that created roadblocks for students.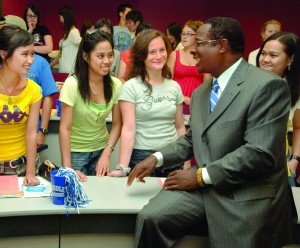 One of these changes allows students to register or reenroll with an account balance of $200 or less. Previously, there was an across-the-board ban on registration for students owing as little as $5 to the University! Additionally, a campus-wide task force's discovery of an almost 40 percent failure or withdrawal rate in some general education courses—despite students' solid high school GPAs and ACT scores—has led to faculty redesigning seven courses in the College of Liberal Arts and the College of Basic and Applied Sciences.
We've also reviewed our recruitment and enrollment strategies, resulting in a two percent increase in this year's freshman class. This 2013–14 freshman class also showed an increase in composite ACT scores and high school GPAs over the previous year. We've expanded scholarship funds for groups that have traditionally been undersupported, and we've gone to the Tennessee Board of Regents to request policy changes to allow more flexibility in registration and payment policies.
Additionally, we've surveyed students who failed to reenroll and analyzed their responses regarding factors that prevented their persistence. We've significantly expanded our Institutional Effectiveness, Planning, and Research group to provide better data regarding student retention, graduation, and success. Every academic college and every administrative division has conducted an internal review and participated in a series of hearings to outline new plans to help more students achieve success in the classroom and to graduate. We've begun to review grade distribution reports to better understand those courses that seem to have exceptionally large numbers of students not achieving the grade of C or better, so that we can consider curricular innovations to improve learning. We've also analyzed the first data sets coming out of the new funding formula under the Complete College Tennessee Act to see where our strengths lie and where we have opportunities to make improvements that may enhance our funding as an institution.
Last, we will be opening a one-stop shop for student enrollment services this spring. We have begun posting midterm grades for the first time in many years, giving students additional feedback to help them improve where their performance is lacking. A consolidated tutoring center is also being developed to provide learning support for students in all majors.
In your most recent state-of-the-University speech, you said that higher education is just the latest arena facing a series of disruptive forces that could, on the one hand, lead to great innovation and transformation or, on the other, lead to significant losses in enrollment, funding, and cultural influence. What is your plan to address this?
I recently announced a major initiative—The MTSU Quest for Student Success—that will integrate these efforts into a single coherent approach for the future. The plan is designed to make sure that every student who comes to MTSU with the drive to achieve will be met with the best instruction from excellent professors who care about their success. The MTSU Quest lays out our ambitious vision to innovate for increased student success in three key areas:
Recruiting students who value academic success
Enhancing the academic experience for students by implementing innovation in curriculum across all disciplines and underscoring the role of quality advising in student success
Championing enhancements in administrative processes and eliminating barriers to student success
MTSU's Department of Physics and Astronomy is a great example of the work we are already doing to promote and improve student success and retention and graduation. The department has implemented more student-friendly teaching practices for introductory courses and is using high-achieving undergrads to serve as learning assistants for classmates in those courses. The department's reward—in addition to fewer failing grades, more physics and astronomy majors, and more graduates—was a $20,000 check as the first recipient of the President's Award for Exceptional Departmental Initiatives for Student Academic Success, given last fall.
This is our time for transformation—our time to seize the opportunity to innovate, transform, and lead the way in creating a new model for higher education. Instead of spinning our wheels focusing on the many external factors affecting higher education that are beyond our capacity to control, MTSU is turning its energies and talents toward tackling the internal factors over which we have direct influence and which we know can positively affect student learning.
Thank you, Mr. President.
[Editor's Note: You can read more about the plan here: http://mtsunews.com/mtsu-student-success-reforms.]
---