The family of country music  icon George Jones creates a scholarship fund at MTSU
By Andrew Oppmann
The widow of country music icon George Jones announced in November that her family has established a scholarship fund at Middle Tennessee State University that they hope will become a living memorial to the late singer. Nancy Jones announced the creation of the fund as part of a Nashville ceremony to unveil a monument to her husband of 30 years. The Country Music Hall of Fame member died April 26 at age 81.
"George would have liked the fact that MTSU attracts so many first-generation college students, as well as students who face financial challenges," Jones said. "Like George, they are hardworking folks who are determined to make their dreams a reality."
Nancy Jones will make the first donation to the fund. President Sidney A. McPhee, who attended the announcement at the Woodlawn Roesch-Patton Funeral Home and Memorial Park, thanked Jones for choosing the University to honor the memory of her husband.
"MTSU is a very appropriate place to honor George Jones because of its nationally known recording industry program," McPhee said. "We have educated many of the leaders of the country music industry, and we are dedicated to teaching students about the important contributions of country music."
MTSU's College of Mass Communication, which houses the Recording Industry Department and the Center for Popular Music, is working to preserve and promote Jones's legacy. The singer charted number-one country songs across several decades, from the 1950s through the '80s. Jones won two Grammy Awards, the first in 1980 for his classic hit "He Stopped Loving Her Today" and the second in 1999 for "Choices." He won a Recording Academy Lifetime Achievement Award in February 2012.
"George Jones had an extraordinary life and career on so many levels, and we are grateful that his legacy will inspire and benefit a new generation through education," said Dean Ken Paulson of the College of Mass Communication.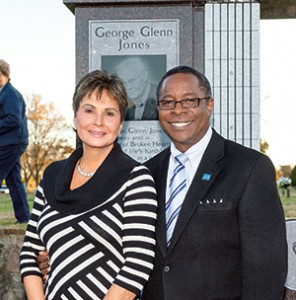 Paulson added that the college will add to its collection of research material and artifacts surrounding Jones's career. Beverly Keel, chair of the Recording Industry Department, said her department is developing a course on Jones's life and music and will "create opportunities for scholars to offer their analyses and interpretations of his music that can then be shared with scholars internationally."
"We want to make sure that students 100 years from now will fall in love with 'He Stopped Loving Her Today,' just as we did, no matter what future technology they may use to listen to his traditional country music," said Keel.
Nancy Jones said her husband would have been pleased to have students benefit from this effort in his name.
"George received help from people as he strove to have a country music career, so I am thrilled that we will be able to help young people in the name of George Jones," she said. "I know he would have loved this."
Gifts can be made online at www.mtsu.edu/georgejones, or by calling (615) 898-5595 or emailing devofc@mtsu.edu.
---