Ebony Rowe excels at both sides of the scholar-athlete equation.
By Drew Ruble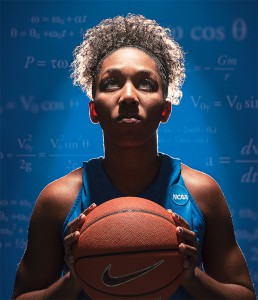 Lady Raider Ebony Rowe is among the ten most prolific scorers in school history and already is the program's leading rebounder. And she still has the rest of her senior season ahead of her. Such athletic prowess garnered Rowe Honorable Mention All-American status by both the Associated Press and the Women's Basketball Coaches Association last year. She was twice a top-50 finalist for the Naismith Award, given annually to the nation's best high school and college basketball players and coaches.
Off the court, Rowe has racked up an equally impressive portfolio of statistics in the form of academic and personal awards. Notably, she was named to the Arthur Ashe Jr. Sports Scholar Women's Basketball First Team as announced by Diverse: Issues in Higher Education. A true student-athlete, Rowe has earned higher than a 3.5 cumulative GPA as
a physics major.
In all likelihood, Rowe will have the opportunity to play women's professional basketball, following in the footsteps of Lady Raider alums like Alysha Clark and Amber Holt. However, Rowe isn't yet committing to a plan to play professional ball. She's as interested, she says, in beginning pursuit of a postgraduate degree or beginning her career in mechanical engineering.
"At this point, I'm just trying to keep all my doors and options open," she says. "Whether that's playing professionally here or overseas or going straight into getting my master's degree in engineering, I'm still undecided."
With her high GPA, passionate interest in her studies, and wait-and-see approach to playing pro sports, Rowe bursts the stereotype of the academically disinterested student-athlete. And what makes her even more intriguing is that her major is science-related—a field of study far more dense than the proverbial "basket weaving" coursework the public tends to think about when it paints student-athletes with a broad brush.
Rowe describes perceptions of student-athletes as "dumb" and science majors as "nerds" as "a sad mentality that's just developed and is taken as truth now."
"A lot of people told me you can't be a basketball player and an engineer. But it can be done," she says. "More people need to start showing the younger generation that competing in high-level athletics and excelling in the classroom can be done."
As a physics major, Rowe takes classes such as Classical Mechanics, Strength of Materials, and Electricity and Magnetism. Among her recent research projects was a study of the physics of free-throw shooting in basketball. It's an ironic topic for Rowe to tackle given her highly publicized troubles at the free-throw line in competition. Even her coach has been publicly critical of Rowe's free-throw shooting percentage in years past, which for a time hovered below the 50 percent mark. Rowe has, however, improved dramatically over the past year and is now one of the best free-throw shooters on the Lady Raider squad.
One might think that a shot called a "free throw," when no one is guarding you and you simply step up to a line and take a wide-open shot, would be an easy exercise. But according to Rowe, it's much more complicated than that. Rowe's description of a free throw from a physicist's perspective sounds so dizzyingly difficult that it might even cause a coach to take it easy on an athlete for a fair-to-middling performance.
Rowe begins her explanation by pointing out that there are an infinite number of speed/angle combinations that can lead to a successful free-throw shot (or an unsuccessful one), but the chances of success are greatly improved by increasing the arc on the shot so that the ball is falling straight down, increasing the relative size of the hoop, as compared to a shot with a flatter trajectory.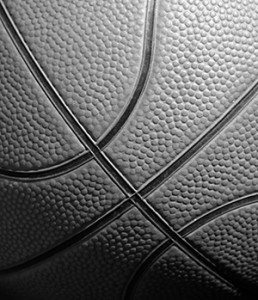 "There's so many little mechanics that go into a free throw," Rowe explains, citing release point, launch angle, ball velocity, shape of path, optimum speed, varying force, and distance, among other variables. "So when you start to break it down piece by piece, if any one of those measurements is off by a certain degree, it can cause you to miss your free throw."
In her research, Rowe used a simulation program to shoot 10,000 free throws, altering all of these little measurements incrementally to reveal proper and improper mechanics— and outcomes.
"These small calculations applied to a free throw can throw off the whole shot based on the smallest of technicalities," she says, referencing concepts including forward spin, frictional force, and horizontal motion. (Lady Raider fans can no doubt imagine Coach Rick Insell groaning at such an explanation.)
So is Rowe's classroom exercise to be credited for her improvement from the free-throw line? She says no.
"It's so funny, a lot of people said to me, 'Well, your free-throw percentage got a lot better now that you broke it down,'" she says. "And I say, 'No, I just practice.'"
The Next Step

Rowe is also already making waves in the professional world. For the second straight summer, Rowe spent her academic break working as an intern with the Fortune 500 software firm Lexmark in her hometown of Lexington, Ky. She worked alongside an electrical hardware engineer and had access to robotics and other types of machinery and testing on what she describes as a "real world product" in "early stages of development."
Rowe's sister is a chemical engineer at Lexmark. Her dad earned a degree in civil engineering and works in the corporate world. Rowe says math and science were "just something that ran in the family and, I guess, came easier than other subjects. So it's definitely just been a passion."
Such interest and involvement in a science discipline is statistically unusual for a woman. A 2010 report by the American Association of University Women found that the number of women in science and engineering is growing, yet men continue to outnumber women, especially at the upper levels of the professions.
Rowe is only too happy to use the power of her celebrity as a high-profile athlete to encourage more girls and young women to pursue science studies and careers.
"That's what is so good, especially about being an athlete, because you get to reach out to so many different people," she says. "So whether it's young females who are playing sports or whether it's young African Americans or young African American girls, there also aren't a lot of African Americans who are choosing the sciences and engineering and physics. I think it's just the more people start to do it, the more that it's going to be expected, and it's not going to be, 'Oh, you're a female or an African American in sciences.' It's just going to become normal. So I think we just have to take it a step at a time. It's gotten better, but [we still have] a long way to go."
---